Read the controversial Twitter post that is inspiring a flood of support for Hoboken Councilman Ravinder Bhalla.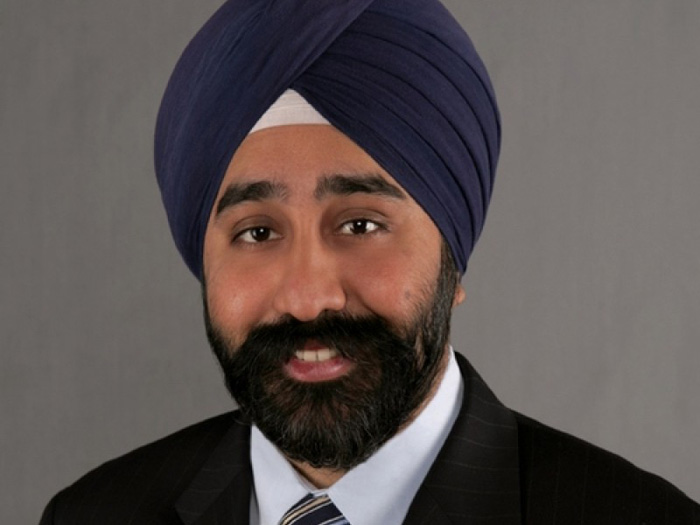 Hoboken, NJ – Racism has reared its ugly head in Hoboken.
That's the message that Hoboken City Councilman Ravinder Bhalla gave in reply to a Twitter comment alluding that he was a "terrorist."
Bhalla – who was born and raised in New Jersey - wrote that the inflammatory comment was made after he posted a "routine" message on Twitter about Wednesday's City Council meeting.
The controversial post reads:
How the hell did Hoboken allow this guy to be a councilman? Shouldn't even be allowed in the U.S. #terrorist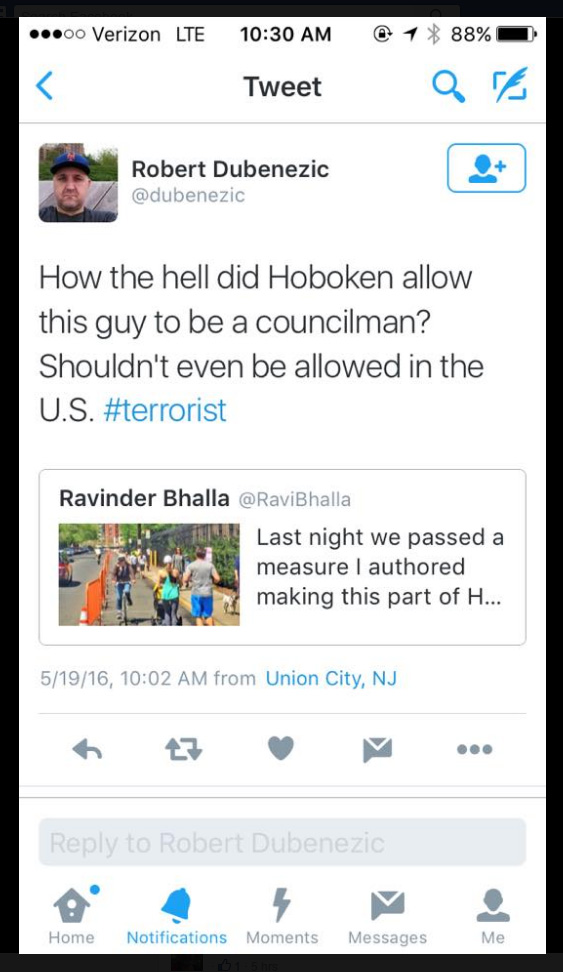 Bhalla wrote a reply to the original poster's comment:
"Sir, I am born & raised in America. You clearly don't know what it means to be an American. #ignorant @dubenezic @TotallyHoboken @HobokenInc"
"Unfortunately, ignorance and racism are alive and well, even in Hudson County," Bhalla wrote on his Twitter profile. "I am not deterred but more determined to serve my community in Hoboken - as a proud American and a proud Sikh."
The poster – who identifies himself on Twitter as a New Jersey resident - was unapologetic about his actions in a follow up comment.
"No towel on my head," he declared.
The post ignited a flurry of pro-Bhalla comments denouncing its racist overtones.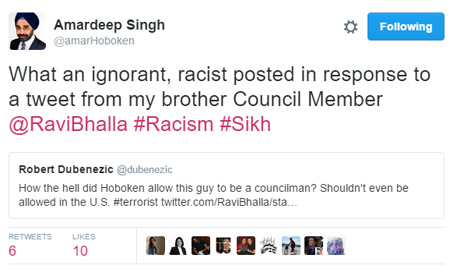 Other pro-Bhalla comments included:
"As always, Councilman Bhalla is a total class act. I'm not though, and I can say this guy is an ignorant clown."
"Please educate yourself and do not hate. Hoboken will not stand for it."
"Sad, un-American behavior that cannot be tolerated. I'm happy majority of Hoboken is progressive and rejects racism."
"Proud of you Ravi and proud of our hometown Hoboken for electing you twice."
"Prouder of you than ever Ravi! Inspiring to see you set an example of American civic duty at a time when America needs it most."
"Proof that racism requires ignorance."
"Wow. This is the impact of a Donald Trump candidacy. People feel more empowered to publicly express their ignorance and hatred. You're doing a great job. Keep up the great work you do."
"So sorry and sad that this man has these narrowed world views. United States was founded by immigrants seeking religious freedom...a persons' color of their skin, religious beliefs or attire does not mean they are a part of a terrorist group. I guess he should look up what the word even means, because it actually has nothing to do with religion!"