The story of this devotional narrative that Japneet Kaur and I are sharing with our community is very simple.
It is a story of divine commission and an unexplained connection.
Circa January 2019 - I had just published my first poetry collection, Shelling Peanuts and Stringing Words, beautifully illustrated by Japneet Kaur.
It was an uneventful New Year's Eve and we were going to bed after an ardaas prayer which has been an inherited "compulsive" habit learned from my father. I lay in bed reflecting on my bucket list, basking in the fact that I had been brave enough to put my poems out there, and thinking about which Netflix show I should convince my husband to watch. Nothing epic about it!
Well, instead my mind started drifting, I picked up my phone, opened my writing app and starting writing.
I am a management professional with over 25 years of experience in the business world, all I do every day is make decisions with data. Here I was on my phone, in my bed, typing away a poem about the story of Chhote Sahibzade. I have been writing for as long as I remember, for the last couple of years I write every day, words come to me in the shower, while driving, during a video conference at work, etc. but I have never had someone else write for me except that night for those few minutes. The first draft of this poem, written on 1/1/2019 was not something I fully chose to do myself. It was an overwhelming experience, yet it inscribed itself and I had to let it come. The writing of these lines felt like a catharsis that was mine to experience.
I texted Japneet later that night – asked her if she would be willing to partner with me on another project, told her a little about how Chhote Sahibzaade was coming together on paper. I asked her if she would be interested in giving shape to my voice, words. Of course, she said yes and as I continued to massage the first draft and share my work with her, she patiently and dexterously turned it into magical paintings; scenes that were formidable in their simplicity. We exchanged our work with each other over a few months, continued to play off each other's progress (or lack of it sometimes) and continued to be inspired by His Grace.
Kashiana Singh and Japneet Kaur present to you - His Own Magnificent Sons – A Story of reverence, sacrifice and separation. Fateh and Zorawar in a pictorial, poetic and narrative ballad.
We would love your feedback in the comments section below. Do stay connected.
Written by Kashiana Singh
Painted by Japneet Kaur
Narrated by Kashiana Singh
---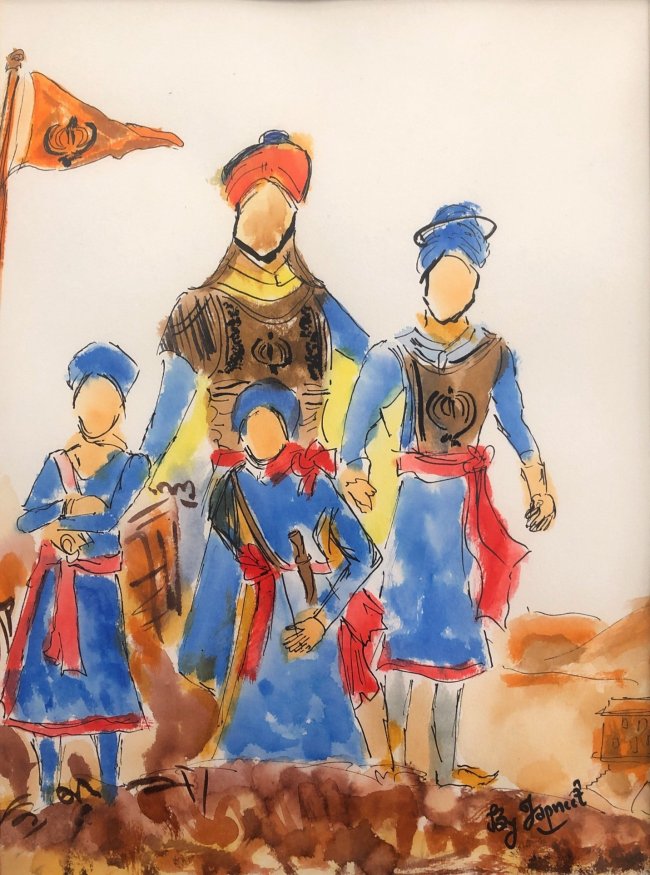 One
study of reverence
Imagine the absolute reverence of their submission
Imagine the absolute substance of character
their bodies being container to humanity
just a dozen years of flesh and bones
Fateh and Zorawar
contradicting childlike existence
meant to be, Gobind present in many ways
brought a thousand rays of light to the fort
      Healing with an embryonic innocence
dismissing brutal sacrifice
       Letting go of older brothers
along with the confidence they taught
       Pretended smiles of younger both
nourished tender hearts engulfed by evil
       Sitting into elevating prayer
even when facing a charcoal end
       Brimming with opal clarity
while responding to satanic taunts
       Nourished in warm embrace
on a cold prison floor
       Gathering simple praise while
paying rapt attention to duty
      Four young pragmatic boys
in complete reverence to the Gobind
Imagine the absolute reverence of their submission
Imagine the absolute substance of character
Warrior saints
         blithe, tender shoulders into armors
Obedient sons
        seek permission, step into battlefield
Loving grandsons
        eyes glean for strength, their Nana's eyes
Humble leaders
        ignorant of flaws in the hemisphere
Lonely poets
        unfold hymns of their forefathers
Ambitious men
        surmount darkness with opulent bravery
Eager students
        survival skills alongside weaponry tactics
Savior sons
        standing atop the hill, a strapping pride they exude
self-effacing yet self-assured
present yet away
playful yet somber
Fellow wanderers
Certain of no rest
In complete obeisance
Imagine the absolute reverence of their submission
Imagine the absolute substance of character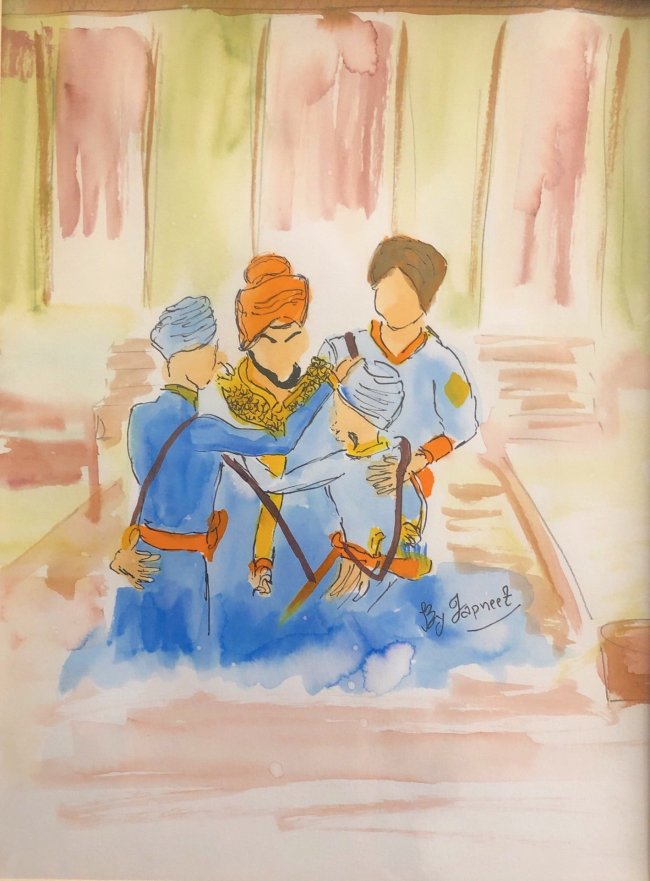 Two
study of sacrifice
Imagine the absolute reverence of their submission
Imagine the absolute substance of character
Imagine the inconceivable sacrifice
Chardiyaan Kalaan
said the Gobind
an orange sky celebrated
     that evening in unison
a vast river, winding
      nourishing thirsty souls
an inheritance of blood
      imprinting sanctity to tears
in confinement, silently sifting
      strength from scriptures
from memories of their mother
from mercy of the Gobind
from prayer chants of Mataji
from a manna of faith
innocence clasped within
      the folds of a withering dupatta
Fateh stood brave
      Zorawar charged victory
Mataji patted the pleats
      immaculately in place
of their turbans as they stood tall
      she continually wiped tears
tenderly the boys held hands
harsh insides of cold towers
      together teaching
contributing to our reckoning
     spiritual playfulness
juxtaposed with a soldier's service
     cheerfully extricate
themselves from a destructive execution
     In demise
they walked princely into rich hues of the sunrise
    In being intimate
they found voices that eased the external chaos
     In submission
they laid foundations of healing frontiers
     In departure
they emerged into their wholeness
     towards a
moment of colossal victory
giant in spirit, bricked into freedom, as
a fluttering poem escaped the walls
horizons scattered surrender
into an endearing welcome
Fateh and Zorawar
torsos stood tall
all of 9 and 7, they forgave tenderly
the bricking was trivial, it was rather
their playful dismissal of it
that was monumental, elevating
the space, in its worst historical moment
Imagine the absolute reverence of their submission
Imagine the absolute substance of character
Imagine the inconceivable sacrifice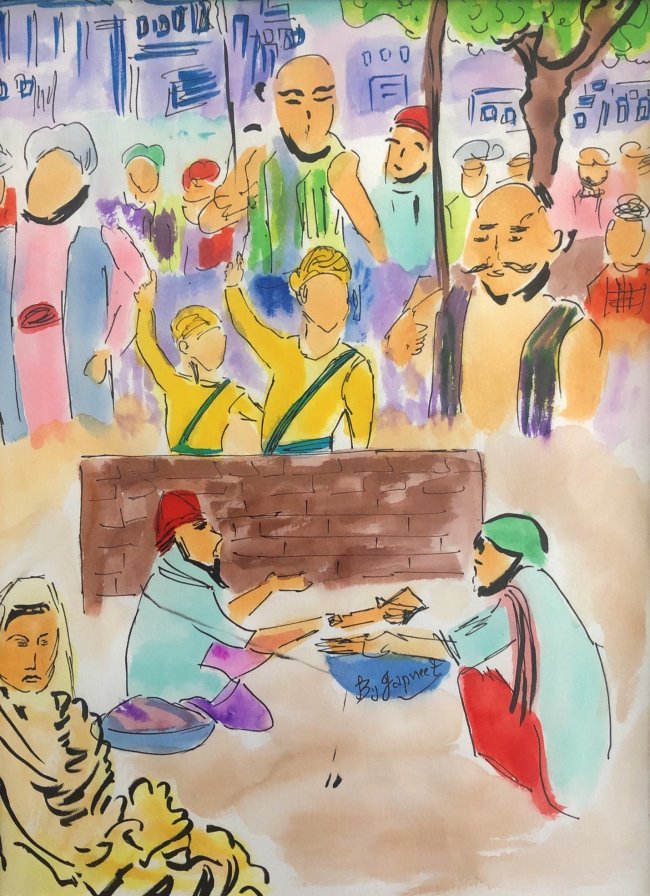 Three
study of separation
Imagine the absolute reverence of their submission
Imagine the absolute substance of character
Imagine the inconceivable sacrifice
Imagine the intersection of love and separation
Buried alive in an effervescence of blessings
Battlefield a penance of armored turbans
Magnificent sons an ode to a father's composure
Martyrdom discerning fragrance of a mother's prayers
a luscious outburst of prayers
O my sprightly sons, may you go rapt into the light
May you find solitude within the bricks
May persistence find its way through the walls
May your young heads lay restful on tiny turbans
May your voices be sure in death as they were in life
May gilded skies bring you home to His Durbar
May your steps create an arc across the bleeding sky
May deliverance from handcuffs relieve festering wounds
May you hold each other as I shed a thousand tears
May the future sing stories of your undying devotion
May my mourning commemorate every warrior saint
May the Guru's poems stand beside you in pertinent moments
May you be always be possessed with grace
A magnanimous sacrifice
a lineage of spiritual valor
an uplifting story of steadfastness
Imagine the absolute reverence of their submission
Imagine the absolute substance of character
Imagine the inconceivable sacrifice
Imagine the intersection of love and separation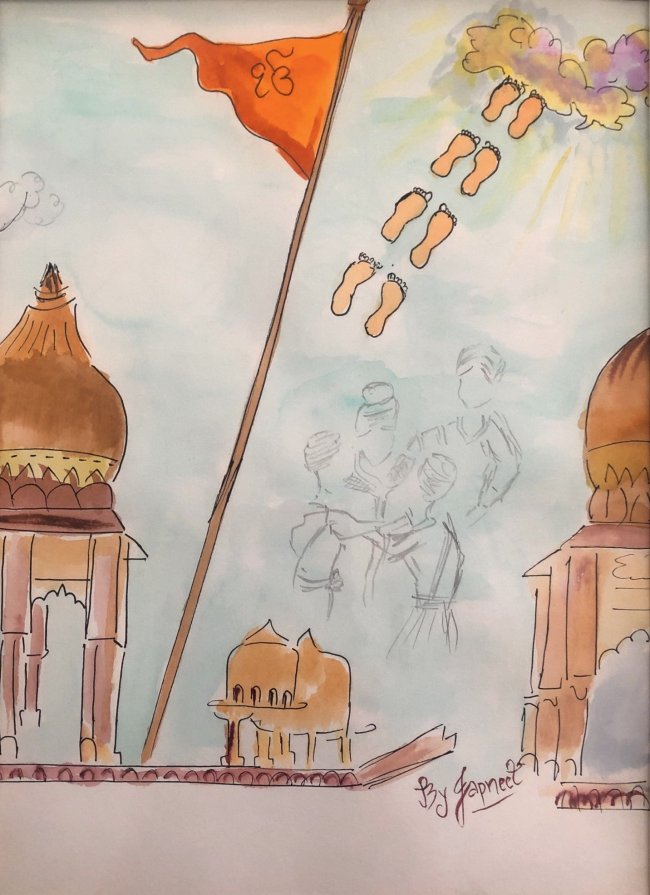 All paintings are by Japneet Kaur