Hindus, Sikhs share Diwali celebration
Festival of light features parties and celebrations leading to special day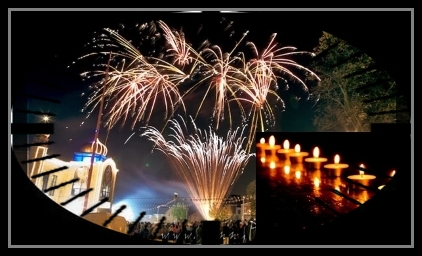 October 13, 2011: For Junita Thakorlal, a Vancouver-born-and-raised Hindu woman, this month is her time to celebrate. She gets together with family and friends, eats too much good food and cleans her house from top to bottom. This is the month of Diwali, the festival of light.
"Diwali is like our Christmas," she says. "It's like a festival that takes place over the entire month. And even though it is central to our religion, it is more of a cultural experience."
Vancouverites can share in the experience through a series of workshops and performances at community centres and performance halls starting this Saturday and culminating in a big event featuring dance, music and food at the Roundhouse on Oct. 23.
While it is a Hindu and Sikh holy day, during which practitioners pray for blessings, Thakorlal says the best part for her is connecting with others.
"Really for me it's the sense of community, the sense of family and the sense of belonging," she says, adding that Diwali is the only time of year when families and friends get together and are thankful for all the relationships in their lives.
Like Christmas, Diwali has one special day (Oct. 26 this year), and a whole month of parties or mini celebrations building up to it.
For Hindus, Diwali marks the start of the new year and centres around the story of the return of Lord Ram, the main Hindu God, to take his rightful place as king after 14 years in exile. As he returned with his wife and brother, the people lit candles to welcome them home.
The day also marks the victory of good over evil and light over darkness because while he was exiled, Ram killed the evil Ravan, who had kidnapped Ram's wife and planned to take over his kingdom.
Sikhs also celebrate Diwali. For them, the celebrations are said to have started when their guru Harobind Ji was released from captivity on Diwali. His overjoyed followers lit the way to the Golden Temple in Amritsar with candles.
Both Hindus and Sikhs mark the day by lighting candles in little clay pots called diyas or divas.
"We light our candles at the doorstep and pray that the goddess of health and wealth will bless us as she did Ram," says Thakorlal.
Thakorlal is a member of Vancouver Celebrates Diwali, a group of volunteers that brings Diwali to life in Vancouver. It organizes workshops at community centres where people can try out bhangra and Bollywood dance as well as diya painting and mehndi hand tattooing.
"I really believe in what they are doing," says Thakorlal. "They are taking Diwali and opening the doors to any faith. It's not about being Hindu or not Hindu. It creates understanding and multicultural ties."
There are some wonderful opportunities to see South Asian dance performers, including renowned Toronto-based kathak or classical dancer Bageshree Vaze, who will perform at the Roundhouse on Oct. 16 and at an intimate cabaret at the Heritage Hall on Main Street on Oct. 18. The second show will also showcase an eclectic mix of the city's best South Asian music and dance.
The cabaret headliner is Canadian hip hop sensation and producer Chin Injeti, who has worked with some of the biggest names in music and who wrote and performed two songs on Eminem's Grammy-winning album Recovery.
Thakorlal says she is most excited about Downtown Diwali. Last year almost 8,000 packed the Roundhouse to see the various performers. This year, the committee has created better flow from one room to the next to avoid congestion.
The daylong family friendly event of music, dance, crafts and interactive performances takes over the entire facility and includes dozens of performances taking place on multiple stages. Participants can also contribute to the creation of traditional coloured powder paintings called rangolis and, of course, enjoy tons of great Indian food. This event is open to the entire community, with admission by donation.
For a detailed list of what is going on go to: www.vandiwali.ca
Other events around town include a by-donation dinner with music and dancing hosted by the Universal Community Cultural Society at the Bonsor community centre in Burnaby, Nov. 6 at 6 p.m. Proceeds go to the CNIB.
AT A GLANCE:
VANCOUVER CELEBRATES DIWALI

When: Oct. 15-23
Where: Various community centres, Heritage Hall and The Roundhouse
© Copyright (c) The Vancouver Sun