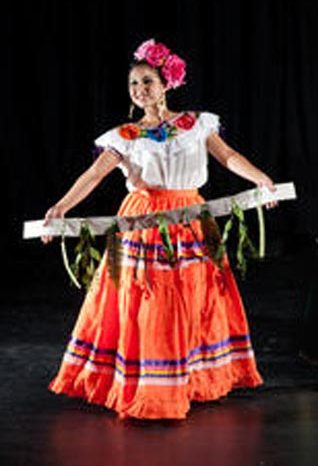 Targeted by legislation, immigrants attracted to California, U.S.A., by agricultural jobs seek to carve out a niche for themselves where they can quietly raise families without attracting undue attention. A feature from yesterday's paper?
Possibly, but a fascinating new collaboration between Joti Singh's Duniya Dance and Drum Company and Ensambles Ballet Folklorico de San Francisco explores the little-known legacy of Punjabi/ Mexican families formed in the roiling ethnic cauldron of early 20th-century California.
"Half and Halves," which is how the children of these blended families sometimes describe themselves, premieres at Brava Theatre Center, San Francisco, on November 13 -14, 2010.
Joti, who has forged a high-energy style by combining traditional Punjabi bhangra with movements from the small West African nation of Guinea, first learned about the Punjabi-Mexican connection from a student of mixed Indian/ Mexican heritage.
"As the child of immigrants, I've always been interested in the straddling of cultures," says Joti Singh, whose Sikh parents were born in India and settled in Atlanta. "That was years ago, and as I established myself here, I kept it in mind and eventually asked a friend for a recommendation for a folklorico choreographer. I think one of the reasons it captures a lot of people's attention is that this is a story specific to California."
In the first two decades of the 20th century, hundreds of men from Punjab, mostly Sikhs, settled in the Central and Imperial valleys of California, working in various agricultural occupations. Barred by law from bringing over wives or marrying whites, they often wed Mexican and Mexican-American women.
These mixed families, mostly unwelcome among Mexican-Americans, formed self-contained communities. While no Punjabi/ Mexican dance form emerged from this singular ethnic mix, dance is an ideal medium for exploring this little-known cultural legacy. Which isn't to say the project didn't present fundamental stylistic challenges for both companies.
"The most difficult part was learning about the dances from Punjab," says Ensambles artistic director Zenon Barron, who founded the company in 1992. "Most of the time in Mexican dance, it's about footwork. Bhangra uses the whole body, and Joti's dance uses a lot of jumping and African movements. That part was very difficult. We decided to have Joti come to our studio, and she was teaching everybody."
"Half and Halves" is by far the most ambitious undertaking either company has ever attempted. Ensambles features a cast of 21 dancers and five musicians playing songs from Vera Cruz. Duniya's cast includes 12 dancers and five musicians playing classical Punjabi and Indian instruments.
The Margaret Jenkins CHIME mentorship program gave the choreographers a chance to get to know each other last year, when Joti Singh studied Mexican folklorico dance with Barron. She received a Creative Work Fund grant to collaborate with his Ensambles. In the process of creating the piece, they interviewed the children of the Punjabi/ Mexican couples, who were pleased that their particular culture wouldn't be forgotten. In exploring this little-known chapter in California history, the companies play to their strengths while tackling each other's art forms.
"We didn't want to try to integrate the whole thing, though I did set a piece for Ensambles, and Zenon set some for my company," Joti says. "There are pieces each company does, where we weave from one into the other, and moments we each explore aspects of the other's tradition. The footwork in folklorico is very difficult!"
"Half and Halves" premieres at 7 pm, Saturday, Nov 13 and 2 pm, Sunday, Nov. 14 at Brava Theater Center, 2781 24th St., San Francisco. Tickets, at $15 and $20, are available at 415-392-4400 or www.cityboxoffice.com.
[Courtesy: Mercury News]