Have you ever wanted to become a Kundalini Yoga Teacher? Well, for the first time ever we are providing Level I Kundalini Yoga Teacher Training in Amritsar, India. We priced the course so that it's affordable to India residents. We have scheduled the training to accomodate those who work or go to school. We have a team of experienced Teacher Trainers to serve as your guides.
Kundalini Yoga as taught by Yogi Bhajanr Kundalini Yoga as an ancient, authentic form of Yoga originated in North-West India and was brought to the USA and Europe in 1969 by Yogi Bhajan. It consists of dynamic exercise, intensive breathing, relaxation, meditation and chanting mantras.

The exercise series work on your health, your peace of mind and your connection to your soul. The mantras are mostly in Gurmukhi, some are in English or from Hindu, Judaist, Christian and Islamic sources.

Teacher Training The Aquarian Teacher program is the KRI Level One Certification program in Kundalini Yoga as taught by Yogi Bhajan. It yearly trains thousands of Yoga Teachers in 52 countries worldwide.

It is meant for those who actually want to teach groups, as well as for those, who want to have a deep experience of Kundalini Yoga for themselves.

It will give you a new sense of health, happiness and spiritual growth. The Kundalini Yoga Level 1 in Amritsar consists of 3 separate modules over a period of 6 Months. It will qualify you to lead Kundalini Yoga classes.
The certificate will be in English as well as in Punjabi and is internationally valid. To be allowed to take the examination you have to have done all three modules. If you have to miss one of the modules, it is normally possible to do this in the next round of the teacher training. If you just want to do one of the modules for your own experience without qualification as a teacher, this is also possible. The courses will be taught in English, with translation into Punjabi, where necessary.
Guruka Singh from SikhNet and Pritpal Kaur from SDI will be teaching Module 2
"Yoga Healing and Yoga Psychology" from April 4 - 12, 2015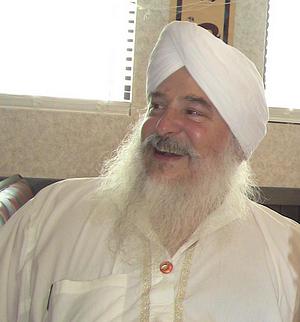 In this second module we will practice and study the impact of yoga on the nervous system, glandular system, muscular system, circulation, etc. as well as the ancient concepts of Prana, Chakras, Nadis, Navel point, and the ten Subtle Bodies.
We also discuss yogic diet, yogic care of the body, and psychosomatics. Yoga Psychology (also called Humanology) discusses the yogic view on the differences between men and women, partnership and sexuality, birth and death, prosperity and happiness. This practice will create an intensive inner and outer transformation.
Guruka Singh Khalsa  is the original founder of SikhNet and now serves as President and C.E.O. of SikhNet. One of the original 25 teachers trained directly by Yogi Bhajan, he began teaching Kundalini Yoga in 1971 and is still teaching all around the world. His many YouTube videos and writings are an ongoing source of inspiration to the global cybersangat. His love of poetry and Gurbani has led him to translate Yogi Bhajan's Gurmukhi poems in "Furmaan Khalsa" (1987) along with publishing his English poetry in the volume "The Game of Love" (2004.) His most recent book is "Heros, Saints and Yogis - Tales of Self-Discovery and the Path of Sikh Dharma" (2011.) He lives under the blue skies of New Mexico with his beloved Khalsa family. He is a Professional Trainer of KRI.

Information and registration
this course is open to anybody who wants to participate. the Level 1 exam will qualify you to teach Kundalini Yoga internationally and be recognized by KRI as a Kundalini Yoga Instructor.
For more information and/or to register for the course go here.

To receive a registration form, please send an email to: Parvinder Singh: [email protected]
or Preetpal   Kaur:  [email protected]

For questions about the course please contact: Parvinder Singh (Punjabi, English), Tel: 0091(0) 981-5994844
or Preetpal Kaur (Punjabi,  English),  Tel: 0049(0)40-1786392233

for examples of Kundalini Yoga exercises please go here.