"Inflict fear on no one and let no fear afflict you"
- Guru Tegh Bahadur Ji
OFFICIAL RELEASE: GURU TEGH BAHADUR'S TIME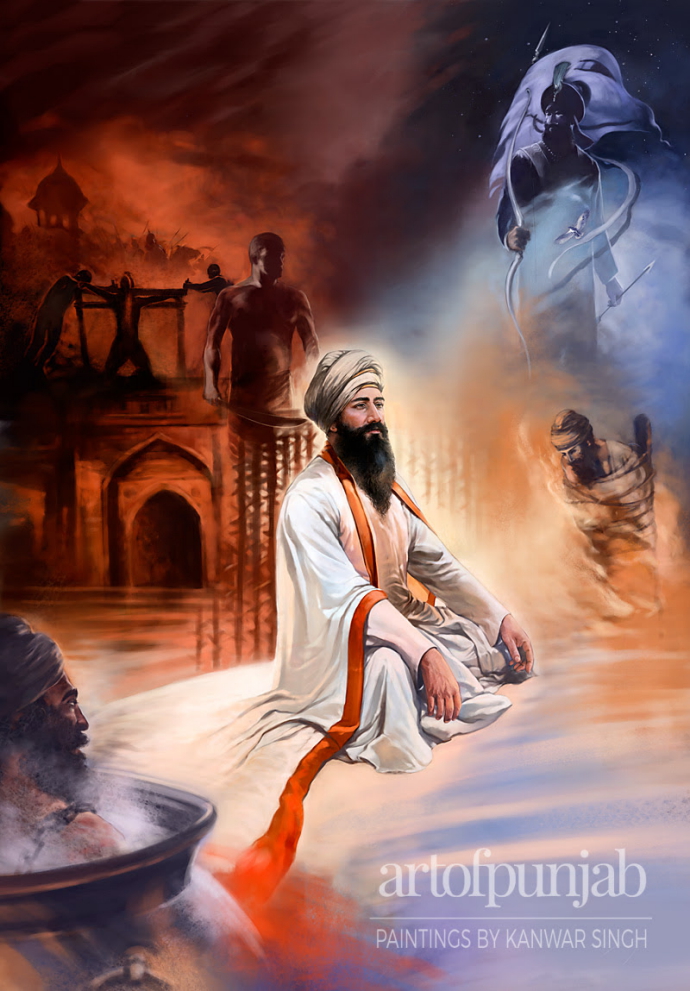 Guru Tegh Bahadur's Time is a new painting by artist Kanwar Singh which commemorates the legacy of Guru Tegh Bahadur ji and speaks to the importance of his martyrdom in the evolution of the Sikh faith. The painting conveys the darkness of the era in which the Guru lived, being a time of great religious persecution under the Mughal regime.
Guru Tegh Bahadur imparted great courage to his followers by challenging the darkness around him and willingly sacrificing his life to assert the Sikh principle that all people should be free to practice their faith without fear of oppression. His martyrdom became a symbol of dignified resistance in the face of religious and state tyranny, forever earning him the title, 'Hind Di Chaadar' the Shield of India. The painting reveals that Guru Tegh Bahadur's heroic sacrifice was the gateway through which the Khalsa Panth was delivered by his son Guru Gobind Singh ji, to fight tyranny from that moment on.
- Art Of Punjab

The Story


The Kashmiri Pandits, under the threat of forced religious conversion by the Mughal Empire, appealed for Guru Sahib's help. The delegation told the Guru that they have been given an ultimatum by the Mughal Emperor, Aurangzeb, to either convert to Islam willingly or face death.


Upon hearing this, the young Gobind Rai told his father, Guru Tegh Bahadur Ji, there was no one other than the Guru himself to defend the rights of the Pandits. Guru Tegh Bahadur Ji told Pandit Kripa Raam to convey to the Mughal Emperor that if he was able to convert the Guru of the Sikhs, then the Kashmiri Pandits would also willingly convert. The house of Guru Nanak Dev Ji respects all faiths and is driven by the principle that all should be free to practice their faith without fear of oppression.


Guru Sahib stated that a Sikh does not frighten anyone nor is a Sikh afraid of anyone. With this conviction in mind, Guru Sahib agreed to take a stand and travelled to Delhi.
Guru Sahib left for Delhi with Bhai Sati Das Ji, Bhai Mati Das Ji and Bhai Dyala Ji. On reaching Delhi, the Guru was imprisoned and kept in a cage. Following the Emperor's decree, Bhai Mati Das Ji was sawn into two halves, Bhai Sati Das was wrapped in cotton wool and set alight and Bhai Dyala Ji was boiled alive in a cauldron. These horrific acts were perpetrated in order to intimidate Guru Sahib into submission.


After refusing to submit to the demands of the Mughal regime to convert to Islam, Guru Sahib was publically executed and attained martyrdom. Through this selfless act, Guru Tegh Bahadur Ji saved the entire Hindu faith from extinction and is subsequently referred to as "Hind Di Chaadar".
Guru Tegh Bahadur Ji's ULTIMATE SACRIFICE gave rise to the next evolution of the Sikh faith.