Guru Tegh Bahadur Scholarship for Human Rights
This scholarship was established to honour and celebrate Guru Tegh Bahadur, who sacrificed his life to protect Human Rights and dignity of humankind. This scholarship would present an opportunity to recognize and raise awareness about human rights violations around the world. The objective of this undertaking was to promote a positive image of the Sikh community  and to create awareness of our Rich Heritage among fellow Canadians. We believe that by taking initiatives to promote education changes the image of Sikhs in the Community at large, especially the western society.
Brief History of Guru Tegh Bahadur:
Guru Tegh Bahadur was the ninth Guru of Sikhs . He was born on April 01, 1621 in a family of revolutionaries, social activists and reformers, who sacrificed their lives for justice, equality, tolerance and oppression. It is obvious, that, he inherited the human rights genes from his elders. He traveled extensively throughout India to spread his mission of human rights. He preached divine virtues such as Compassion, Tolerance, Peace, Honesty, Share ( Charity), Helping the Needy (poor, sick, underprivileged), Sweetness in voice, Truth, Respect, Humility, Contentment, love, Kindness, and Brotherhood/ Sisterhood. Most importantly, he emphasized on virtuous living. He raised awareness of people's rights and inspired the downtrodden society to defend themselves against injustice, inequality, tyranny, oppression, and exploitation.
Guru Tegh Bahadur undertook the supreme sacrifice on November 24*,1675, along with his 3 companions. This was for the protection of the most fundamental of human rights and the rights of a person to freely practice his/ her religion without interference or duress. Guru Tegh Bahadur sacrificed his life for the protection of Hindu religion, whereas he himself did not believe or practice Hindu religion. This type of unique supreme sacrifice had never been previously recorded in human history.
This martyrdom was self thought for the defence of basic human values, which centuries later were incorporated by the U.N. General Assembly in the Universal Declaration of Human Rights in December 1948. It would have been honourable, if government of India, approached U.N. General Assembly to adopt his martyrdom anniversary celebration by all humankind, as freedom of conscience day. However, the anti -Sikh new rulers of India such as M.K.Gandhi and J.L.Nehru had no intention of doing this noble task.
In India, Guru Tegh Bahadur is known as "Shield of India"(Hind De Chadar). I feel, it would be more appropriate, to remember him as "Shield of Humanity".
*Traditionally, Guru Tegh Bahadur's martyrdom was celebrated on November 11th , however, according to Nanakshahi calendar (2003), it has been changed to November 24th.
I would like to say that the Brandon Sikh community is fortunate to have a small group of like-minded individuals whose prime objective is to promote a positive Sikh image among fellow Canadians or western society. All ideas are discussed among members before they are implemented. We are very careful that there would be no individual or personal gain from the final result of the project. I don't  hesitate to say that a small Sikh community of Brandon has been successful to establish 2 scholarships under the names of our great Gurus. These types of community funded scholarships are most likely the first of its kind in the western world if not in the whole world.  
I would like to extend my sincere appreciation to the members of Sikh community of Brandon, Winnipeg, Richmond, BC, Surrey, BC,and Chilliwack, BC for their generous contributions towards this noble cause.
Ramjit Singh Mann
<><><><><>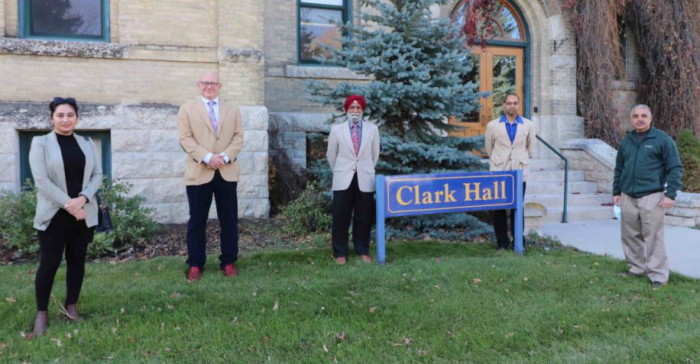 From left to right, Harpreet Kaur Dhak, Brandon University President Dr. David Docherty,
Ramjit Singh Mann, Sukhbir Singh Minhas and Dr. Nasib Singh Randhawa pose in front
of Clark Hall prior to gathering restrictions. Dhak, Mann, Minhas and Dr. Randhawa are
representatives of the Brandon Sikh community, which has made a donation for the
creation of a new scholarship honouring Guru Tegh Bahadur.
A new scholarship founded by the local Sikh community will support Brandon University (BU) students who demonstrate an interest in studying human rights issues.
Seventeen members of the Brandon's Sikh community have raised $11,520 to date to establish a scholarship in honour of Guru Tegh Bahadur, a key leader in the history of Sikhism. The scholarship, valued at approximately $500 annually, will be awarded in alternating years to students in BU's Sociology and Gender and Women's Studies programs who have demonstrated high academic performance in courses that deal with the subject of human rights.
Known as the "Shield of India," Guru Bahadur traveled extensively throughout India, spreading his mission of human rights, before he was executed in 1675 for refusing to renounce Sikhism. His martyrdom is celebrated each year on Nov. 24.
"Guru Tegh Bahadur sacrificed his life for the human rights and dignity of humankind," said Ramjit Mann, one of the leaders of the effort to create the scholarship. "This scholarship would present an opportunity to recognize and raise awareness about human rights violations around the world. Sikhs are strong believers in education and believe that all humankind has the right to education. We feel our small contributions toward establishing the Guru Tegh Bahadur Scholarship for Human Rights is one of the best ways to help youth in education.
"The knowledge or wisdom gained through education would be applied to the welfare of humanity."
This is the second BU scholarship initiated by Brandon's Sikh community in recent years. In 2015 they raised funds for an endowment to create a scholarship honouring Sikhism founder Guru Nanak Dev. Initially funding a scholarship of approximately $1,400 per year, the endowment for the Guru Nanak Dev Scholarship has grown to the point that it now generates an annual award of more than $1,900 for a student who shows significant academic merit and community service through volunteering.
"We are very grateful to Mr. Mann and his fellow donors for their generous support of Brandon University students," said Carla Eisler, Director of Advancement and Alumni Affairs at BU. "Their contributions help to give our students a strong foundation and provide enlightenment on important issues in our society."