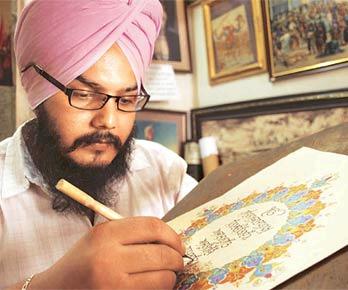 Hardeep Singh, an artist in Amritsar, has drafted Gurbani  in calligraphy.

He said he undertook the work because he had not seen anybody doing it before.

"It has been almost a year. The response has been great. Calligraphy means beautiful writing. The art originated in England. I have not seen anybody drafting Gurbani in calligraphy that is why I decided to undertake it," said Hardeep Singh.

His father, Surindra Singh, himself a collector of art antiques, is helping him with his new venture.

"We have preserved invaluable pieces of art. Though it is the duty of the government to preserve it. We also have some illustrated materials. If government wants I can give it to them," said Surindra Singh.

Hardeep Singh is a computer teacher by profession, but an artist by heart. He prints the borderline of the page on computer and writes the verses of Gurbani with his hands.
Infatuated by colours since childhood, this young artist has graduated to rewriting the Gurbani of Guru Granth Sahib in calligraphy style, following the century-old fashion of drafting. Meet Hardeep Singh – MCA degree holder and computer teacher by profession but an artist by heart, who creating superbly illustrated Gurbani. Since, he easily relates with colours, thanks to his interest in painting, his work is a class apart when it comes to choosing colour combination for the sheets.
The great grandson of Bhai Gian Singh Naqqash, who has worked on a portion in the sanctum sanctorum just above Har ki Pauri in the Golden Temple, Hardeep is busy preserving the invaluable artwork of his father, grandfather and great grandfather in digital format. He has also set up a website of the family listing its contribution to the field of art.
Colours at work
Detailing his style of work, Hardeep says, "I have been using handmade paper for writing scripts. We design borders on computers and print them on sheets. Later, colours are filled in the borders." After filling the colours, he writes the text with pencil over which he calligraphs the letters using a special pen.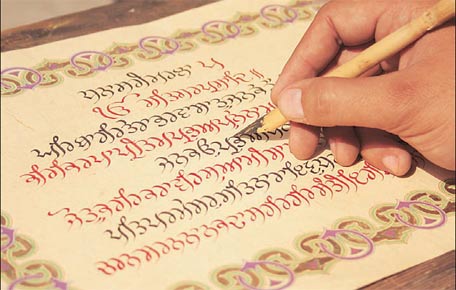 Hardeep uses acrylic colours."Of these, for the golden colour, we grind 24-karat gold sheets and make them into powder. The powder is then mixed with gum so that it adheres to the paper," he says. For writing the text, Hardeep uses indelible ink, which does not fade.
The sheets that have the Gurbani script, have intricately designed borders with serene colour combinations. "I have, so far, used golden, purple, green, brown for borders while black, brown, red and green colours have been used for the text," Hardeep said.
The artist's future plans
"I want to write the entire Guru Granth Sahib. Along with that, I also want to draft the Hindi version of Guru Granth Sahib and other slokas of Hindi manu scripts," Hardeep said.The Guru Granth Sahib will require at least 1,400 sheets, he says.
Admirers all over
Examples of Hardeep's calligraphed Gurbani are touring worldwide. "Sikh living abroad,who are aware of this practice, have taken some sheets with them," Hardeep said adding that his sheets have gone to USA, Canada, UK, England and different parts of India.
"We had a professor from Japan visiting us some timeback who taught Punjabi at Japan University. He also took away two sheets for display purpose,"Hardeep said.
Regarding the cost of each sheet, Hardeep smiles, "It's priceless. We don't ask for money. It depends on the person who is taking it. What ever he gives, we accept." For preparing each sheet, Hardeep takes 3-4 days. "It requires a lot of concentration for making borders, filling colours in them and calligraphing the verse. If there is even a single mistake, we have to throw away the entire sheet, "the artist said. He covers the sheets in plastic or frames it on demand.
Call to SGPC
Hardeep's family has requested pious Sikhs to keep nicely framed verses of Gurbani in their houses. "Instead of keeping pictures, Gurbani can be framed and displayed at homes. Moreover, bodies like Shiromani Gurdwara Prabhandhak Committe (SGPC) should encourage calligraphy of Gurbani . They should allow calligraphed birs to be printed.