Grand Painting of Two Young Sahibzadey and their Avengers



This painting depicts that epic moment when Baba Banda Singh ji Bahadur captures Wazir Singh with a group of Singhs. In order to bring Wazir Khan to justice, Baba ji punishes him for executing the Chotte Sahibzadey, the innocent children of Guru Gobind Singh ji.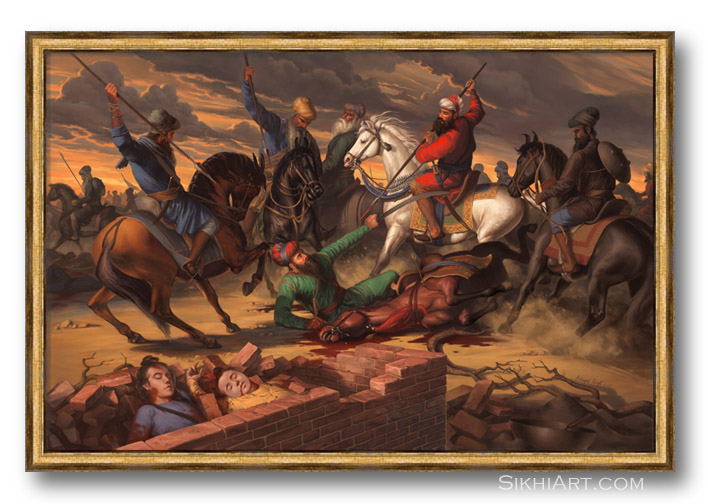 In the foreground, we see the innocent Chotte Sahibzadey fallen amongst cold bricks, cruelly murdered at sunset. Behind them, we see Banda Singh Bahadur and his Singhs surrounding the cruel Wazir Khan, with spears in hand. Wazir Khan's horse is slain and falls to the ground, representing the fall of Sirhind, and he is forced to defend himself as he collapses to the hard ground. In the background, Baba ji's army is returning back home after conquering the city of Sirhind and punishing Wazir Khan for his actions.
In this painting, the artist depicts two events that take place years apart - martyrdom of Chotte Sahibzade and Banda Singh Bahadur's attack on Sirhind - together into a single painting to connect them and tie them together to create a beautiful and original work of art.
To take a closer at the painting visit: http://sikhiart.com/for-sale/banda-singh-bahadur/