On August 13, 2017, the Guru Nanak Foundation of America conducted its second annual backpack project. This year, the Sikh congregation at the gurudwara worked together to provide 874 backpacks filled with school supplies to the students of the Joann Leleck Elementary School, YMCA Linkages for Learning Programs and the Latin American Youth Center.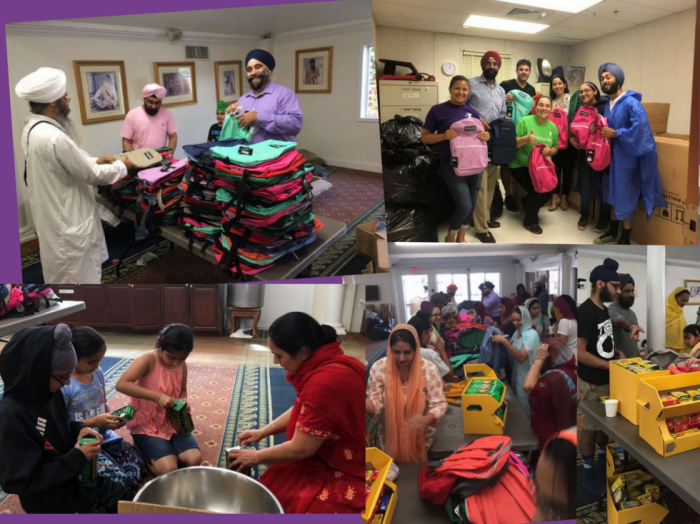 Every backpack included 2 composition notebooks, pencils (8 pk), colored pencils (12 pk), crayons (24 pk), and glue sticks (2 pk). All of these supplies, including the backpacks themselves, were donated by the congregation at the gurudwara over a period of a few weeks during the summer. Over 30 volunteers gathered at GNFA to pack these backpacks with the school supplies and prepare them to be delivered to the school. On August 15, 2017, almost 900 backpacks will be delivered to the elementary school for the upcoming year. The Sikh congregation at GNFA plans to continue this project for years to come and support its local community.
Amrita Kaur
_____________________________________________________________________________
"Thanks to you, our community is ready for the return to school! We received 798 backpacks. With this huge donation, we were able to hand out backpacks to the students who participate in our Linkages to Learning program. In addition, we were able to share backpacks with other families in need who participate in other YMCA YFS programs. The backpacks reached families needing assistance in getting ready for school, and you helped to make the transition easier for each child.
On behalf of the Linkages to Learning program with YMCA Youth & Family Services, we want to thank you for the backpacks that we received. We, and the community we serve, are so grateful for your generosity!!"
Sincerely,
Kirsten Sidell
Director of Linkages to Learning
YMCA Youth & Family Services