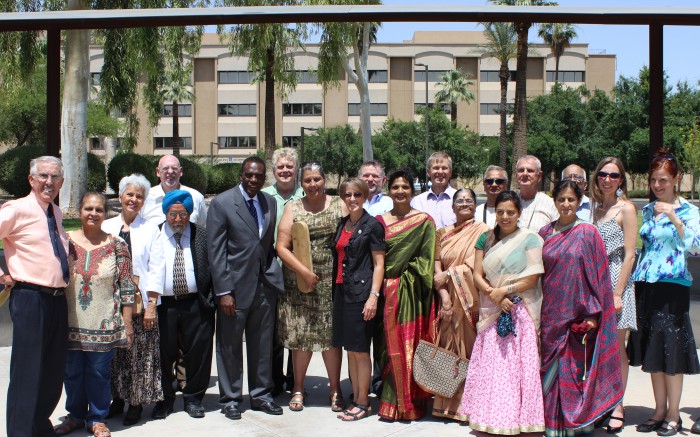 AIFM Group Photo ~ Representatives and others from different faiths

The Arizona Interfaith Movement (AIFM) added another jewel to its crown by arranging special prayers by representatives from different faiths on the National day of Prayer at the 9/11 Memorial built at Wesley Bolin Plaza on the grounds of the State Capitol of Arizona. The event took place from noon to 12:30 P.M. on the first Thursday of May that incidentally happened to fall on May 1st this year. The 9/11 Memorial was built in the memory of the victims from Arizona who lost their lives at ground Zero. It also includes the name of S. Balbir Singh Sodhi, a local Sikh killed four days after 9/11 in Mesa, Arizona due to the hate crime.
One after the other, the prayers were said by almost 15 members of the Board of AIFM, including a Sikh, in accordance with their own faith traditions and in the presence of other people including their family members. Given that 15 faiths collectively invoked the "Power That Be", the Nature seemed pleased enough to let the cool wind blow, thus making sure that everyone felt comfortable, in spite of the May heat of Arizona.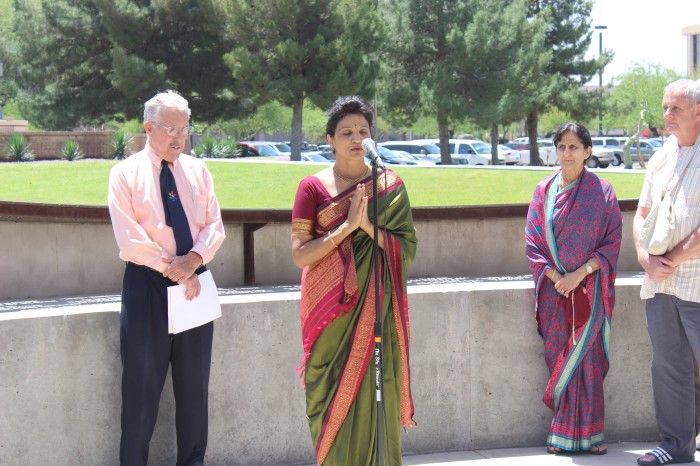 Anita Rangaswami



Dr. Jaswant Singh Sachdev, Sikh Representative

To recapitulate the history of the National Day of Prayer, it should be stated that while the Continental Congress had called for it since 1775, the modern law formalized its annual observance in 1952. It was only recently in 1988 that the law was amended and now the National Day of Prayer is fixed for first Thursday of the May. In fact, there are two stated intentions for this National Day of Prayer, i.e. to help join the adherents of all religions to unite in prayer and to bring renewed respect for God to all the people of the world.
Nationally, this year, the 63rd Annual National Day of Prayer was observed in the historic Caucus Room of the Capital in Washington DC which helped serve as a springboard for more than 43, 000 similar gatherings from coast to coast (as per Internet). In addition, an estimated 200 Nations world-wide participated in the annual observance including South Korea and India (Internet). Here in Arizona, choosing the observance of this day at the 9/11 Memorial, also served as multi-faith initiative, reflecting upon the horrendous crime against innocent lives as well as disapproval of the act of hate towards other innocent but different looking people.