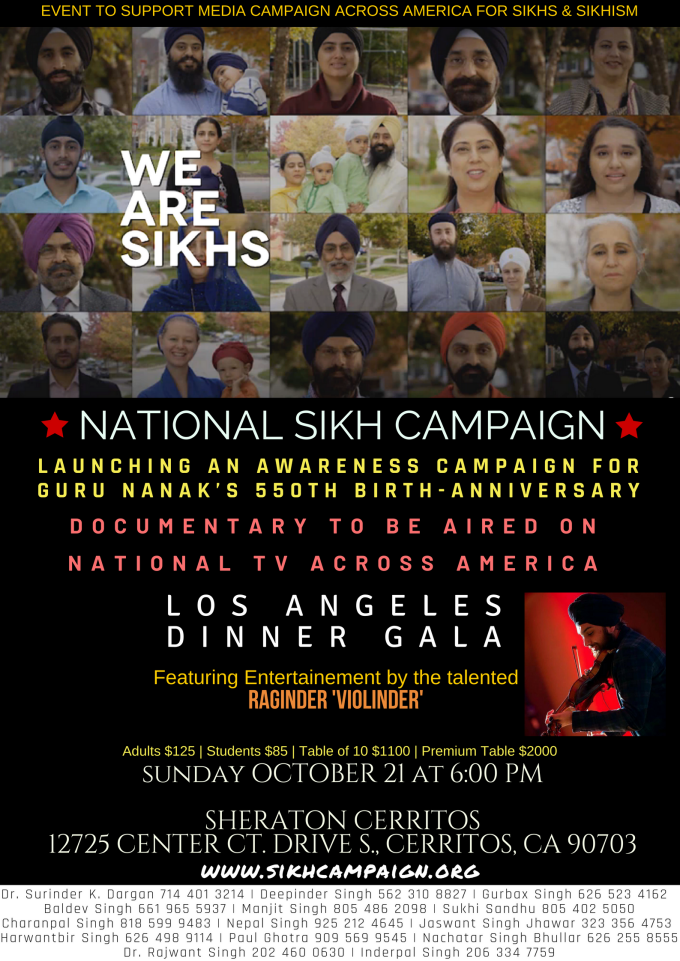 Sikh community in Los Angeles is gathering this weekend to support documentary on Guru Nanak. National Sikh Campaign (NSC) has launched an initiative 'Guru Nanak 550 Campaign' in which a high level documentary on Guru Nanak, the founder of Sikhism, will be made and will be broadcast on on TV stations all across America. Sikh community worldwide will be celebrating the 550th birth-anniversary of Guru Nanak in 2019. A fundraising dinner gala event will be held on Sunday, October 21, at Cerritos Sheraton in Los Angeles where 300 guests are expected to join to support this effort.
Dr. Rajwant Singh, Co-founder of National Sikh Campaign and its Senior Adviser, said, "There is a dire need to create awareness about Guru Nanak and his message in America and in the world. According to our polls and survey in 2014, 0 percent of Americans know about Guru Nanak and a vast majority of the people in world has no clue about his life and important contribution he made 500 years ago. We are hoping to change that with this community supported effort."
"Guru Nanak is a towering personality arising out of the Indian sub-continent and his thought process changed changed the course of history in the region and the world and yet no body knows about him. There is no respectable material to be shown on TV or on social media and hence the need for a well-produced high level documentary. We feel that it is critical that the younger generation gets connected to Guru Nanak's practical philosophy."
Amritpal Singh, Co-Chair of NSC from Visalia, said, "This is the first of its own kind endeavor to introduce Guru Nanak and his message on the world stage and we are encouraged by the response of the Sikh community. We owe to ourselves and to our future generations to share Guru Nanak's life and appropriately place him among the world's greatest figures."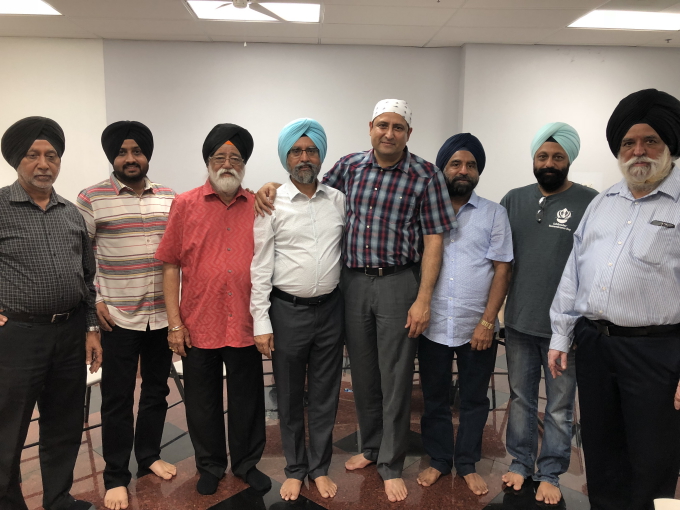 Mohinder Singh Sohal, Executive Secretary of NSC from Seattle, said, "We are looking forward to engaging the community all over America and the world on this important project."
Gurwin Singh Ahuja, Executive Director of NSC from Cleveland, said, "Our research shows that once Americans learn about the values Guru Nanak spread across world such as equality and religious tolerance, they develop an enormous respect for his life and contributions."
NSC is planning to eventually provide this documentary to various universities all across United States with an accompanying study guide for students. Connecticut Public TV Station will be coordinating this effort along with the film company and it will be shown on over 200 TV stations. 
NSC has run a successful ad campaign 'We Are Sikhs' in 2017 and had hired Obama's media team, Bush's marketing team and Clinton's strategy team to create awareness about Sikhs and Sikh identity in America. The campaign was awarded an award by PR Week for its effectiveness of the message. NSC is also planning another phase of this ongoing campaign in the coming year.