DH News Service
A delegation of French industrialists and entrepreneurs will visit Bengaluru during January next year to hold talks with state officials on investment opportunities in Karnataka.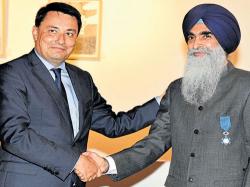 Bengaluru: 25 Aug 2016 DHNS - French Ambassador to India Alexandre Ziegler, who called on Chief Minister Siddaramaiah on Wednesday, conveyed his country's interest in investing in various sectors in the state, especially machine tools and aerospace. France will also be looking at the possibility of collaborating with the state in health, transport, energy and food sectors.
According to an information note prepared by the Chief Minister's secretariat, Siddaramaiah invited France to actively participate in next year's Pravasi Bharatiya Divas, which is scheduled to be held in Bengaluru. The Ambassador invited Siddaramaiah to visit France, the note stated.
Takes a ride on Metro
Earlier in the day, the Ambassador, along with other dignitaries from the Embassy, took a Metro ride with Bangalore Metro Rail Corporation Ltd (BMRCL) officials.
After taking a tour of Cubbon Park Metro station, they travelled to Majestic, and from there they travelled back to M G Road. U A Vasanth Rao, BMRCL general manager (Finance) said the delegates appreciated the smooth, noise-free ride on Namma Metro.
They also appreciated the cleanliness of the station and the train. The expansion plan of Majestic Metro station was explained to them through models. The French Development Agency (FDA) has extended a Rs 1,500-crore loan to the Metro for the second phase.
Ziegler, conferred the French distinction of "Officer of the National Order of Merit" upon Chiranjiv Singh, president of Alliance Francaise. He also launched a gaming zone at the centre.
Speaking at the investiture ceremony, he appreciated Singh, former additional chief secretary to the Karnataka government for his sensitivity to the French culture and language.
Most sought after
"In his 11 years of service as president, Alliance Francaise has become the most sought after space not just for French culture but for all kinds of cultural activities in the city." Ziegler said.
To make learning French a fun experience, Alliance Francaise has launched a gaming zone where students will be able to play popular video games in the French language. The zone, developed in partnership with French video game developer Ubisoft, has a large TV screen with a Playstation 4. "Learning French does not have to be restricted to the classroom. Let's play and learn." said Ziegler, speaking at the launch.
Accepting the honour, Singh said that in times of conflict, it was necessary to build bridges of understanding and this was a step in that direction. He nostalgically recollected his years in Paris as the ambassador of India to the Unesco. He prayed that the city be spared 'the evil eye of violence'.
Gaming zone

Accessible to students of Alliance Francaise, the gaming zone offers popular games like Assassin's Creed, Far Cry and Tom Clancy's division in French.