Many people once settled into the comforts of the western countries forget their roots back in India. Canadian citizen Dr. Naurang Singh Mangat on the contrary left his family (wife Parmjit Kaur; sons Parvinder Singh, Dr. Gurvinder Singh, Jaswinder Singh; daughter-in-law Beant Kaur; grandsons Gurnoor Singh and Amrit Singh) back in Calgary, and made reverse journey to Punjab that too with a sole purpose of bringing some comfort to the poor and destitute.
With his constant efforts and unflinching belief to help needy, an Ashram with multiple storey concept has been built under his supervision over 3000 square yards near village Sarabha, district Ludhiana. The ground floor is almost ready with a 20 bed facility for providing shelter to the poorest of the poor which includes destitute, physically challenged, lepers, blind, orphans, etc. Dr. Mangat hopes its expansion to 100 beds in the coming few years besides setting up of a small kirtan academy there. The Ashram is likely to start function from mid July.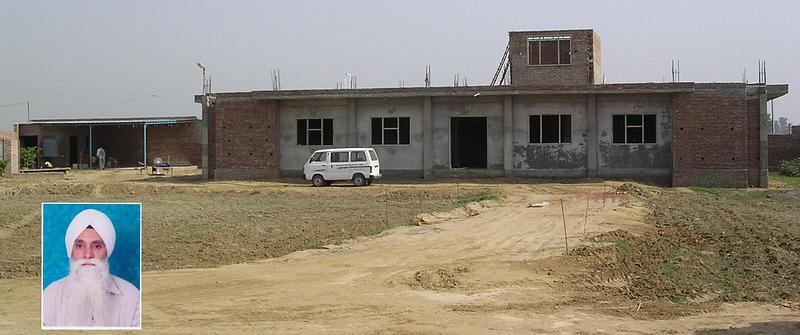 Before the Sikh community arranged a van for him, he used to pedal his bicycle for many years even in intense cold, scorching heat and traffic pollution in slum areas of Ludhiana and surrounding villages for extending help to physically challenged, lepers, blind, orphans, or else extremely poor sick people lying on footpaths and crying for help. Even Sunday is not off for him which he uses to teach kirtan to the kids.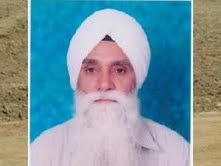 Born in a middle class Jat Sikh family of village Jatana near Doraha (Punjab) Dr. Naurang Singh Mangat though earned the reputation of well known scientist of his field but his living remained simple. Clad in a simple kurta-pajama with a bag slung on his shoulders, one would not easily believe that the man riding bicycle or driving van helping the needy is not only a former Scientist of Punjab Agricultural University, Ludhiana but also worked as a Visiting Scientist in the University of Windsor, and as a Scientist at Morrison Scientific Inc, Calgary for about 8 years. He is also a former Fellow of the Royal Statistical Society, London. Besides publishing about 70 research papers in statistics and related fields in the world famous journals, Dr. Mangat also co-authored the text book "Elements of Survey Sampling", which was published by Kluwer Academic Publishers of Dordretch, London, and Boston but now owned by Germany based Springer -Verlag publisher. The small NGO "Guru Amar Das Apahaj Ashram" which he got registered in 2005 has saved lives of many extremely poor sick people who otherwise would have died for want of physical, medical and financial help. Tricycles, wheelchairs, crutches and clothes are also distributed to the needy, and education of about 25 extremely poor school kids having no source of income is also sponsored by the Charity.
For more details one may contact or login to:
Dr. Naurang Singh Mangat
Volunteer, Guru Amar Das Apahaj Ashram
Ludhiana, India
www.apahajashram.org or contact Dr. Mangat at [email protected], [email protected], Mobile +91 99152-88035.

Objectives:

To take care of (i) destitute, terminally ill, lepers, AIDS patients, and other seriously sick people; (ii) disabled, mentally sick, handicapped, blind, deaf, and dumb; (iii) orphans, deserted kids, and poor kids; (iv) infirm (v) aged people.
Providing education, medical facilities, etc.
To help victims of natural calamities.
To stop alcohol and drug abuse.
To promote mankind and brotherhood.
To improve quality of environment.
Other activities consistent with the objectives.
To impart free kirtan training to Sikh kids.
Output so far:

About 40 needy individuals are being taken care of.
Lives of four children were saved by providing emergency medical help.
Wheelchairs, tricycles, crutches and sewing machines were provided.
Clothes, blankets, etc. are distributed twice a year.
Education of 15 needy children is being sponsored.
Shoes and sweaters were provided to 70 needy students.
Free Kirtan training imparted to 40 children.