A NEW mindful and creative approach set to inspire humanity.
20th April 2020, LONDON, UK. Chaz Fliy the founder of Hukam Prints and Wellbeing Teacher, unveiled a crowdfunding campaign on Kickstarter to produce the first Sikh Adult Colouring Book. The book promotes mindfulness through colouring whilst supporting creative education for children world wide.
The Sikh Colouring Book is the first in a collection designed to transform the customer experience by learning about different cultures and religions whilst applying mindfulness teachings. With every purchase of a book Hukam Prints will provide a colouring book and art kit to an underprivileged child in an underfunded school or area.
"The children cannot directly write or colour on the book since it would still be used by other classes. Instead of directly drawing on textbooks, students must manually copy and transfer the activities from the book to their notebooks." ~ savethechildren.org North Cotabato, Philippines
"Love this idea! You have our support :) - Reet & Amit" Kickstarter

"I absolutely love this" Aman Birdi Facebook
The Sikh Colouring Book will help to:
Promote positive mental health through the process of adult colouring.

Raise money to provide creative supplies for underprivileged children worldwide.

Educate people about religions and traditions from a mindful perspective.
"Each book in the series will focus on a different culture and this is another personal motivation for me after I was fortunate enough to teach in an orphanage in Africa. I witnessed how grateful and cheerful these children were with limited supplies but incredibly grateful when they received these small gifts like pens and pencils." ~Chaz Fli

Our core mission has always been to inspire people and uplift those less fortunate. 
For more information on The Sikh Colouring Book Visit www.sikhcolouringbook.com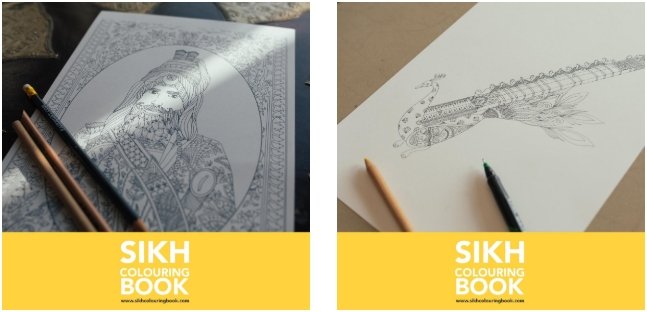 Questions can be directed to [email protected] / Contact 07958 004 066