First ever Online Gurmat Crash Course
delivers to over 500 participants in Canada by
Guru Gobind Singh Study Circle
Online Gurmat Crash Course delivered Grand Prize Trophies- Occulus Rift, PlayStation 5, Gift Cards right to the winners' doors COVID 19 failed to stop these sevadars from exciting, engaging, and inspiring our new generation – Sikh Teens.
It was a breezy wintry day in Canada. Over 120 families logged on to the virtual prize ceremony. There were over 200 eyes glued to one screen. Was it a new Netflix release..?
naah.. it was the Virtual Prize Ceremony for a Gurmat Crash Course – Dus Guru Sahibaan Part 1.
Over 500 attendees plus some 100 parents attended the actual event on Oct 9,10,11 from all over the globe…namely Toronto, Calgary, Seattle, California, London, Nagpur, Ahmedabad, Kapurthala and more. The course was about the teachings of the first 5 gurus and was so captivating that even though it was the first time done online it glued the participants to their screen for 3 hrs. for 3 days in a row.. As the sevadars say rightly... "Let's take you back in time!"   It will not be an exaggeration to say it's the first of Gurmat camps that could engage online Sikh teens at the deepest level of their attention.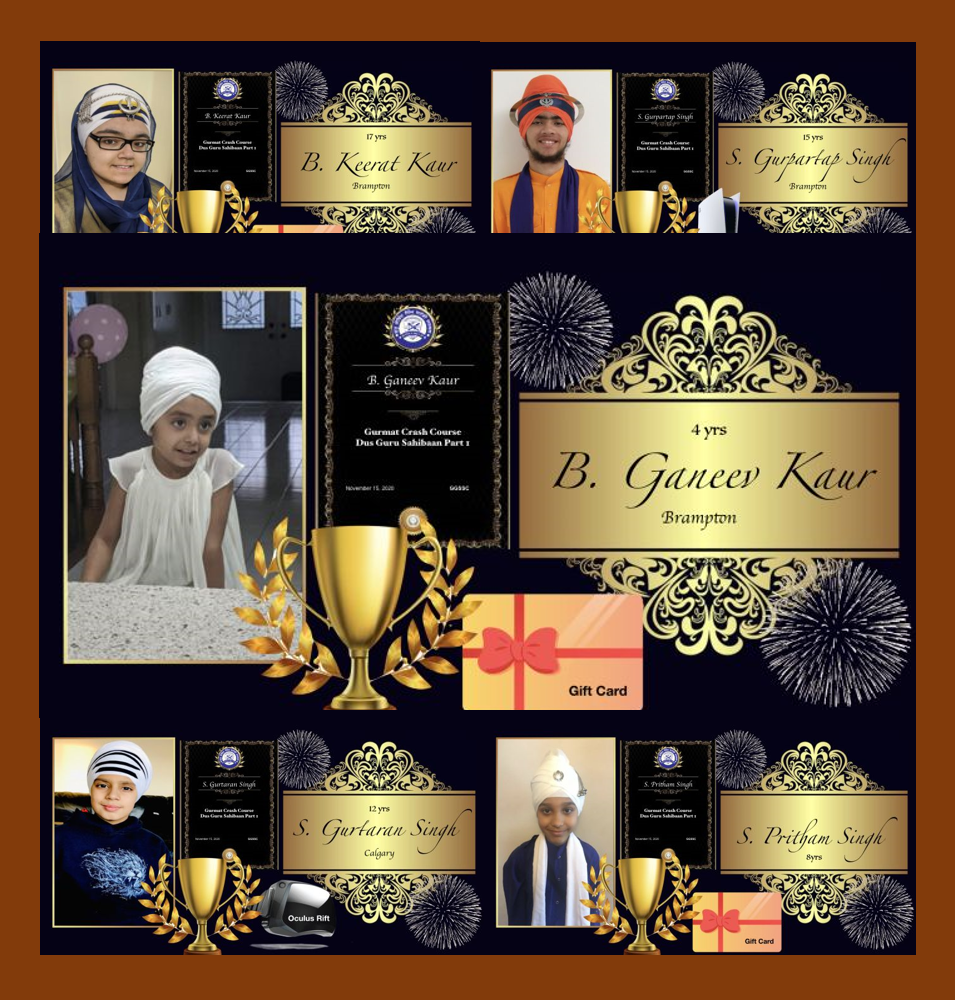 The sevadars at Gurmat Crash Course are already famous for delivering these courses in various gurdwaras around the globe, but the online event was unique, spellbinding, and the first in its league! Over 270 students wrote an online proctored exam and the winners were now waiting on Nov 15th, 2020 at 2 pm -the virtual prize ceremony.
The virtual Prize Ceremony sounded boring, but the participants knew that GGSSC Canada does nothing that is boring. So, the sevadars at GGSSC Canada started the Prize Ceremony with a live stream and 200 plus eyes were watching to see the winners. The winner of PlayStation (Age 13yrs +)... the winner of Occulus Rift (Age 9-12yrs) ...the winners of Toys Gift Cards (Under 9 yrs).
The sevadars started off with announcing medals of honor and then came the first winner... suddenly a sevadar was added on another screen walking to a door. It was the house of the 9-12 yrs. winner Gurtaran Singh in Calgary. Gurtaran Singh and his family were surprised that a gift from Toronto was at their door in Realtime. The whole Sangat was rejoicing that yet. Maybe they are next.. The under 9 yrs. grand winners- B.Ganeev Kaur & S. Pritham Singh also received prizes at their door in Toronto. The sevadars then announced the runner ups and the final winner for 13 yrs. and up age group- Gurpratap Singh in Brampton who received a PlayStation 5 Gift Card and the Grand winner trophy.
There was another grand winner who had attended the course before and was awarded the Grand Prize Trophy.
The Sangat and parents were rejoicing, and all participants were awarded with certificates. The best part was it no longer felt like it was any less than a physical face to face event.
The next Gurmat Crash Course is FREE and available for all to join at www.ggssc.ca. It will be held online on Dec 25, 26 & 27, 2020 at 5.30PM EST on the first 2 days and 2 PM EST on Sunday. For helping reach Sikh history and Gurmat to far and wide in every Sikh household, GGSSC Canada invites you to be a part of creating history.
Call us to discuss more at Binder Kaur-15195017793
Sarbat Da Bhala
 
Binder Kaur
National General Secretary, Canada
Guru Gobind Singh Study Circle
Gurmat Crash Course
519-501-7793
www.ggssc.ca