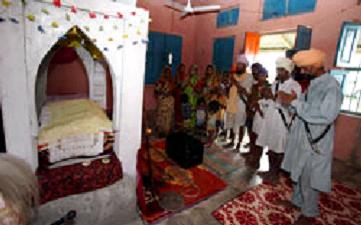 It's a nondescript temple at Halhalia village in Bihar's Araria district. It doesn't have an idol; a mound of earth in one corner of the roofless one-room shrine represents Din Bhadri Devi, the local deity. Its walls are bare, but for priest Amlanand Rishidev, there is a more pressing problem than the upkeep of the temple: there is no one to inherit his priesthood. Halhalia village is home to over 100 families of which 28 have converted to Sikhism.
So have about a hundred families in several adjoining villages of the district, including Parwanpur, Godbelsara, Bakhri and Maudhabalia. Amlanand, however, isn't bitter about the "gradual obliteration of faith". His only son Nirdosh Singh and his family have also converted to Sikhism. The men sport straggly beards, wear saafas and have kirpans slung across their shoulders. The women still wear saris and on special occasions they slip into the traditional salwar-kurta. Pidgin Punjabi can be heard everywhere, even though the womenfolk have never visited Punjab.

The first to convert was Gyani Narendra Singh Rishidev, who visited Punjab in 1985 to earn a living and converted to Sikhism a few years later. "We have a natural leaning for this religion. After all, Guru Gobind Singh was born in Patna," he says. Upon returning to his village, the 38-yearold inspired many of his folk to convert. The lone gurdwara here stands on Narendra's inherited land.

The Rishidevs in Araria belong to the Mushahar caste, the poorest Dalit community known as untouchable rat-eaters. By changing their religion, Dalits believe they get a distinct identity. Narender's younger brother Sanjay is more vocal about the "inequality" practised in Hindu society.

"Upper caste folks still don't share their meals with us. Even today, many of them abhor us. Our conversion to Sikhism is a cry for human dignity. It denounces discrimination and prejudice on the basis of caste, class and status," he says. These conversions also make economic sense. Many of these neo-converts have now found regular work at gurdwaras in Punjab. "But this is not why we have embraced Sikhism. In fact, like other devout Sikhs, we also do kar sewa and donate one month of service," insists Narender.

Sanjay's criticism is not entirely off the mark. These conversions are not aimed at puncturing the reform balloon; they put a question mark on Dalit reforms instead. For instance, though the Bihar State Board of Religious Trusts led by its administrator Acharya Kishore Kunal has made significant efforts by introducing a dozen "untouchables" into priesthood, it is unlikely to make real changes on the ground.

Even the state Government's highly touted "slew of welfare measures for the Mahadalits" is yet to percolate beyond symbolic fault-lines. Kunal, a former IPS officer, believes that these conversions suggest "freedom of practising a religion". "Hinduism is all inclusive. We espouse sangat-pangat (eating and worshipping together) to bridge the social divide. Besides, everyone is free to practise a religion of his choice," he says.

Caste imbalances, discrimination and power play have remained central to Bihar society though the politics of social justice and the politicians preaching it have made significant gains over the years. Notwithstanding the laws banning discrimination, caste violence occurs at regular intervals in the state. Police records suggest that the number of atrocities against Scheduled Castes (SCs) and Scheduled Tribes (STs) hasn't gone down despite Chief Minister Nitish Kumar's claims. It's the Government's affirmative action (read job reservation) policy for SCs and STs that has, to an extent, improved their social status and economic conditions.

This has also forced many Dalits in this village, who are still categorised as SCs in government records, to retain this tag in order to avail the quota facility and get a government job. Like Narender's brother, Birender Singh, 40, one of the three graduates from this village, says, "We are at the lowest rank in Hindu society. Education and this SC status will ensure jobs and help us climb the social ladder." On the other hand, Vinod Singh and Manish Singh, who also converted to Sikhism, think otherwise. "We are Sikhs, a minority, and the Government must acknowledge us as part of the minority community," they say in unison.

Though a majority of Halhalia's populace is yet to adopt Sikhism, the spin-offs of these conversions have redefined social norms in the area. Many villagers have stopped drinking alcohol or eating rats. "Alcoholism is perhaps the single most important reason that prevents the Mushahars from entering the mainstream of the society," admits Dalit activist Sudha Verghese.

"While these people have the freedom to adopt whichever religion they want, it is good to see Dalits shunning alcoholism after becoming Sikhs," she told India Today. "Sikhism has brought us back to light that was enveloped in darkness caused by alcoholism," says 30-year-old Sardar Vinod Singh Rishidev. His wife Sabita Kaur agrees: "There were drunken brawls every night. Men used to return home drunk after spending their day's earnings on liquor and toddy, and the children had to go to bed hungry. Things have changed now and even the non-Sikhs in the village prefer to abstain."
These conversions have, however, not evoked any negative reaction since many believe Sikhism to be an extension of Hinduism. Singh Sahib Gyani Ekbaal Singh, the Jathedar of Takht Sri Harimandirji, Patna Saheb, says, "The Sikh religion is not against anyone and nobody has been proselytising these Dalits. All these conversions have been voluntary. I am glad when people gravitate towards the teachings of the gurus.'' For these former Dalits, it's not just a change of faith but a change to make their lives better.