Press Release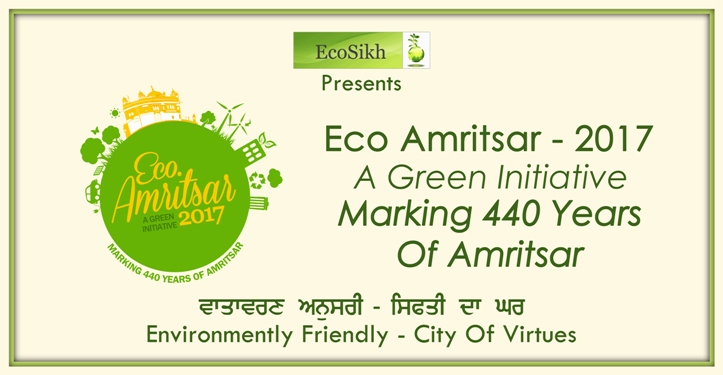 Eco-Amritsar 2017 Campaign launched to Make Holy City Environmentally Sustainable
AMRITSAR: June 30, 2012: A historic meeting envisaging Eco Amritsar took place in the city bringing together over 200 representatives of religious bodies, city administration, environmentalists, educationists and business leaders to commit to make the entire city eco-friendly by year 2017 when city celebrates 440th anniversary.
This diverse gathering was put together by EcoSikh on its 3rd anniversary this month.
Guru Ram Dass, the 4th Sikh Guru, founded Amritsar in 1577 and it is now the 29th largest city in India. It is also a site of major religious tourism attracting 100,000 pilgrims daily from all over the world, to visit the Golden Temple which is the holiest temple in Sikhism.
Dr. Rajwant Singh, President of EcoSikh said, "We are excited that so many major stakeholders like heads of religious bodies, educational institutions, hotels, hospitals, builders, industries, NGOs, shopping malls and students groups have devised plans for a major awareness drive and reducing energy consumption. This certainly will help relieve the pressure on the city's natural resources which has increased with the recent surge of pilgrims."
The SGPC, which runs the management of the Golden Temple, has announced it will celebrate Amritsar's foundation day in June every year and will commit to organic farming in the lands associated with Gurdwaras in Amritsar district.
Leaders of many diverse groups including Guru Nanak Dev University, business group Celebration Mall, Alpha Mall, Chief Khalsa Diwan (which runs a large number of educational bodies), Durgiana Mandir Committee, and DAV educational institutions showed up to support this effort.
The city administration has also pledged to enforce rainwater harvesting in all government buildings and institutions as well as in establishments of more than 500 sq. meters in area.
In addition, a plan will be devised for collaborative effort by the city and environmentalist Baba Sewa Singh for tree plantation across the city to be run under the auspices of the DC of Amritsar. Ravinder Singh SDM Ajnala, representing DC's Office at the meeting informed the audience that there are 65000 three wheelers which infuse polluting gases in the air in the city and especially around the sacred sites like the Golden Temple leaving permanent mark. EcoSikh has appealed to the State government to consider adding 50 buses in next five years to help reduce pollution by boosting public transport.
Bhai Manjit Singh, Chairman of Punjab Energy Development Agency (PEDA) notified that, "PEDA had already installed a solar power plant at the Golden Temple and would soon be putting up solar steam cooking system which would cut down LPG consumption of the shrine to half. He said they had planned to generate 10 per cent of the city's power requirement from solar energy."
Padam Shri Environmentalist Baba Sewa Singh ji said, "It will be our good fortune if we can make this Guru ki Nagri green. My services are available. One should care and nurture trees like his own children."
Gunbir Singh, Secretary of Khalsa College Charitable Society, a prominent 120 year educational institution with a large 300 acre complex in Amritsar, announced that they had signed a Memorandum of Understanding with EcoSikh pledging to focus on plantations, water and energy audits and to involve students to explore educational projects and internships.
Sanjay Sachdeva, President of AIPL, a major business enterprise in Amritsar and creator of the Green City project and Celebration Mall, said, "we are committed to support and become partners in this endeavor. It is urgently needed."



L to R: Sanjay Sachdeva, President (AIPL) on Podium, Harminder Singh, Rep: Chief Khalsa Diwan, Rajbir Singh (Pingalwara Org), Joginder Singh (SGPC), Baba Sewa Singh (Khadoor Sahib), Dr. Rajwant Singh (EcoSikh), Bhai Manjit Singh (PEDA), Ravinder Singh (SDM Ajnala-Representing DC Amritsar), Gunbir Singh (Khalsa College/WWF)

EcoSikh has proposed a six point agenda for the campaign in which sections of civil society and the administration in Amritsar make commitments towards sustainable infrastructure, conserving water, recycling and better waste management, alternate energy usage, introducing public transport, increasing green cover/ open spaces, and also sharing information on greening strategies.
Many NGOs from the city showed their enthusiasm to join this new initiative. In addition, many academicians and members of several kar sewa groups joined to make this meeting perhaps the largest gathering discussing environmental future of the Holy city.
Ravneet Singh, India Project Manager of EcoSikh, said, "Amritsar has lot of talent and energy and this kind of movement will become an outlet for citizen-based environmental activism. Amritsar sends a powerful message of peace and harmony and combining this with environmental angle has an important relevance as humanity is facing a dire future."
Among the prominent leaders representing various interest groups joined and among them were: Dr. Inderjit Kaur, Head of Pingalwara institution, Kiranjot Kaur, SGPC member, Col. KS Dhillon, representative of Ista Hotel, Kuldeep Singh, Head of Punjab Pollution Control Board Amritsar Division, Dr. Inderjit Singh, Registrar Guru Nanak Dev University, Dr. Dharamvir Singh, Director of Education Chief Khalsa Diwan running 65 schools, Jaswinder Singh Advocate, President of Akal Purakh Ki Fauj, Satpal Mahajan, President of Durgiana Mandir, Jaswinder Singh Jassi, Information officer of SGPC, Jaswinder Singh from Chandigarh, Captain AP Singh, Head of the Alpha Mall, a large business presence, Kulbir Singh of Alpha Group, Arvinder Singh Chamak, President of All India Brick Kiln Association, Dr. Rakesh Sharma, President of Voice of Amritsar, P.S. Bhatty, President Pollution Control Committee, Neera Sharma, Principal of DAV School, Pritpal Singh, President of Amritsar Hotel Welfare Association, and Krishan Kumar Kuku ji, an influential President of Real Estate Developers Association and Printers and Processors Association of Amritsar. Col. Kuldeep Singh Sandhu conducted the stage and also played a key role in organizing meetings with many stakeholders in the city. Prominent Psychiatrist Dr. Gurpreetinder Singh helped reaching out to many NGO and helped in developing strategy of this initiative. Harkirpal Singh, son of Late Bhan Singh, longtime secretary of SGPC, and HP Singh of GNDU, Rajpal Singh from Sukrit also helped in organizing this meeting. MK hotel group, a major hotel establishment, also helped to support this initiative.
EcoSikh shared its three years achievements through a short movie at this event which was very much praised by the viewers. Watch the EcoSikh video on YouTube.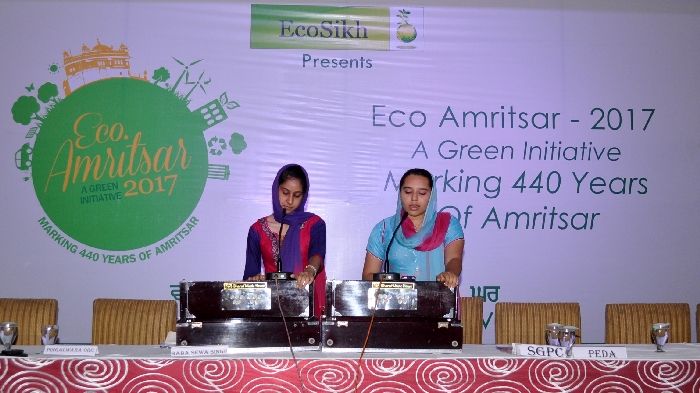 Program started with a recitation of shabad 'Dithe Sabhe Thaav' by Sehejneet Kaur from USA and Rajbinder Kaur, a upcoming Kirtan Singer from Amritsar. This hymn celebrates City of Amritsar in Guru Granth Sahib. Rajbinder also sang a punjabi song prepared by Music Director Ravinder Singh on nature.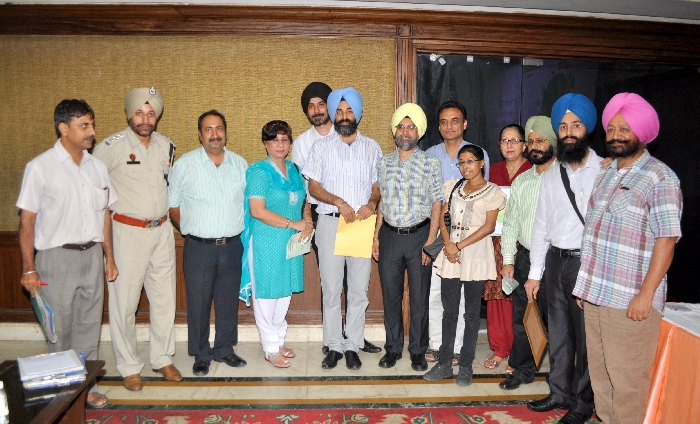 Members of several NGOs of Amritsar including Voice of Amritsar and Mission Agaaz along with Kuldeep Singh of PPCB in the center and DIG of Baba Bakala.


| | |
| --- | --- |
| | |
| Ravneet Singh, EcoSikh India Manager welcoming the gathering | SGPC Representative Joginder Singh |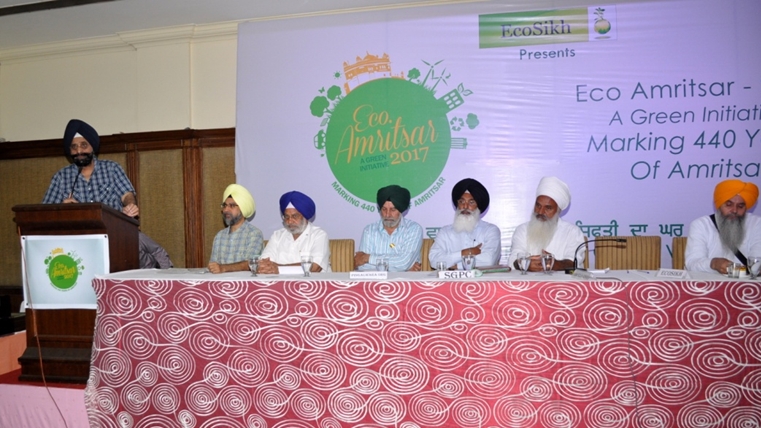 Dr. Amrik Singh, Head of Indian Medical Association Amritsar and head of Hospital Association of Amritsar announcing MoU with EcoSikh on several green initiatives.


Krishan Kumar (Kuku), President of Real Estate Developers Association and Head of the Hoteliers Association in Amritsar, Suneet Singh Tulli, CEO and President Datawind, , and Bibi Bhupinder Kaur, wife of Late Surat Singh (Puran ji), head of Akhand Kirtani Jatha.


From left to right: Rajbir Singh of Pingalwara, Joginder Singh(SGPC) , Baba Sewa Singh ji, Dr. Rajwant Singh (EcoSikh), Bhai Manjit Singh(PEDA) and Ravinder Singh (SDM Ajnala from DC Amritsar's office).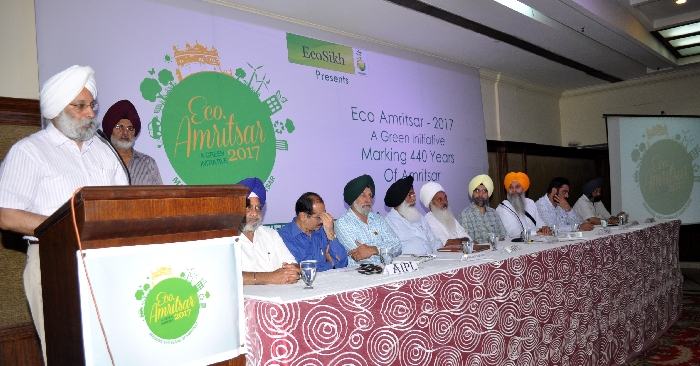 Gunbir Singh, Finance Secretary of Khalsa College Governing Council and head of WWF Punjab announcing initiatives of the prominent Khalsa College administration.


EcoSikh Video being shown - also below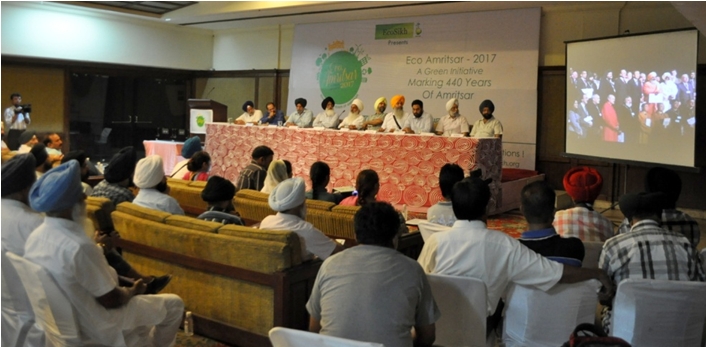 Related Links:

Watch pictures from event at:
Flickr

Press Links:
Mainblue Tribune Blog, IBNLive, Ajit, Jagbani, EcoSikh