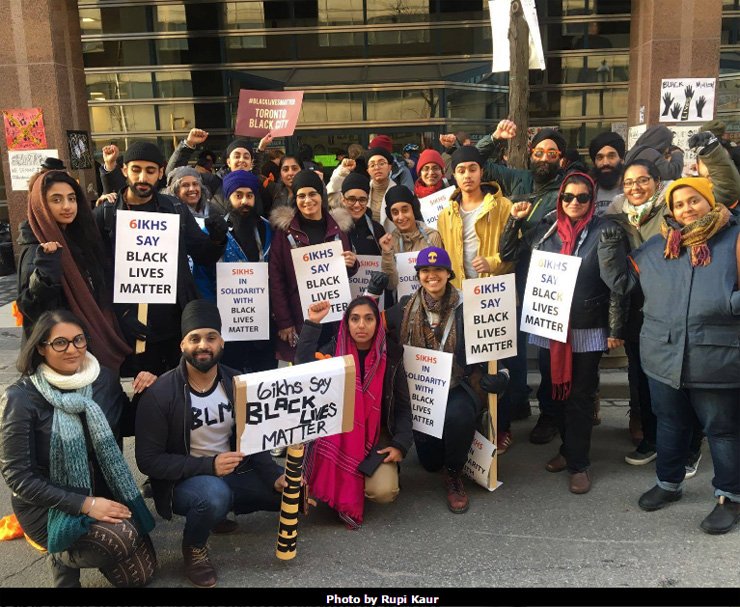 Let's be clear: questioning the "appropriateness" of Black Lives Matter Toronto's action at pride, weighing in on their  "strategy" or claiming they "hijacked" Pride is racist. The notion that Black Lives Matter Toronto (BLMTO) is self-serving is also racist. More than that, it's just plain wrong.
"BLMTO is giving pride back to the communities [...] not just speaking for themselves, they're standing up for [Indigenous peoples], for other [vulnerable communities], they're saying: why can't everyone have ownership over their own community," Mita Hans, a Sikh community organizer and a co-founder of BuddyUpTO, told rabble in a phone interview.
BLMTO staged a sit in at Pride parade last Sunday to demand the reinstatement of funding and support for community spaces for marginalized communities at Pride TO.
"Our movement is intersectional by choice and by necessity," Janaya Khan, an organizer with BLMTO, told rabble in a text message. "Choice because we believe principally in 'all of us or none of us' and this is all of our fight. Necessity because racialized and oppressed people in Canada have such a deep experience of isolation."
Blockorama, a Pride stage organized by Blackness Yes! for the past 18 years, gave Hans a "feeling of coming home."
The Blockorama staged was filled with "people like me, people of colour who were not being hurt, who were not being derided for sexuality [...] there was a sea of brown bodies and our partners and our friends and it was beautiful," Hans told rabble.
Blocko -- as many refer to it -- has attracted up to 25,000 participants throughout a day.
In 2007, Pride TO moved Blocko from the Wellesley Street parking lot, which would be used for a TD-sponsored stage, to the smaller parking lot of a Beer Store.
"[The parking lot] wasn't equipped to handle us" said Hans. The crowd was so dense at the 2007 event that emergency medical services could not reach a pregnant woman having a seizure.
This replacement underscores what many have called out as the corporatization and "pink-washing" of Toronto's Pride, and specifically the erasure of Pride's roots in activism.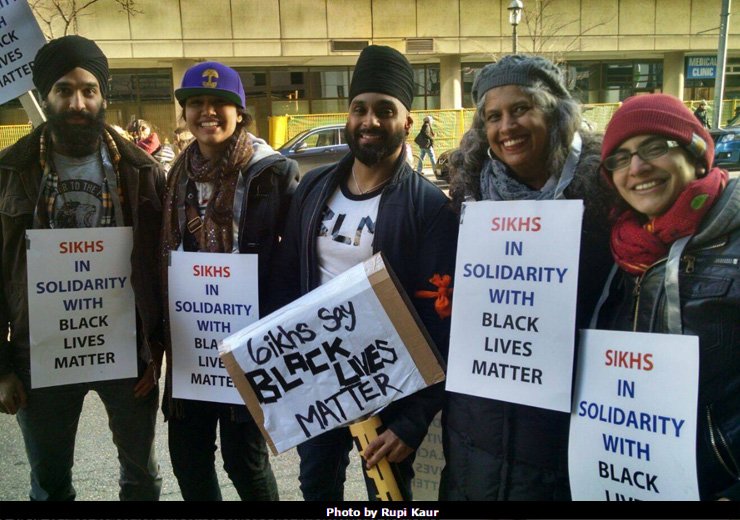 Blocko was held in George Hislop Park for the next two years, "a tiny muddy little field" about four blocks north of the Pride hub.
After a two-year tenure at George Hislop, Pride TO tried to move Blocko again, this time to Alexander Street parkette, which Hans says was considerably smaller and less safe.
Hans remembers participating in community town halls, petitions, and meetings with Tracey Sandilands, Executive Director of Pride TO, before Blackness Yes! was able to secure Blocko a spot back in George Hislop Park.
"[BLMTO] didn't come out of nowhere, they've been here the entire time," Hans says.
BLMTO's demands on Pride include a reinstatement of the South Asian stage, doubled funding for Blockorama, more support for all community stages, and the prioritization of Black transwomen, Indigenous people and "others from vulnerable communities at Pride TO." The group also demanded for the removal of all police floats.
While Pride TO accepted the demands during the parade, the organization has since backtracked, claiming they did not agree to remove all police floats.
Hans affirms that the Sikh community supports BLMTO's demands "unconditionally" and argues that "[BLMTO] are wonderful allies."
Solidarity in langar seva
Hans also described how BLMTO participated in langar seva, whereby "our mandate is to feed everybody that comes, seva is selfless service, the ego doesn't come into it. We just go in there and feed everybody who is there."
The group "started a partnership with the Indigenous grassroots street patrol" who were also working with BLMTO.
Hans and other members of the Sikh community did langar seva "in a gesture of solidarity" when BLMTO was camped out outside the police headquarters College for two weeks this spring to protest the SIU's decision not to press charges against the officer who shot and killed Andrew Loku in his apartment building.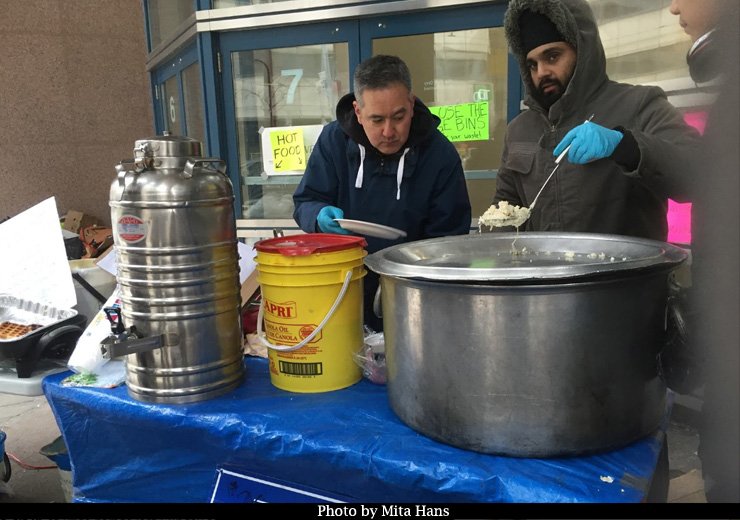 Loveleen Kaur, a member of the Sikh community, told rabble in a telephone interview that "we were able to get 40 Sikhs out within three days, we served 200 plates of food and 500 cups of tea" for the rally in March to mark the one week of BLMTO's tent city on College.
"Tent city is a perfect example of solidarity in action," said Khan, citing the art and solidarity campaigns of the Sikh community as well.
BLMTO also gave the Sikh organizers clothes and blankets that they had been donated, which the organizers then gave to people on the streets.
"A lot of people on the street are grateful to BLMTO and they don't even know because never once was it mentioned who the donors were in the spirit of selfless seva," said Hans. BLMTO never asked for their name to be used.

'None of us will succeed without each other'
"My community, the Sikh community, is completely in solidarity with BLMTO," said Hans. "We offer our support unconditionally and quite enthusiastically."
Both Hans and Kaur talked about the importance of allyship with BLMTO.
"Where [the Sikh and South Asian communities] are still struggling with this model minority label, BLMTO is doing the work that our communities are not ready, or organized, or willing to do just yet," Kaur told rabble.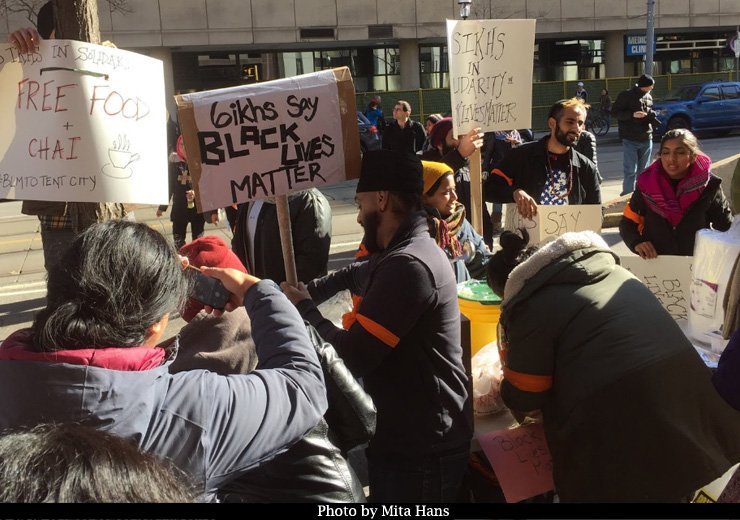 BLMTO's organizing against police violence and carding specifically, whereby Black and brown folks are disproportionately stopped by the police, is "valuable" and "important" for the Sikh community says Kaur.
"I remember what it was like being a brown kid with my brown and Black friends and being pulled over and stopped by the police all the time. We're criminalizing brown and Black folks before they've even done anything," Kaur explained.
Kaur emphasized that "Black folks have been fighting for police accountability for decades in Toronto [...] and we all need to be standing in solidarity with that work because it only makes a more just society for the rest of us."
The support runs both ways: "truly, none of us will succeed without each other," says Khan.
Sophia Reuss is a Montreal-based writer, editor, and is a recent graduate of McGill University. She's interested in how online media and journalism facilitate public accessibility and conversation. Sophia also writes and edits for the Alternatives International Journal. She is rabble's current news intern.