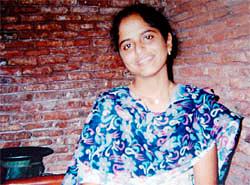 Amritsar, Punjab: "I want to do something significant for my state Punjab after completing my study in UK". These were the words of Jasvir Kaur, a Sikh Punjabi girl, who left for UK on a scholarship, provided by University of WolverHampton, to pursue her higher studies.
Belonging to a middle-class family, Jasvir is a role model for students who dare to dream big and then work towards it with unflinching devotion.
Hailing from a remote village, Kotli Than Singh, near Jalandhar, she completed her basic studies from a government school in her village. She never wanted to stop right there.
She had a dream, to go to college and pursue a career in IT sector. But she did not know how to achieve it as she was well aware of the fact that her father, with his mediocre earnings, would not be able to afford her studies.
However, the ray of hope came in form of Prof Harbans Singh Bolina, who spotted her outside the office of principal of Lyallpur Khalsa College, Jalandhar.
The philanthropist not only sponsored her three-year education but was also offered his valuable guidance to the girl. And indeed Jasvir did not disappoint him.
She is one of the two students from Punjab who have been selected by the delegates of University of Wolver Hampton, who were here to meet the Chief Minister, who had urged them to provide scholarships to bright students who hail from a weak economic background.
Jasvir has been picked up for MSc (Computer Science) course and will get a scholarship of Rs 8lakh. Before leaving for UK from Amritsar, she gave all credit of her success to Prof Bolina.