Highland, Indiana: Dr. Hardarshan Singh Valia, a coal scientist, an author and poet of Highland Indiana was selected as one of the 100 leading Global Punjabi Personalities to be included in an exclusive book "Jewels of Punjab" published by Maneesh Media of India. This coffee table book was recently released in a special ceremony presided by India's former Prime Minister Dr. Manmohan Singh at Ashoka Hotel, New Delhi.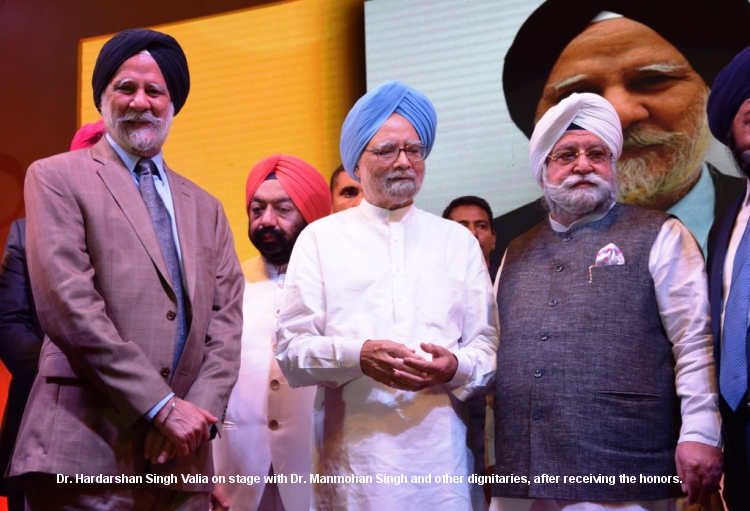 Dr. Valia received the "Jewels of Punjab" award from the former Prime Minister Dr. Manmohan Singh in the presence of his proud family and many distinguished dignitaries of international fame at the Ashoka Hotel, New Delhi function.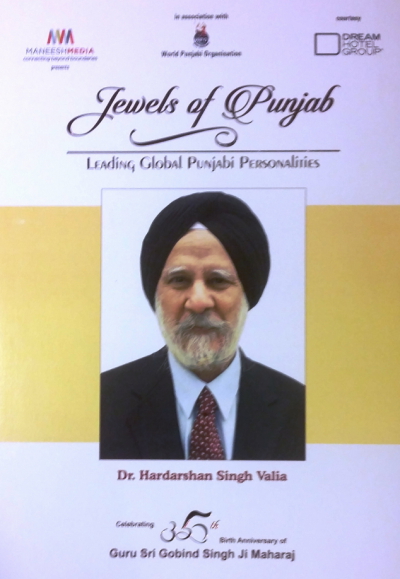 Dr. Valia won his placement in the book because of his extra ordinary achievements in both Science and Arts. He is a world renowned coal scientists as well as truly a chronicler of Life's journey as expressed via the medium of stories, essays, and poetry.
The "Jewels of Punjab" award was given to Global Punjabi luminaries who excelled in fields of science, arts, social services, business, and politics.
Dr. Manmohan Singh said that India is very proud of the achievements of Punjabis and Sikhs from around the world. He emphasized that the personalities included in the book are role models, for the future generation to know, who have brought glory to the name of Punjab.
Dr. Hardarshan Singh Valia represents the rare amalgamation of Science and Art.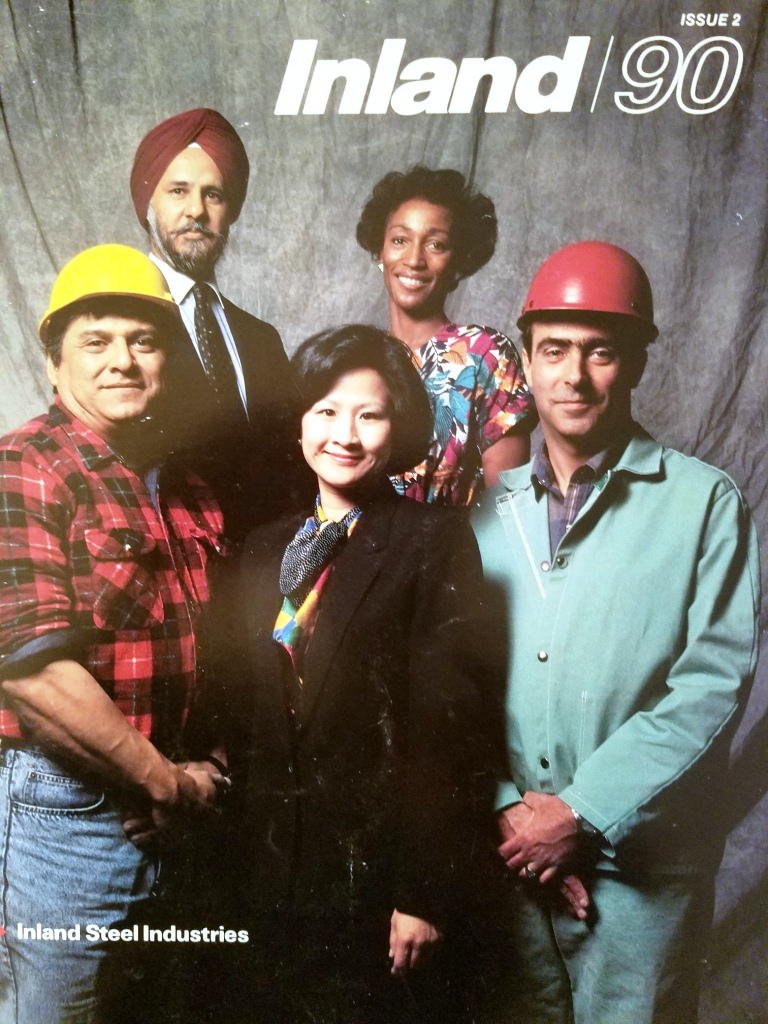 As a scientist, he is the only coal scientist in the world honored with the American Steel Industry's three most prestigious awards. He has published several scientific papers, received two patents, chaired numerous national and international conferences about his field of expertise, contributed to several books, and invited to contribute to American Iron & Steel Institute website content.
As a staff scientist at Inland Steel R&D Laboratories (now called Arcelor Mittal) he, alongwith his colleagues, graced the cover page of 100 Year Commemorative book of Inland Steel.
Nearly one hundred notable global Punjabi personalities are included in the "Jewels of Punjab" book with their pictures, achievements, family histories and personal interviews about success. In the book Dr. Hardarshan Singh Valia is in great company with, to name a few: Dr. Manmohan Singh (P.M. of India), Nimrata Kaur Randhawa 'Nikki' Haley (United States Ambassador to the United Nations), Harjit Singh Sajjan (Defense Minister of Canada), Ajaypal Singh Banga (President & CEO of MasterCard), Dr. Narinder Singh Kapany (Father of Fiber Optics, USA), Didar Singh Bains (Peach King of USA), Vikramjit Singh Sahney (International President-World Punjabi Organization, New Delhi), Tarlochan Singh (Past Chairman Minority Commission of India), Surinder Singh Kandhari (Chairman – Gurudwara Guru Nanak Darbar, Dubai, UAE), Ranjit Singh Baxi (President European Recycling Association, U.K.), Inderjit Singh (Member of Parliament, Singapore), and Parminder Singh Marwaha 'Katongole' (Senior Presidential Advisor to the President of Uganda),.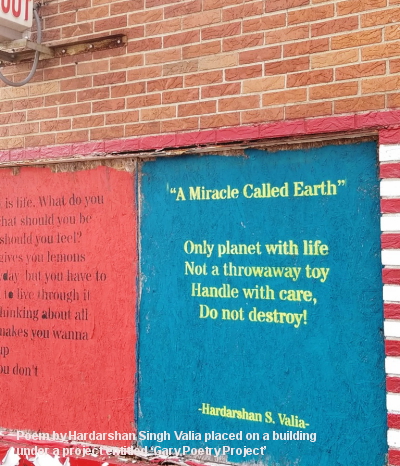 Currently Dr. Valia spends much of his time chronicling life's evolutionary journey through writing and spreading awareness about mother earth, its resources, conservation and preservation. His poems are exhibited in the cities of Indiana, for example -on a sidewalk in city of Highland Indiana to celebrate cultural heritage of the city; on a building in the city of Gary Indiana for bringing aesthetics in neighborhood of abandoned buildings. His stories and poems are also part of the compilation in various publications honoring 200th birthday of his adopted state of Indiana USA. Indiana Poetry Society has included his poems in a book entitled "Diamonds" that chronicles 75 years of Indiana Poetry. He is a member of Society for Children's Book Writer and Illustrator (National/international organization); Indiana Writers Consortium; Magic Hour Writer's Group; and Write On Hoosiers.
Dr. Valia also manages his own consulting firm Coal Science Inc. and has travelled extensively to advise corporations and governments.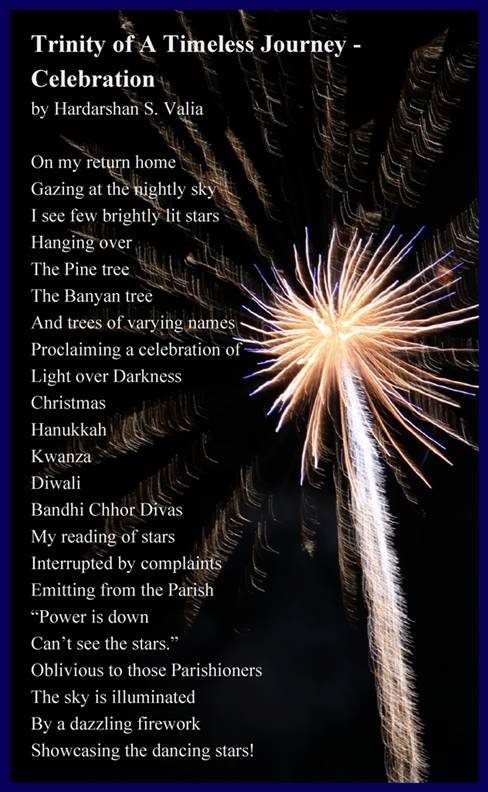 From the book 'A Magic Hour Family Christmas'
Flying Turtle Publishing, 2015