Waheguru Ji Ka Khalsa !!
Waheguru Ji Ki Fateh !!
I am sharing another good news that will make the Sikhnet Readers proud of the Sikh Community.
Dr. Baljit Singh BVSc&AH, MVSc, PhD, FAAA, Dean and Professor Faculty of Veterinary Medicine, University of Calgary, Alberta, Canada was inducted as a Fellow of Canadian Academy of Health Sciences (CAHS), which is one of the 3 Canadian academies; the other two being Canadian Academy of Engineering and Royal Society of Canada. This would equal to US National Academy of Medicine.
CAHS elects Fellows from all areas of health sciences (Medicine, Nursing, Dentistry, Pharmacy, Veterinary Medicine, Health Economics, Biomedical Engineering and so forth) and so far very few veterinarians are Fellows. I believe he is the first Sikh in Canada to get this award/honor! The fellowship award note read as follows:
BALJIT SINGH, UNIVERSITY OF CALGARY: Baljit Singh has a long and distinguished record of serving veterinary medicine and biomedical sciences with passion and distinction. Based on his experiences as student, teacher and researcher and leader in many countries and education systems, he has forged collaborations to develop integrated teaching, learning, research, and service platforms and increasingly, in various leadership roles. The core essence of his academic work is development of better and integrated education and research models and engagement of the academy with societal and policy issues. His peers, students and numerous stakeholders have appreciated and recognized his work through many awards and honors.
Source: https://www.cahs-acss.ca/wp-content/uploads/2018/09/Congratulations-Welcome-to-our-2018-Fellows.pdf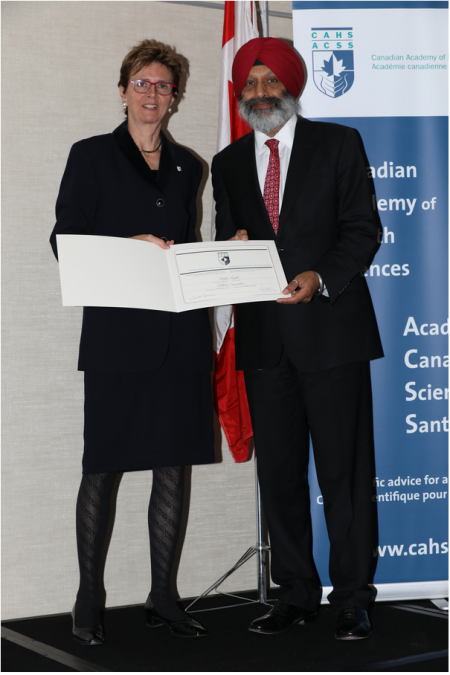 A picture (right) of Dr. Baljit Singh receiving the award/fellowship from Dr. Linda Rabeneck, President of Canadian Academy of Health Sciences.
Dr. Baljit Singh has also received the 3M National Teaching Fellowship, the University of Saskatchewan's Provost's Prize for Innovative Practice of Teaching and Learning, University of Saskatchewan Master Teacher Award, and the Carl J. Norden Distinguished Teacher Award. He has also received the Outstanding Veterinary Anatomist Award from the American Association of Veterinary Anatomists, as well as the Pfizer Award for Research Excellence. In 2013 he was named a fellow of the American Association of Anatomists.
Dr. Baljit Singh is a highly accomplished researcher, educator and administrator in the field of veterinary medicine, with specific expertise in lung biology and anatomy. He joined the University of Calgary Faculty of Veterinary Medicine in September 2016, after serving as Associate Dean of Research at the Western College of Veterinary Medicine at the University of Saskatchewan since 2011.
Dr. Singh's formal education includes a Bachelor of Veterinary Science and Animal Husbandry (BVSc and AH) and Master of Veterinary Science (MVSc) from Punjab Agricultural University in Punjab; a PhD from the University of Guelph; post-doctoral training at Texas A&M University and Columbia University, New York; and he completed licensing requirements set by the Canadian Veterinary Medical Association (CVMA) and American Veterinary Medical Association (AVMA) for foreign veterinary graduates. Dr. Singh's research has focused on cell and molecular biology of lung inflammation. He is the author or co-author of more than ninety peer-reviewed journal articles and books, and has supervised the research training of more than eighty undergraduate, graduate and postdoctoral students.
Thanks and Best Regards.
Sincerely,
Tarlok Singh Sahota PhD CCA
Director Lakehead University Agricultural Research Station (LUARS)
Adjunct Professor Lakehead University Canada
Past President Canadian Society of Agronomy
https://www.lakeheadu.ca/centre/luars/who
Email: [email protected]
------------------------------
Related article: 
Baljit Singh appointed dean of the Faculty of Veterinary Medicine