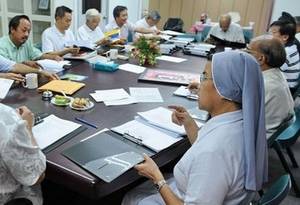 Photo Courtesy: AFP
Seated near the head of a long table, Roman Catholic nun Theresa Seow led 14 other people in silent prayer.
SINGAPORE, Sep. 25, 2010 (AFP): - Seated near the head of a long table, Roman Catholic nun Theresa Seow led 14 other people in silent prayer before the meeting was called to order.
Clad in a white habit topped by the light-blue veil of the Canossian order, she sat with turbaned Sikhs, a Taoist wearing an embroidered shirt as well as Muslims and Hindus in more conventional business attire.
The purpose of the gathering in a run-down office building quickly became clear when their vice-president and Jainism representative Ashvin Desai recited the group's credo.
"We resolve to strengthen religious harmony through mutual tolerance, confidence, respect and understanding," says the declaration of the council members of the Inter-Religious Organisation (IRO) of Singapore.
Founded in 1949 and priding itself as "one of the oldest if not the oldest inter-faith organisation in the world," the IRO's objectives include promoting Singapore's religious harmony and safeguarding it against extremism.
The organisation is an embodiment of its goals: religious and community leaders from 11 faiths meet every six weeks to discuss issues of mutual concern at the same table, a sight unthinkable in many parts of the world.
The IRO's 31 council members include leaders from Singapore's six main religions -- Buddhism, Taoism, Hinduism, Islam, Christianity and Catholicism -- as well as Jews, Jains, Baha'i Faith followers, Zoroastrians and Sikhs.
In a 2000 census, 42.5 percent of Singapore residents over 15 years old identified themselves as Buddhist, 14.9 percent Muslim, 14.6 percent Christian or Catholic, 8.5 percent Taoist and four percent Hindu.
Singapore's foremost Muslim leader Mufti Syed Isa as well as the presidents of the Singapore Taoist and Buddhist federations sit on the council with Seow, a respected nun who served in the Vatican under Pope John Paul II.
"When we come into the IRO, one of the things that we will do is to learn about others, the belief of the other person, and that is important," she said.
And if ideological differences do arise, members take pains to address them rather than let them fester, said the IRO's Sikh representative Gurmit Singh.
"We manage to talk about it, that's what makes it great. We don't sweep it under the carpet, we don't go away from the table with a grudge," he stated.
To promote religious camaraderie among the population, the IRO frequently organises inter-faith dialogues and community events to heighten understanding about the various faiths.
It also prints colourful pamphlets and illustrated books detailing the background, beliefs and fables of its religions, which are available at schools, libraries, community centres and bookstores.
The IRO council also works closely with the government, receiving regular briefings from agencies including the Internal Security Department (ISD) whenever cases involving extremism arise.
The ISD is a powerful department under the Ministry of Home Affairs which investigates security concerns including racial and religious extremism, and has the power to detain suspects for an indefinite period without trial.
Singapore, surrounded by Muslim-dominated Indonesia and Malaysia, suffered racial riots in the 1960s and now considers itself a prime target for Islamic radicals in the region, partly because of its strong US links.
Fears of homegrown extremism were stoked when a 20-year-old local Muslim man undergoing national military service was detained in April on suspicion of planning to fight with Islamic militants in the Middle East and Afghanistan.
The Singaporean youth had been radicalised by online lectures of extremist figures, the home ministry said.
"In Singapore, our authorities are really on the lookout for this and we are very glad that each time it happens, we are properly briefed, and there is always openness and transparency," said Ameerali Abdeali, the IRO's treasurer and Muslim representative.
Earlier this month, when American pastor Terry Jones threatened to burn copies of Islam's holy book the Koran in Florida on the ninth anniversary of the September 11, 2001 attacks, Singapore's Muslim community reacted calmly until the plan was aborted.
"I'm very proud of our Singapore Muslims. I'm very proud," Seow, the Catholic nun, said to an approving nod from Ameerali, who had brought cookies to the meeting to mark the end of the Muslim fasting month of Ramadan.