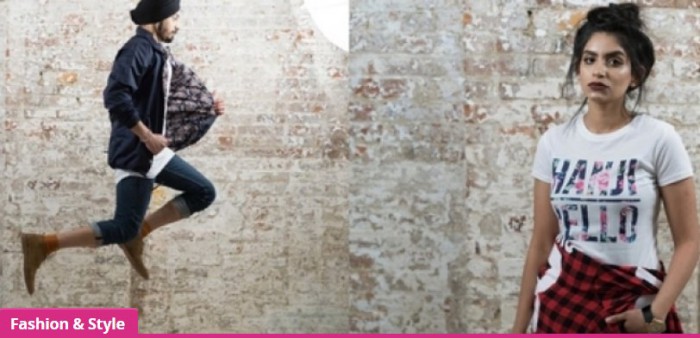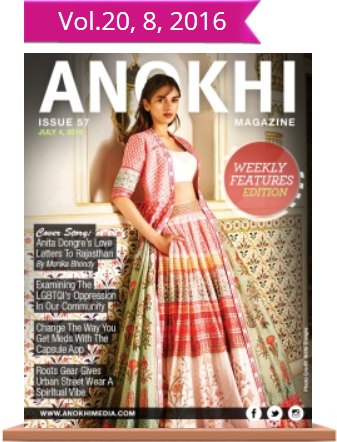 South Asian streetwear brand Rootsgear Clothing Co. pays homage to traditional Punjabi textiles and motifs by giving them an urban and soulful feel.
JUL 15, 2016: Urban South Asian streetwear brand Rootsgear Clothing Co. held an exclusive preview of their S/S 16 collection in New York at Loft29. The collection features a mix of pop art tees, sweatshirts and South Asian-inspired bombers, toppers blending traditional Punjabi patterns and styles with contemporary western silhouettes.
Born in New Delhi, India, siblings Tanmit and Sunmit Singh are university graduates from Drexel and the University of Maryland with a combined background in accounting and entrepreneurship. The streetwear dynamic duo from Maryland, U.S.A., have been a fixture in the Punjabi/Sikh community and are the masterminds and designers behind Rootsgear Clothing Co. We caught up with co-founder Tanmit at their Camp Sant Sipahi camp in Derwood, Maryland for an inside look at the brand
Tessa Johnson: What is the story behind Rootsgear Clothing Co.?
Tanmit Singh: Our clothing line came about out of necessity in 2006 in the sense that we found ourselves surrounded by a lot people in our community who were either quick to compromise their identity or were really desperate to show how patriotic and American they were. We saw a lot of people moving away from our culture, our faith, our traditions, values and heritage. Our mission became to create something that would bring us back to our roots. To [let] people know we are proud Sikhs [and] we don't have to show how extremely patriontic we are.
TJ: When did you launch your apparel company?
TS: We put up our first e-commerce site in 2006. At that time, it was a big deal because ecommerce was still a developing market and having a Punjabi/Sikh site at that time was very rare. There were only a handful of them especially in 2006. I think our only competitor was Desiwear which is based out of Toronto.
TJ: The apparel industry can be very competitive; did you experience any challenges?
TS: At the end of 2013, we shut the site down because my brother and I were kind of at a crossroad where we said; look this takes up a lot of time we're not really seeing any real money out of it, I'm sure there was a lot of recognition but do we want to continue doing this or should we just stop wasting our time? And that's when we decided if we're going to do this now, we [have] to do it like we've never done it before.
I spent about five months redesigning the entire website. When we reached our tenure anniversary in 2014 that is when things took a major turn, around that time our major competitor TurbanInc., were coincidently going out of business and were looking for a buyout. We ended up acquiring them, 100 per cent exclusive, and we now run both websites.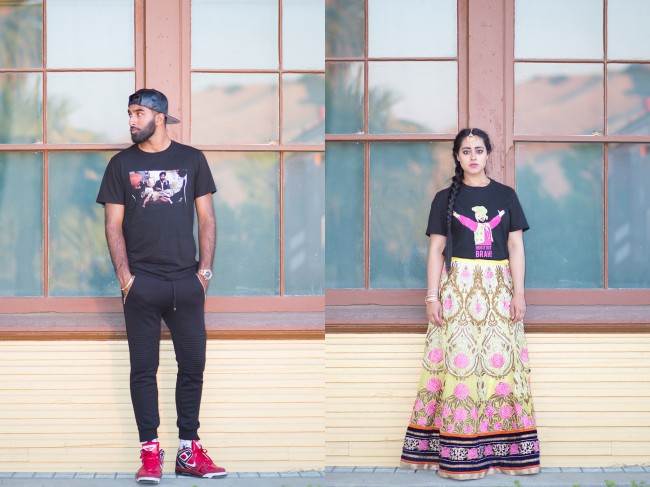 Rootsgear Clothing Co. Spring/Summer Collection 2016 -
Slim Fit Joggers with Tough Times Vintage Tee and Hugh It Out Brah Tee.
Photo Credit: Rootsgear Clothing Co. and TurbanInc.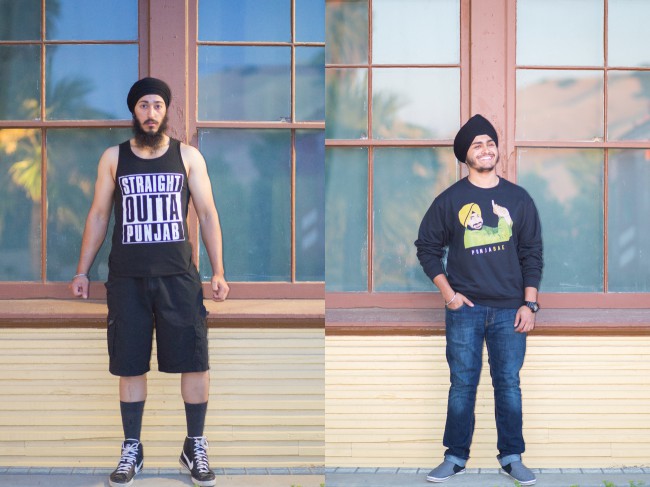 TurbanInc.Straight Outta Punjab and PunjaBAE Crewneck.
Photo Credit: Rootsgear Clothing Co. and TurbanInc.

TJ: How have you been able to establish and sustain your company as a lifestyle brand over the years?TS: We're creating apparel that is specifically appealing to South Asians to Punjabi and Sikh youth. That's always been our core category. When I decide to design something the biggest question I ask myself is, would I wear this? Is this something that feels comfortable to wear? And is this something that is completely unique? One of the most important things for me to do is if I'm going to put something out there I'm going to make sure I haven't seen it anywhere else.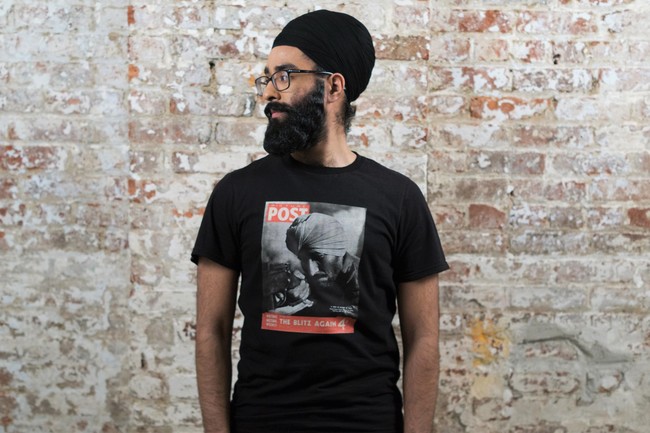 Rootsgear Clothing Co. Spring/Summer Collection 2016 - Santa Sikh Tee
Photo Credit: Rootsgear Clothing Co.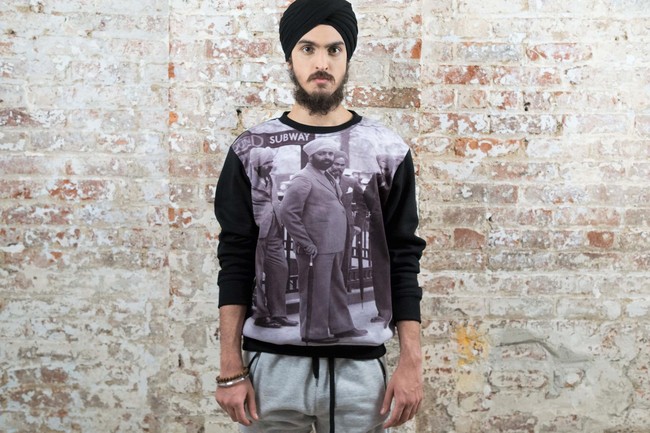 Rootsgear Clothing Co. Spring/Summer Collection 2016 - UK Singhs Crewneck
Photo Credit: Rootsgear Clothing Co.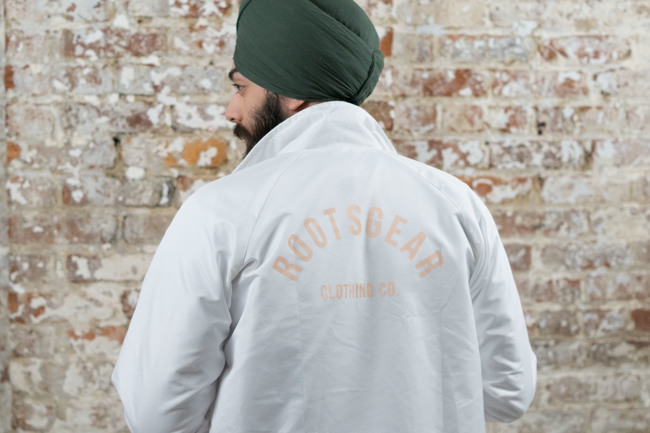 Rootsgear Clothing Co. Spring/Summer Collection 2016 - White Coach Jacket
Photo Credit: Rootsgear Clothing Co.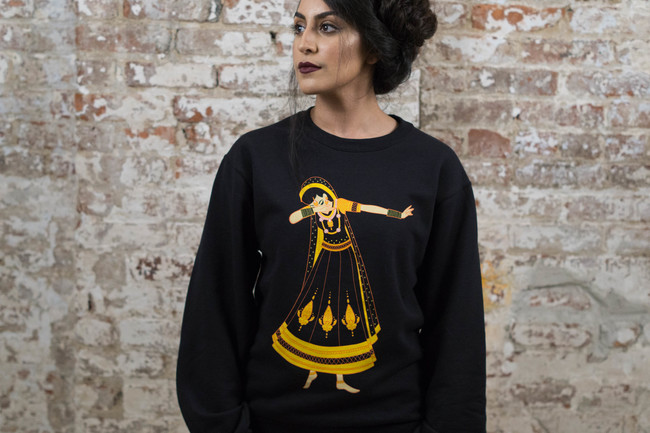 Rootsgear Clothing Co. Spring/Summer Collection 2016 - Dabbin Dulhan Crewneck
Photo Credit: Rootsgear Clothing Co.

TJ: How did your collaboration with U.K. hip hop artist Raxstar come about?
TS: I used to be a hip hop MC back when I was in college from 2005 to 2006 it went on for like four to five years from 2010 to 2011. At some point, I dropped music and started working on my clothing more seriously. Back then Rax and I had exchanged messages on Myspace and I saw him selling these t-shirts on his page and offered to handle the apparel. What's so unique about our collaboration with Rax is that we do everything for him printing, production, inventory management, packaging, shipping etc.
He's a super nice guy and so easy to work with it's been such a great success to have his brand carried on our website [and] we've been doing it for two years now.
This partnership has helped us established a model that we've been able to take to other artists and other entrepreneurs that want to use Rootsgear as a fulfillment centre. We've done something similar with Zack Knight from the U.K. where he ran a campaign recently in April for his clothing brand and we're just a fulfillment centre for him but we are now working with him to create an entire clothing line.



Rootsgear Clothing Co. x Raxstar - Hanji| Hello Floral Tee
Photo Credit: Rootsgear Clothing Co.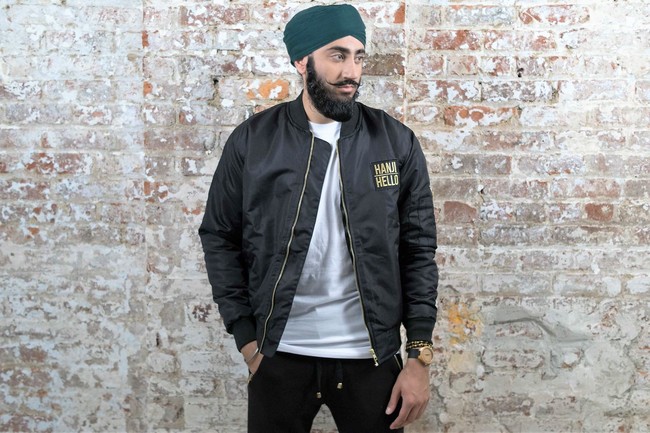 Rootsgear Clothing Co. x Raxstar - Hanji| Hello
Photo Credit: Rootsgear Clothing Co.

TJ: Tell me about the collaboration for your womenswear line with Satinderpal Kaur?
TS: Satinderpal is my wife. She is a very shy artist, extremely talented but super modest and will never admit that she is good at anything, but she actually ends up designing some clothes for us. The clothing line has always been two guys but we do get a lot of females that want to buy from our website and we just always sucked at creating for women [laughs]. Ever since I have been married, which is three years now, we've tried to introduce more clothing for women so that they can rep our clothing just as hard as the guys do.
TJ: What I find extremely unique about your brand is your art section. Whose idea was it behind this section? Are the pieces crafted exclusively for your brand?
TS: That is all my brother (Sunmit). He is an art geek and is also an antique arms and armour collector. He has a very large collection. He'll collect anything that is related to Punjabi, Sikh history that he can find.
TJ: Where do you see Rootsgear Clothing in the next five years?
TS: Starting this year and the next we are aiming to build Rootsgear into a contemporary streetwear brand that can compete in the mass streetwear category we want to compete with other big players in the streetwear industry.
[We want to] bring our streetwear items that have this unique South Asian/ Desi flavor to them to retailers so we can distribute it out across the U.S. and the world. At the same time everything Punjabi and Desi related will then gradually over to TurbanInc., and TurbanInc., sort of remains as the dominate Punjabi player in that market.
This interview has been condensed and edited for clarity.

Main Image Photo Credit: Navy Coach Jacket by Rootsgear Clothing Co.