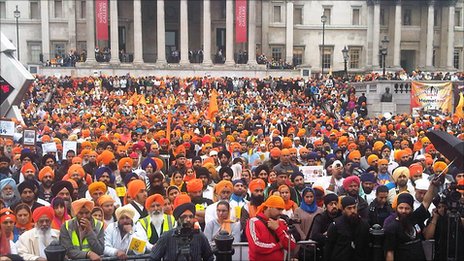 Peacefull Sikhs at Hyde Park Rally in UK
UK:
Between 35,000 to 40,000 Sikhs march from Hyde Park to Trafalgar Square to commemorate the 1984 Indian Army attack on the Sikh's Holiest Gurdwara Golden Temple in Amritsar, Punjab (Northern India). Sikh leaders and Youth called for the right to self-determination at the rally. The Sikh Federation UK, which organised the event, said people travelled to London in coaches to attend the Freedom Rally at Trafalgar Square. Delegations also came from Europe for the event. Liberal Democrat MP Simon Hughes spoke at the rally alongside leaders and prominent personalities from the Sikh people in the UK, Europe and India.
History about 1984 Attack on Religious Sikh Temple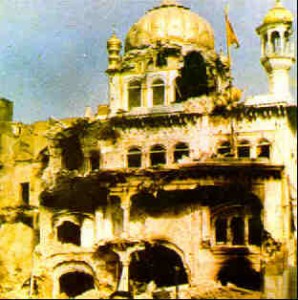 Damaged by Tanks. Sri Akal Takht Sahib in 1984
Operation Blue Star was a code name given by the Indian government to an attacked when launched on the Golden Temple. The attack, initiated on May 31st 1984, was one of the most inflammatory actions ever taken by the Indian government. This attack proved the values which is highest held in society: freedom, and even explicitly mentioned in all constitutions, including the Indian constitution as Freedom of religion, was not of importance in India. On May 31st, 1984, the Indian government launched an attack on the Golden Temple with 100,000 troops. There were only 251 Sikhs inside to protect the complex of the Golden Temple. But it was not a big attack at first because Sikhs were coming to Golden Temple to celebrate Martyr day of Guru Arjan Dev Ji. Army Tanks were used to break down the steps leading to the parkarma from the hostel side and an 8-wheeled Polish-built armored personnel carrier makes it's way towards the Akal Takht. It is destroyed by a Chinese-made rocket propelled grenade launcher.Six or more Vijayanta tanks enter the temple complex crushing the delicate marble inlays of the parkarma and plow their way towards the Akal Takht. Orders arrive and the tanks start firing their large 105mm cannons equipped with high explosive squash-head shells into the Akal Takht. These shells are designed for hard targets like armour and fortifications. The effect on the Akal Takht, the most sacred of the five Takhts, is devastating. Over 80 shells are pumped into the sacred Gurdwara. Sikhs in the temple were lined up and shotdead, not even children were spared. About 50,000 Sikhs were killed that day. Priceless Sikh artifacts were burnt. All the Literature written by the Gurus was taken away by the army, but they claimed that it was burnt while bombing the Temple. The whole Amritsar city was burnt. Many visitors were killed and arrested. Sikhs' shops were looted and houses were burnt.
Feedback:

Overall it was really inspiring, there were a few of us who drove from our small town, no coaches like other towns. So we are already planning for the next one. There was one thing though, a lot of the speeches were in Punjabi so I think that needs to change. Otherwise amazing event, great turnout but it was my first so cant say whether it was more or less than last time. - B. Sher Singh the turnout this year was amazing in comparison to other years, I and others felt very proud of the Uk sangat… the sangat protesting from hyde park was huge… after trafalgar sq filled up, there was still sangat pouring in from piccadilly circus. there was tonnes of orange about – it really was an amazing sight. I met a lot of amazing sangat today who had immense pyar for the quam and the movement. maximum respect to the organisers, all elders, sangat and any other persons who participated. - P.M. Singh

Don't know exact figures but surely there must have been more. Loads of sangat. 26 Buses/coaches from Leicester. 3 from Guru HarKishen Sahib, Oadby, and from what I heard 16 from Guru Tegh Bhadur Sahib (East Park Road), and 7 from Guru Nanak Dev Ji Gurdwara (Holy Bones, City Centre). - G. Singh

I'd say at least 75,000 Sikhs – was really really a moving scene to see the Panth uniting, the sea of sangat just went on and on.I remember the days when it was just one coach from Southall and even that was not all full – The Qoum is truly waking up – Singh from Southall

There had to be more than 25,000…i was there..its the bigeest turnout ever to a remeberance rally and many of the newcomers were youth….but i believe a march like the one today is not enough..we need to pursue other stratrgies aswell – K. Singh

The awarness growing amongst the Panth is due to the Sikh TV Channels and radio stations, no longer is the voice restricted by Gurdwara committees who are more interested in their petty local politics. To Keep the Sikh media gowing needs a lot of financial support so we should contribute there as well. – L. Singh