The first of two comics to launch Clockwork Watch
- a transmedia steampunk love story, set in Victorian London.



from Articipate: Clockwork Watch Team.

Make Believe Is About To Become A Reality
London 1899. Steam billows out from every corner of the city while huge Zeppelin airships float in the sky overhead, and Clockwork Servants, the mechanical slaves that keep society ticking along, duck through the alleyways.
Welcome to the Steampunk world of Clockwork Watch - a place where Victorian values collide with anachronistic technology.
Clockwork Watch is an immersive story and participatory experience set in a retro-futurist vision of Victorian England. The narrative is played out across two graphic novels, interactive promenade theatre, live action role-play, online adventures, an interactive book and a feature film.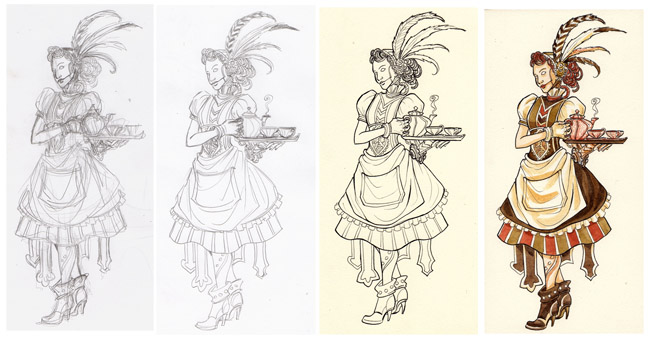 Concept Painting of Clockwork Servant from Doodle to Finished Watercolour
With a creative team that has collectively been in the driving seat of disruptive, innovative storytelling for over 5 years this grassroots project looks to push the boundaries of entertaining transmedia projects... But more about that later...
What's This About?
This appeal is to raise printing fees for our first graphic novel called - The Arrival. If we raise more than the target amount, it will be put towards developing the film script, launching our website, and developing the promenade performances.
The Arrival tells the story of a world struggling with technological and social change. New models of clockwork servants become ever-more advanced and human-clockwork hybridisation is the talk of the town; the clockworks are becoming more human, and not all humans are as human as they think they are.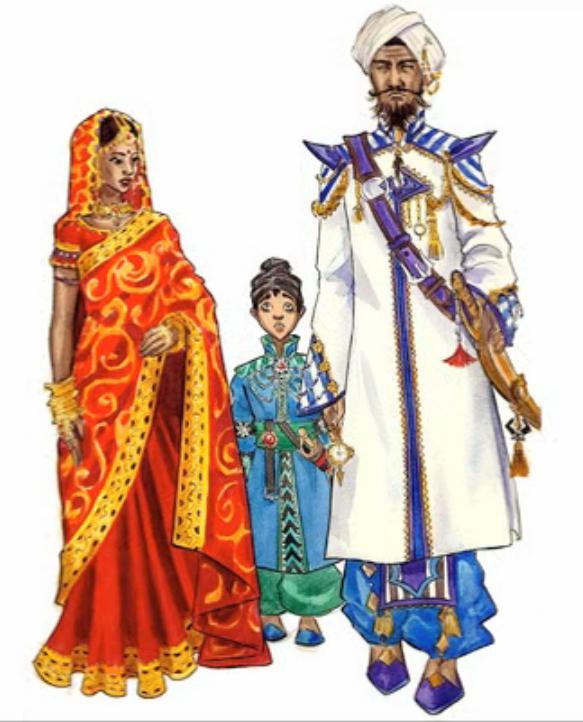 Chan Ranbir and family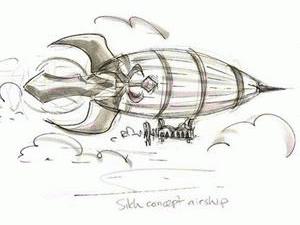 Our second graphic novel, called – The Breakaway, will open up the world and the cast of characters, soon to be seen with their own compelling stories being played out across different mediums.
The world introduced in the graphic novels will be played out online, with audiences able to interact with artefacts from the storyworld and live action role play events.
This will culminate in the cast of characters taking up residence in The Old Vic Tunnels for a live event like no other- a one-off hybrid of interactive theatre, prohibition party, steampunk spectacle, and club night.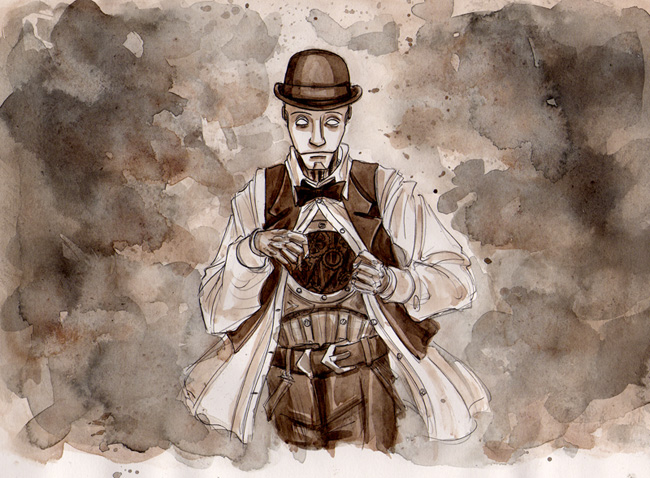 First Generation Clockwork Servant

The final 'event piece' is the feature film- a noir love story set in, you guessed it, steampunk London. Alongside which, we'll publish an interactive book by none other than Alison Norrington.
By funding the printing costs of The Arrival, you'll also be contributing to the final graphic novel anthology, with contributions from artists, authors, and graphic novellists. Proceeds will be donated to a charity determined by members of our Facebook Group.
Clockwork Watch was created by Yomi Ayeni.
Is This Similar To Your Last Transmedia Project - Breathe?
Breathe was a series of short films delivered over a three week period,, Whereas the whole experience of Clockwork Watch will run for the best part of twelve months. The project is a multifaceted, participatory, and immersive experience, involving live action role-play, augmented reality, graphic novels, live events, as well as interactive promenade theatre in London, an interactive journal and not forgetting the film. ;)
People want more from their entertainment, and why shouldn't the cinema experience begin the moment a ticket is bought online? How about that pre-film drink at a theatre, could that be part of the experience? There's even room to seed sub-plots in a graphic novel months before the actual film release. There are a million different ways of telling you a story, including letting you be part of one.
Our projects offer a chance to get involved in a compelling narrative running parallel to day-to-day life. We think we can enrich storytelling and tell bigger, more exciting stories by giving them room to breathe and our audiences room to engage with them, as much, or as little, as they'd like.
The Money
Where we are at right now:
- We have the film script
- The graphic novels are being illustrated
- The universe is set to go
- We've mapped out the entire production
- We have a great team of strategic partners attached
And There Are Other Ways You Can Help!
Clockwork Watch is a global concept and we're looking to get the word out to as many steampunk enthusiasts as we possibly can. With your assistance we may be able to host Clockwork Watch Embassies in other countries! Kindly tweet, post on Facebook, your WordPress blog, Steampunk Forum, or any other media you have access to.
Thank you for your encouragement and support.


The Talent: Team


Yomi Ayeni: Creator and producer of interactive projects such as Breathe (film), Violette's Dream (ARG), Global E-Missions (ITV), and winner of the 2002 Best Use of New Media Award. Works as freelance digital and social media strategist for advertising agencies in London, and hosts a Steampunk event called Seductive Alchemy.

Corey Brotherson: Writes for websites, publishers, magazines and TV. He's a published comicbook writer: co-creator of Bad Luck Inc., A Twilight's Promise, Fragile, The Twilight Cleaner, Magic of Myths and Butterflies and Moths - a full length graphic novel.
Jennie Gyllblad: Is a comic-book artist and illustrator living in the UK. She loves creating stories and characters using traditional media such as watercolour, gouache, ink and pencil. Her current projects include a fullength graphic novel with writer Corey Brotherson, titled 'Butterflies and Moths', a short story for the anthology called 'Bayou Arcana' and her own story 'Skal'. Jen has previously worked with RPG publishers such as 'Mongoose Publishing', 'Myling' and 'Kaleidoskop', but also frequently does portrait work, character designs and other painting commissions.
David Varela: An accomplished writer who also works across theatre, radio, film and interactive. In 2009, he created Xi, on of the biggest Alternate Reality Games, and has worked on a multitude of interactive games and dramas. David also writes and produces games for companies like Reebok, Dr Pepper, The BBC and Sony Playstation.
Sam Howey Nunn: Producer: adventures, transmedia, digital and live theatre, games, festivals and events. Her current projects include an adventure for Coney, an interactive children's e-book, and a documentary on D-Day. She is also building the biggest community of writers, directors and producers exploring immersive, interactive storytelling- Stellar Network.
Alison Norrington: CEO and Founder of storycentralDIGITAL. Crossplatform Author & Producer - chicklit story 'Staying Single' and 'Loving NY' (currently in pre-production). Novelist - Class Act, Look Before You Leap, Three of a Kind. Journalist - WIRED, Times Educational Supplement, RedBook, Woman's Way, Irish Evening Herald, Daily Mail. Playwrite - A Fish & A Bonsai, Pistols at Dawn. Conference Chair for StoryWorld Conference & Online Community Manager for TEDx Transmedia.