Starting from Langley at 6am the runners successfully completed the last and final section of the Children's Run Across Canada in Stanley Park, Vancouver.
The run passed through Surrey, Burnaby, New Westminster, and Vancouver, through crowded streets and over bridges. The day was hot and the runners pretty tired and fatigued from the previous three weeks but none quit this final opportunity.
The last leg of the run just over 3 km was around the seawall in which many others participated, from the centre team, the east team and many other local children. Some parents also participated to support and encourage their children. At the conclusion of the run, the runners and supporters gathered at Lumberman's Arch where Sandeep Singh read an address to those present on behalf of the GGSCF.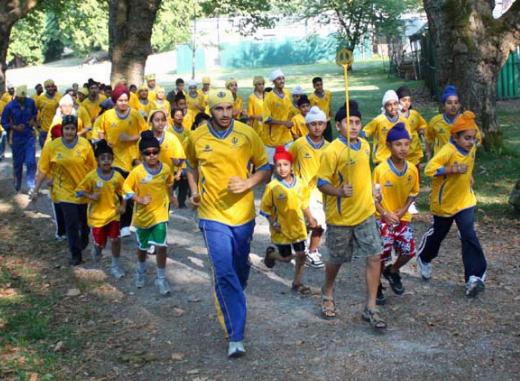 Navdeep Bains MP and former Minister Herb Dhaliwal congratulated the runners on this important occasion. Professor Dhaliwal stressed the importance of young Sikhs to get involved in positive way in their community and in their faith.
A cheque for $5000 was presented to Jane Adams, President and CEO of Surrey Memorial Hospital and she in turn asked for a signed T-shirt that would be hung in the hospital to signify this important event and its contribution to children in the hospital. Perpinder Singh, Harp Dhaliwal, Gursh Gill the local organizing committee thanked all those who had helped and supported the event and in particular Sukh-Sagar Gurdwara for providing the langar and support to the event.
As the sun set the Nishan Sahib was set into the waters of the Pacific Ocean after its journey of over 6500km from the start of the run in St. John's. While not all those involved were not present we would like to acknowledge all those who took part to help, all those who volunteered, and all those who ran along the way. Together as a team we made this dream a reality.