SOMETHING HERE FOR EVERY GIRL AND BOY...
AN INSPIRING BOOK'
— THE TIMES
A mammoth 10,000 new children's titles are published in the UK every year but only 52 make it as The Times 'Children's Book of the Week' – one of the most prestigious UK newspapers.
 We are therefore incredibly proud that 'Stories for South Asian Supergirls' by debut author, Raj Kaur Khaira, founder of the Pink Ladoo Project, has hit the top spot!

Raj is now part of a select group of amazing authors who have featured in this coveted slot, which in the past year have included David Walliams ('The Ice Monster'), Francesca Simon ('Horrid Henry: Up, Up and Away'), and Michael Morpurgo ('Poppy Field').
100% of Raj's proceeds will be donated to three charities supporting women and children: The Flying Seagull Project, the Canadian Women's Project and the Children Poverty Action Group.
'SUPERGIRLS' ON TV
 

'WISH I'D HAD SOMETHING LIKE THIS
WHEN I WAS GROWING UP!'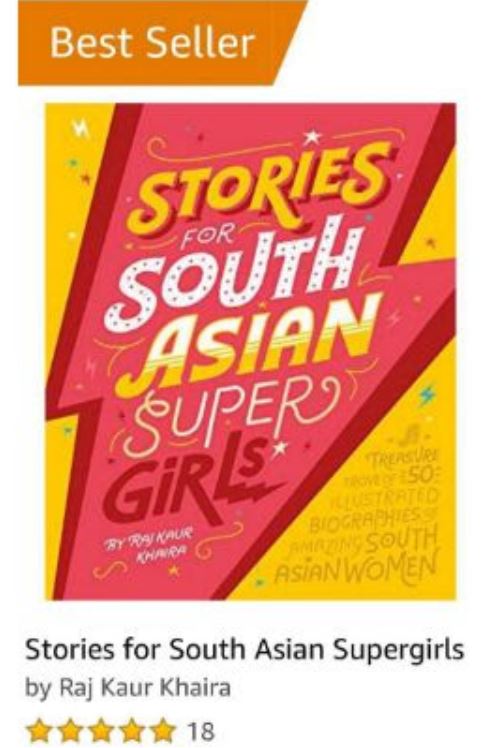 'Empowering stories about empowering South Asian women'
'Amazing book for all children not just girls'
'Beautiful art! Great stories! Awesome women!'

These are just some of the things delighted customers have said about Stories for South Asian Supergirls.

Currently, the book has a stonking 5 stars on Amazon, Goodreads and Waterstones – so if you haven't got your copy of Stories for South Asian Supergirls yet, don't delay!