It gives us great pleasure to announce the names of two extraordinary young men as the Chic Sikhs of the Year 2013: Waris Singh Ahluwalia, 39, and Bhai Gurbaksh Singh, 48.

Nominations received from our readers from around the world have helped a panel of five judges to select them from a long list of worthy men, women and organizations based in countries around the world.

At first glance, our two winners appear to be worlds apart from each other. A second, more thoughtful glance reveals that they are but two sides of the same coin … of a faith once described by the man who first introduced it in detail to the West in the following words:

"I am engaged here tonight in offering to your attention a religion which has God and Soul, which presents no mysteries and which embraces an ethical system such as has never been excelled, if indeed it has ever been equalled -- I mean the Sikh ReIigion" [Max Arthur Macauliffe, at a lecture delivered before the Quest Society at Kensington, London, England, May 12,1910.]

Of the two honorees, one is based in New York, USA, but freely travels around the globe in pursuit of his multiple interests and projects; the other is based near Chandigarh, Punjab, and to the best of our knowledge, has never stepped off the subcontinent.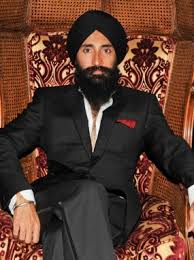 One cuts a striking picture as a smart, charming, confident, elegant, articulate man of the world who feels as much at home as a jet-setting, globe-trotting entrepreneur as he does as the member of the international glitterati.

The other is a simple, understated, quiet, spiritual soul who plods away slowly and steadily, pricking the conscience of India and its people, pushing for the observance of the very same basic human rights and freedoms which we in the civilized West take for granted. 

The former -- Waris Singh Ahluwalia -- holds no formal position within Sikh affairs, and yet has become its poster boy across the length and breath of the media, in all its modern and technological manifestations. He is often cited as the best PR the Sikh community has today in a post-9/11 confused world, badly ridden in some pockets with ignorance and bigotry. Yet, he never set out, or was ever asked, to do PR.

He is the very embodiment of 'good' PR simply because he does no PR; he merely lives the life of a Sikh -- to the fullest. To the last drop.

He is a businessman. A model. An actor -- he has appeared in a slew of high-profile Hollywood movies. He has been hailed, to borrow words from the media, the Renaissance Man, a fashionista, a bon vivant, an artist, a designer, a jeweller, a trendsetter … 

He dazzles the world -- Sikh and non-Sikh alike -- in a simple, understated way, without dusting up any brouhaha. Public attention nevertheless follows him like a shadow. He wears it, and sheds, it with aplomb.

He's been an inspiration to young and old. 

The latter -- Gurbaksh Singh -- is a simple village farmer who has been reluctantly drawn into the vortex of a struggle for human rights for his people by witnessing the types of excesses by his country's governments, bureaucrats, agencies, police, courts, and media which should never be found in a land that claims to be a democracy.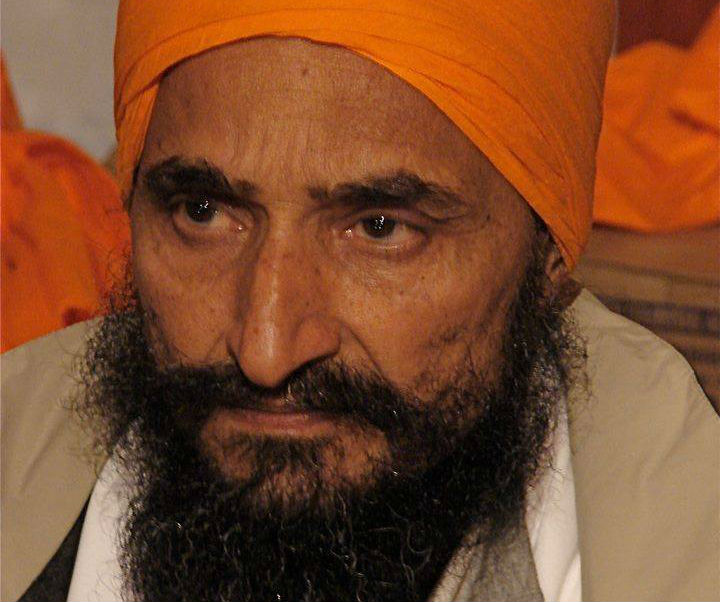 This year, he single-handedly brought to the fore the fact that not only the federal government but several state governments across India, were indefinitely holding in prison political detainees who had not only been convicted in kangaroo trials held secretly under oppressive laws, but had long since completed their jail sentences and were still languishing in jails.

Gurbaksh Singh felt their pain personally because he too had once been branded a 'terrorist' by the state. His crime? He had insisted on wearing a saffron-coloured turban; the same colour which since ancient times has been associated with spirituality and personal commitment, but the government, drunk with power, had ruled that by merely displaying the colour on his or her person, a Sikh would be deemed to have committed terrorism!

Saffron is the colour of the Sikh standard which is mandated in the faith to be displayed outside every Sikh place of worship and congregation.

In true Sikh fashion, Gurbaksh Singh turned to non-violence in his seeking for justice for his co-religionists who had been forgotten in India's jails. He didn't protest or march or summon press conferences. He began a fast unto death, which would be terminated prematurely only if the government would begin to obey its own laws.

His act of supreme sacrifice was inspired by an age-old tradition of non-violence exemplified by Guru Arjan and Guru Tegh Bahadar, later followed in a spectacular fashion by Sikhs during the Gurdwara Reform Movement of the 1920s -- the morchas (struggles) which then inspired Mohandas Gandhi to adopt them under the moniker of the Satyagraha Movement. Which in turn inspired Nelson Mandela!

In that spirit, Gurbaksh Singh remained without food for 44 days -- until several governments in the country finally acknowledged a few days ago that they were indeed holding hundreds of such prisoners illegally. When they then began to release a trickle of them -- albeit under the guise of giving them temporary parole!  -- but promising to do more, Gurbaksh Singh broke his fast, his point having been made.

The story is still unfolding. While the world awaits further developments, it remains in awe of the man's personal sacrifice.

The Sikh ideal of an exemplary life is that of the sant-sipahi -- a saint-soldier.    

It is a concept oft misunderstood.

It does not require Sikhs to be saints.

It does not want Sikhs to be soldiers.

What it does do is that it expects each Sikh -- man and woman -- to inculcate the values of a saintly life. But to ensure that they don't turn into saintly mendicants or renunciates, they are required to abide by the worldly obligations of a soldier, including the discipline that it entails.

At the same time, it expects each Sikh -- man and woman -- to take on the civic  responsibilities normally displayed by a soldier, but it does not want the Sikh to become a soldier. Hence, these qualities are to be balanced with the same ethical and moral values that inspire a saint.

Hence, the 'saint-soldier'.

Both Waris Singh and Gurbaksh Singh have shown that they are on this path. They complement each other; in many ways, they reflect each other, even though prima facie it may not be as obvious from their life-styles or haunts.

Waris Singh epitomizes the spirit of modernity which lies at the heart of Sikhism. Gurbaksh Singh encapsules the traditional Sikh values of courage and commitment, compassion and integrity, seva and, above all else, 'sarbat da bhalla' (the good of all humanity).
 
It is from these qualities which they have displayed -- tempered with sehaj (equipoise - also a Sikh ideal) -- that the community world-wide has drawn inspiration during the twelve eventful months of 2013.

And it is those qualities that have led our selection panel to name the two as the CHIC SIKHS OF THE YEAR 2013.       

*   *   *   *   *

This annual honour, announced every New Year's Day by sikhchic.com, is the result of a two-month long poll from its readers worldwide and a final whetting by the five-judge panel.

This year's panel was comprised of Dr Birinder Singh Ahluwalia, a Toronto (Canada) based philanthropist; Gurmeet Kaur, a children's author and activist based in Atlanta, Georgia, USA; Manjit Singh, former Director of Chaplaincy Services at McGill University, Montreal, Quebec, Canada; Inni Kaur, a children's author and community leader based in Connecticut, USA; and Sarbpreet Singh, a writer and musicologist who lives in Boston, Massachusetts, USA.

The criteria for the honour of being selected 'Chic Sikh of The Year' stipulate that a candidate's actions should constitute public service above and beyond the call of duty; selfless, consistent, ongoing and meticulous service; have a ground-breaking and far-reaching impact; commensurate with the highest Sikh ideals of working towards the welfare of all people; of benefit to people of all faiths and races; have made a mark on society in the year 2013; of a nation-building nature; and deserving wide recognition, encouragement and support.

*   *   *   *   *

This is the sixth year in a row that we have asked our world-wide readers to propose the names of those men, women, children, groups, institutions or corporations - Sikh or non-Sikh - who they feel deserve to be named THE CHIC SIKH OF THE YEAR.

As always, the response from across the diaspora over the course of the last two months has been thoughtful, spirited and enthusiastic. Our judges have struggled during the last few days with the excellent list (see below) of possible awardees, and have now selected two who have reminded us of our duty, as citizens no matter where we live, to devote our lives in serving and protecting those who are in need … thus exemplifying the highest of Sikh ideals and values.

We at sikhchic.com join Sikhs from around the world in congratulating Waris Singh and Gurbaksh Singh, and wish them all power and strength, success and grace, in their continuing endeavours.

*   *   *   *   * 

The list of past winners includes Wisconsin Gurdwara hero Lt. Brian Murphy, British Marathoner Fauja Singh, Harvinder Singh Phoolka (Human Rights Advocate), Jarnail Singh ('The Lion of Delhi'), Prime Minister Manmohan Singh, SALDEF, Saran Singh (Editor, The Sikh Review), The Sikh Coalition and United Sikhs.

The following 32 were nominated by our readers this year for the honour:

Akal Academy, Organizers of
The American Sikh Congressional Caucas
Balpreet Kaur, USA
Ek Ong Kaar Kaur, Writer, USA
Prakash Kaur, Jalandhar, Punjab
Snatam Kaur, Singer, USA
Valarie Kaur, Activist, USA
Johanna Ogden, Oregon
Sikh Naujawan Sabha, Malaysia
The Sikh Research Institute
Balwant Singh Sekhon, Baru Sahib
GAP
Gurbaksh Singh Khalsa, Punjab
Gurbax Singh, Baru Sahib
H.S. Phoolka, New Delhi, India
Harinder Singh, SikhRI, New Jersey, USA
Iqbal Singh, Baru Sahib
Joginder Singh, Kenya
Kamaljeet Singh Kalsi, Major, US Army
Khem Singh Gill, Baru Sahib
Kuljinder Singh Sidhu, Sadda Haq
Lakhwinder Singh Dhillon, Australia
M.S. Atwal, Baru Sahib
Mohan Singh, SAS, United Kingdom
Mother in Quebec
Prabhjot Singh, New York, USA
Prakash Singh Badal, Punjab
Preet Singh Bharara, Prosecutor, New York, USA
Randhir Singh Chatwal, Wing Commander
Romy Singh
Sadda Haq, Producers & Actors of
Saran Singh, The Sikh Review
Satpal Singh, Nairobi, Kenya
Surinder Pal Singh Oberoi, philanthropist, Dubai, UAE
Vishavjit Singh, Cartoonist
Waris Singh Ahluwalia, New York, USA
Dinesh Sood, Sadda Haq
Widows of 1984, Delhi, India

Once again, we congratulate Waris Singh Ahluwalia and Bhai Gurbaksh Singh, and wish them and their loved ones every blessing and happiness in the New Year and in the years to come.

January 1, 2014