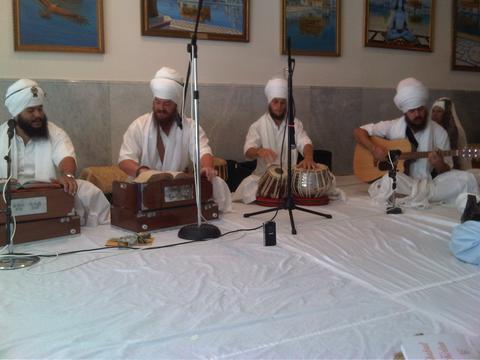 This week the Los Angeles Sikh community hosted the Chardi Kala Kirtan Jatha of Amritsar, India. This group of young graduates from Miri Piri Academy in Cherta, near Amritsar, was inspired to study classical kirtan by Siri Singh Sahib Bhai Sahib Harbhajan Singh Khalsa Yogiji (aka Harbhajan Singh Yogiji).

They have achieved a level of skill in classical Gurbani Kirtan that has allowed them the highest honor of playing kirtan at Harimandir Sahib, the Golden Temple in Amritsar, India.

Sada Sat Simran Singh Khalsa, Harimandirjot Singh Khalsa, Jagat Guru Singh Khalsa (absent on this tour due to illness), Hargobind Singh Khalsa and Ajai Singh Khalsa are all Sikhs from America who have for the last nine years studied kirtan under the direction of Ustaad Narinder Singh Sandhu. Narinder Singh Ji, a Professor of Indian Classical Music at Guru Nanak Dev University, is an Ustaad Ji of the Talwandi Gharana lineage of classical music and has taught classical music at Miri Piri Academy for the last eight years. He himself recently visited the United States, performing kirtan at Hacienda de Guru Ram Das, headquarters of Sikh Dharma International, in Espanola, New Mexico.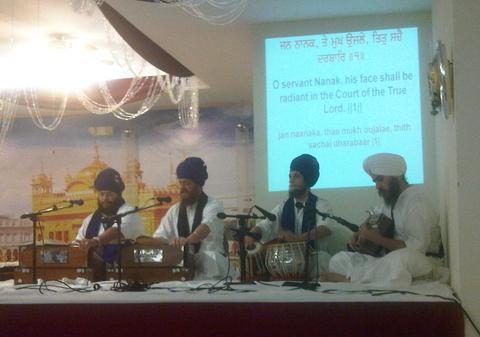 During Chardi Kala's visit to Los Angeles, this Kirtan Jatha really lived up to their name which translates as 'Ever-Rising Spirit.' Their Los Angeles tour began on Tuesday, July 14th with a Kirtan Program featuring a musical Rehiras (evening prayer) at Guru Ram Das Ashram. Guru Ram Das Ashram in Los Angeles, founded by Harbhajan Singh Yogiji in 1972, was where he taught meditation and the principles of Sikh Dharma for many years and inspired the generation of parents of this Jatha to live the lifestyle of Gursikhs. The first Amrit Sanchar ever conducted with Panj Piare of western Sikhs was conducted in 1972 at Guru Ram Das Ashram, and weekly Akhand Paths (continuous readings of Siri Guru Granth Sahib Ji) with readers from the Sadh Sangat have been conducted since the Ashram's founding. So, it was befitting that their first program was held at Guru Ram Das Ashram.

Wednesday and Thursday evenings, July 15th and 16th, the Jatha was hosted by the Guru Nanak Sikh Temple of Buena Park, CA, where they played for an hour each evening. This was the second year that the Chardi Kala Jatha has played kirtan at the Buena Park Gurdwara. The Sadh Sangat came in large numbers on both evenings.  Friday evening, July 17th, they performed at the Sikh Gurdwara of Los Angeles, in North Hollywood. The first shabd they played that evening was by Kabir Ji, "Nahi Chhodo Re Baabaa Raam Naam." In this shabd Kabir Ji tells the story of Prahlad, the child-saint who confronted his school teacher asking him, "Why do you not teach me lessons of my God, Baba Raam." What a beautiful melody this shabd was sung to. It was composed by the grandfather of Ustaad Narinder Singh Ji and had such a captivating sound and feeling.  Some of the children attending the weekly kirtan instruction under the direction of Saribjit Singh Ji were able to listen to them play this shabd. It was really beautiful.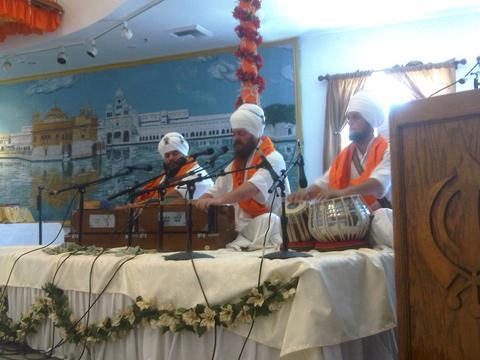 On Saturday morning, July 18th, the Jatha performed kirtan in the Amrit Vela, the early morning meditation and simran practice at Yoga West (the yoga center under the management of the Guru Ram Das Ashram community in West Los Angeles).  Here many members of the Guru Ram Das Ashram community gather daily at 3:45 a.m. for the morning sadhana, discipline, which starts with a reading of Jap Ji Sahib, the Meditation of the Soul, by Guru Nanak Dev Ji, followed by a vigorous Kundalini Yoga series and one hour of Naam Simran. Many yoga students who may not wear the 'bana' (dress) of the Sikhs but who do participate in the morning sadhana practice had the chance to experience the ancient sounds of the chanting and simran that was led by the Chardi Kala Jatha. Following the meditation, the Jatha did kirtan at Guru Ram Das Ashram for the weekly Akhand Path Bhog.

Their visit concluded Sunday morning, July 19th, with two Kirtan Programs; first, again at Guru Ram Das Ashram and afterward at the Sikh Study Circle, Vermont Gurdwara of Los Angeles which was the first Gurdwara founded in Los Angeles in 1969. Here, as in all the other Gurdwaras where this Jatha performed Kirtan, they were honored with saropas, robes of honor, for their exemplary service in performing their devotional kirtan in the tradition of the Guru's Court. They were most graciously received by each Gurdwara and acknowledged for their dedication and service in inspiring others to learn Gurbani. It was really a pleasure to hear them sing and put us all in a state of "Chardi Kala."