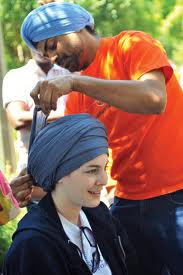 The Centre assured Parliament on Wednesday that it has been regularly taking up with France the sensitive issue of ban on wearing of turbans by Sikhs in schools and trying to work out a "practical solution" as the law there does not permit display of religion. "This issue has been raised with the French government regularly, including at the highest level by the Prime Minister in his meeting with the French President on September 30, 2008. I have also discussed this issue in my meeting with the French foreign minister Alain Juppe on October 20, 2011 in New Delhi," external affairs minister SM Krishna said.
He was replying to a query during Question Hour in the Lok Sabha.
Krishna informed the House that France has clarified that its domestic law bans display of any religion-connected symbols in "public schools only" and is non-discriminatory and applies to people of all religions living in that country.
"Our embassy in Paris is in regular discussions with the French foreign ministry and interior ministry. It has been clarified to the French side that our intention is to seek a practical solution to address a sensitivity of a minority community of our country," Krishna said.
He insisted that India continues to pursue this matter at various levels with the French government.
However, his reply did not satisfy Harsimrat Kaur (SAD) who had posed the question. She said turban was an "inextricable part" of a Sikh and not just a part of his attire. A Sikh can give up his life on the issue, she said.
Kaur described the French government's stand on the matter as a "shame" and "tyrannical". She sought to know what progress has been made on the issue since 2008.
However, Krishna maintained that France is a sovereign country and has its own laws.
In a statement issued later, Harsimrat Badal criticized the Union government for failing to convince the French government to lift the ban on turbans.
Lauding the role played by Sikhs in India's freedom, she accused the government of making "sham promises and buying the arguments of the French that ban is on all religious symbols.
"And at the same time, the government has been failing to convey to the French that turban to a Sikh is not just a religious symbol but is inextricably linked part of Sikh being".