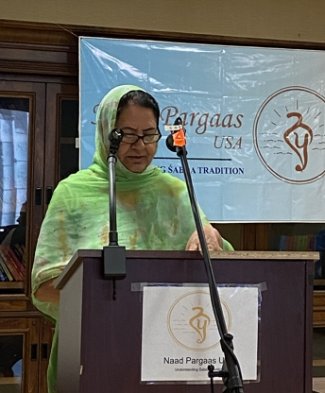 Celebrating hundred years of Sikh migration to Michigan, Naad Pargaas USA conducted a Poetry recital event at Mata Triptaji Gurdwara Sahib, in Plymouth Michigan. Opening the discussion, Harjot Kaur - Convener Naad Pargaas USA, gave a brief account of early Sikhs that migrated to Michigan a hundred years ago. She mentioned that the first few generations of Sikhs participated in economic development while establishing their footprint in Michigan. She said that the present time calls for Sikhs to deepen their relationship with the land of Michigan by living the tenets of Shabad Philosophy which will enable them to contribute indigenously and authentically to the Western society.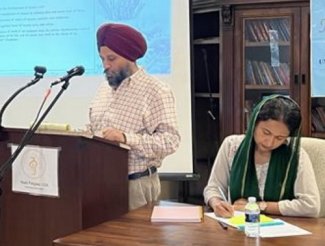 This introduction was followed by a talk by Amandeep Singh, Director Naad Pargaas USA. He said that migration must be contextualized in the perspective of dreams, ambitions, and aspirations that capture the imagination of migrating people. He mentioned that migration for economic prosperity is primarily to offer one's physical self to foster a market economy, which will only fulfill the demands of the labor market of the West. To make migration authentically meaningful it is vital to realize the wider meaning of migration, for which Sikhs need to develop an authentic self-understanding that guides their action in history. He said that human self should not be perceived in the light of a narrow self-image, but rather, as an abode of God.
He mentioned that it is absurd to claim the authority of being religious while having negligible engagement with consciousness. Therefore, it is important to cultivate higher consciousness without which human existence is nothing but waste. He further pointed out that the prevalent modes of orthodoxy in almost all religious traditions have 'vulgarized' societal cultures that has led to rise in right wing politics. The liberal minds on the other hand have 'absurdized' religious traditions, which has caused weakening of religious sensibilities amongst diverse communities including Sikhs. Further highlighting the vital role to develop human sensibilities with poetic consciousness, he mentioned that engaging with the works of art and aesthetics helps elevate self and the society. This in turn fosters the ability to engage, absorb, and contain the belief of God in man and re-assert His divine presence in the flow of history.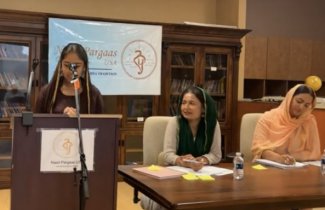 Amandeep Singh's talk was followed by a poetry recital by young poets. The first poem was presented by Simranjot Kaur titled Essence of Nature in which she expressed the state of her inner awe followed by a state of pause that human mind experiences in interplay with Nature. Uday Singh recited a poem on Human Condition penning down his inner longing for fulfillment. The poem was a calling for an inner Self- reflection that he conveyed in an philosophical idiom. Jasnoor Kaur presented a poem titled The Giver. Harping upon the theme of care through the image of a lake (Michigan being a land of Lakes), the poem celebrated the essence of Seva symbolized in the sense of cosmic motherhood. Guneet Kaur recited the poem The city in the valley. Through the image of a busy city, she reminded the feeble nature of human existence in forgetfulness of God. Surkhab Kaur joined online to share her nostalgic experiences related with her migration in her poem Home. This was followed by two poems by Manjot Kaur titled A Walk in the park and Void- The Truth. The first poem expressed a delightful expression celebrating nature's enriching experience. The second poem was an expression of the sense of Vairag, that she called a Void- The Truth expressing a sense of longing for her higher self.  The session was mediated by Gurpreet Kaur. She appreciated the vibrance in the expressions and idioms of young poets. She said that the innocence in the language of these young poets was very refreshing and the potential to creatively express thoughts with adept usage of language was commendable amongst the next generation of poets.
The second session was initiated with a short poem by the youngest poet Avleen Kaur, who presented a poem The Pigeon moved narrating a short story of three pigeons. This was followed by a poem by Amar Mann titled Wheel of Motion, in which she connected the idea of migration to her self-search. After these poems in English, the poetry recital switched gears to Punjabi poems by many poets. The Punjabi session was initiated by two poems by Gurmeet Singh Sandhu. He refreshed his nostalgic feelings for Punjab that reminded of his cultural connections with Punjab. His second poem was on the third century celebrations of Guru Garanth Sahib's Gurgaddi coronation that he recited in a traditional idiom, while expressing his devotion to Guru. This was followed by three short poems by Raj Sandhu, the first one titled Monarch butterflies that migrate across North America and eventually die in a particular place in Mexico, covering about two thousand miles. Her second poem was titled Main (Self) in which she talks about self-accountability as an elementary phenomenon of self-understanding. Expressing her concerns for Nature in her third poem titled Vinash (Devastation), she denounced the violent gun culture of Punjab propagated through rap songs leading to violent self-expressions dampening the cultural subjectivity of Punjabi youth that she believes was intertwined with the noticeable ecological crisis.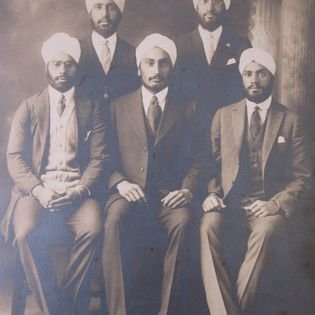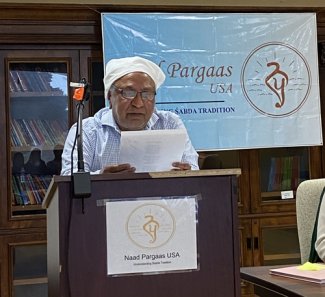 Satpal Goel was the next poet who presented three poems. Embellished with a lyrical rhythm with adept usage of language, feelings, expressions, and symbols, his first poem titled Kavita (Poetry), meticulously weaved different elements of poetry. In the second poem titled Mere Purkhan de Naam (An address to my Ancestors) was a dedication to the cultural legacy, imagery, and tradition reflecting upon archetypical cultural ethos of village life of Punjab that the poet holds close within his imagination. The third poem, Dilemma of a Cloud, was a deep reflection of an ancient self that could witness eternity and antiquity. This was a powerful creative art of his own making that the poet kneaded through images, symbols, and mythology to reflect upon the eternal consciousness that could be experienced across different ages of time and space.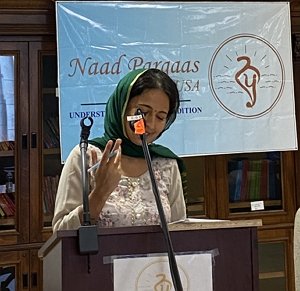 Next to Satpal Goel, Uday Singh recited two poems penned by Jugraj Singh that lifted the audience into a state of trance. The first poem titled 'Prayer of my heart' was a calling of his heart invoking the mind to lift the veils over one's selfhood, to take a glimpse of the life divine. His calling transcended fluidly across the hearts of the audience evoking the flow of Naam Rasa expressed in his poetic lyrics. The second poem titled Sitting Quietly rendered the glimpse of barrenness of human life, unless touched by a mystic delight of Sainthood. Crafting an image of a village, Jugraj's poem flowed like a spellbound entrancement rejuvenating a dry and parched life into a fresh, budding, and flourishing spirit with the touch of a mystic saint. These poems were followed by short poems by Gurpreet Kaur titled Ik Umeed (A Hope) and A Woman. Transcending the boundaries of lineage and metaphysics, her first poem voiced a sense of hope of self-fulfillment in union with the One divine. The second poem, A Woman, was dedicated to mother earth as a primordial source of energy as she noted the dual modes of expression of the dark feminine energy. She expressed her affection adorated with a strong intensity of passion enunciated in these poems.   Amandeep Singh, the next poet, recited a lyrical poem in Punjabi in which he created an image of Bhai Mardana's state of mind quietly playing Rabab in presence of Guru Nanak at early hours on the bank of River Ravi. This along with the second poem in English, recited by Guneet Kaur on 'The Nature of Michigan' was an attempt to create poetic expressions.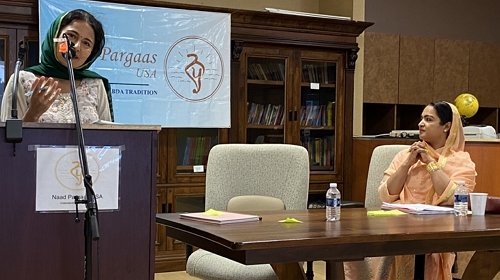 Dr. Parvinder Mehta, recited three poems from her book - 'On Wings of Words'.  The first poem was a literary expression of her engagements with words titled Why we write?  As an expert literary scholar, Dr. Mehta, presented her acumen and ease to play with poetically rhyming words, articulating her love for the language, expressing her excitement while engaging with creative and literary expressions. Her words were sensitive towards the silence that follows pain and trauma, awaiting patient ears and receptive minds espousing for a genuine mediation. Beyond unspoken words, was thus the title of the second poem in which she addressed the issue of bullying and the physiological effects that the victims of bullying, especially young Sikh boys, deal within their migrated spaces. Dr. Mehta also remembered her father in her poem Blue Aerograms as she expressed her pain and frailty to absorb the shock of his demise. 
The last poem by Harjot Kaur expressed an organic and living relation with the life of Michigan in her poem My Centenarian Mother Michigan. The adept usage of similes and metaphors in the symbol of mother, her poem reminisced the native Indian culture of Michigan along with the African Americans lives lost during the slavery. She also reminisced about the land of Punjab as an Eastern sister, who handed over her children to be taken care of in the spirit of her Western sister Michigan.
The event concluded with an effort to excavate the spiritual essence of cultural tradition of Punjab expressed in melodious Tappe, sung by Harjot Kaur. These new Tappe were original compositions that reminded the participants that the culture of Punjab could achieve higher essence with spiritual blossoming. The event was much appreciated by the local and worldwide audience connected online. 
Below is the link to the event and the separate link to Tappe.