Celebrating 550th  Parkash Utsav of Guru Nanak by uplifting neglected Sikh sub-groups
During his Udaasis, Guru Nanak went all over the sub-continent of India and came in contact with various groups to whom he gave his message of spiritual socialism that is "Dharam di kirat karni or honest livelihood", " Vand Chhakna or sharing resources with needy", " Naam japna or meditation on the attributes of ultimate reality", "Fatherhood of one God " and "Universal brotherhood". As the most important attribute of Nirankar or Formless is that, he  is truth and hence the aim of the humanity is to become "Sachiar" or truthful by utmost submission to the will of God reflected in his cosmic laws and spiritual laws. The persons or the group of persons who came into contact with Guru Nanak were generally called Nanakpanthis and included Sikligars, Vanjaras, Lubanas, Kabirpanthis, Satnamis etc. In my article at page 67-70 of June edition of the Sikh Review, It is mentioned, if the population of all the Sikh sub-groups are included under the heading Sikh religion in 2021 census then it will be many times the total population of the Sikhs shown in 2011 Census. Some scholars claim that the population of Sikh sub-groups living all over India is more than 12 crores. However the basis on which it is so claimed is not clear. The most important Sikh sub-groups are Vanjaras, Sikligars and Satnamis.
Vanjaras: Numerically the Vanjara group is most important and it's spread all over South India. Vanjaras are among those Sikhs who irrigated with the blood of whole of their families, the plant of Sikhism. They were so brave that men like Bachitar Singh turned away elephant of the enemy at Anandpur fort by hitting his steel covered head with spear and the elephant ran back with pain and trampled own soldiers. They were so knowledgeable that after Bhai Gurdas, whatever interpretation of Gurbani has been done, it was by a Vanjara Sikh Shaheed Bhai Mani Singh Ji. Vanjaras like Makhan Shah sacrificed his wealth to search out the true Guru and Lakhi Shah burned his own house to cremate the body of the ninth Guru. There are hundreds of Vanjara Sikhs who played important roles and sacrificed their lives in Guru Gobind Singh's wars and in subsequent period.
Sikligars: If we consider the dedication and commitment of Sikligars to Sikhism, this sub-group is among the first. Lacking any help from any quarter and living in poverty they still remain in high spirit. Their poverty, however, has kept them beyond the attention of the so called mainstream Sikhs. Although originally they were part of the army and were citizens of Chitore, who left the city after the battle of Haldighati with Maharana Partap and started living in forest and to earn their livelihood, they later on became Lohaars or Ironsmiths. They took up to manufacture of arms and supplied the same to Guru Hargobind Sahib and Guru Gobind Singh Ji so that they could fight the Mughals. Once the weapons presented before Guru Gobind Singh Ji were brilliantly shining that Guru Sahib gave them the title of Sikligars, in Persian which means persons who manufacture shining armaments.
Satnamis: Very few people know that numbering more than 1 crore and spread in the areas of Jharkhand, Bengal and Chhatisgarh, Satnamis are those Sikhs who had taken on Emperor Aurangzeb at the behest of Guru Teg Bahadur against his decision to charge Jazia on Hindus and destruction of temples and teaching centers. Rebelling against Aurangzeb for a considerable time they had in their possession for sometime the whole area of Southern Haryana and North Rajasthan. These Sikhs had associated themselves with Sikhism during the visit of Guru Nanak. As they recited Satnam continuously they came to be known as Satnamis.
Report of National Commission for minorities: A study was conducted by National Minorities Commission to assess the social, cultural, economic and educational aspects of the Sikligars, Vanjaras, Lubanas and Dakhni Sikhs who are settled in various parts of the country and continue to remain neglected since the partition of the country. In most of the states these communities have yet not been recognized as Sikhs and have been considered and counted as Hindus or as members of nomadic tribes or have been included in OBC category in census studies as well. The reason for this is primarily because these people live in small groups, reside in shanties, speak and dress up as regional locals. After the independence of India, these sub-groups have remained neglected and are living in very miserable conditions. Majority of them even earn less than Rupees 3000 per month to support a family of 5-6 members. Most of them are living in sub-human conditions. National Commission for Minorities had asked Punjabi University, Patiala to carry out a socio-economic survey of Dakhni, Sikligars and Vanjara Sikhs scattered over numerous regions in AP, Telengana, Maharashtra, and Karnataka, Assamia Sikhs in Assam and Mazabi Sikhs in Meghalya. A 200 pages report titled "Socio-Economic conditions of Dakhni Sikh particular and other Sikh minorities in South and North-East India" has been submitted to the commission. No action has been taken till date. It's relevant to observe that in 2011 census, the census authorities did not consider Sikligars as recognized caste and they ignored the fact that they are Sikhs by the religion. In my article published in the Sikh Review (June edition), the population of Sikh sub-groups as claimed by some without indicating source of information is as under: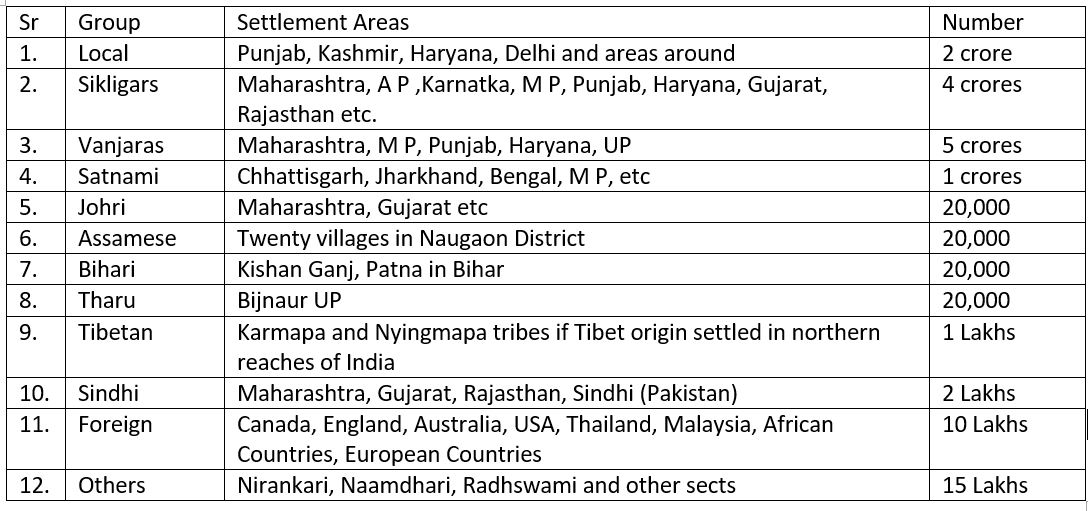 A request was made to the National Commission for Minorities to take up with the State Govt. and Census Authorities so that the population of Sikh sub-groups namely Sikligars, Vanjaras, Satnamis, Johris, Tibetans, Assamis, Tharu and Nanakpanthis/Agarhari Sikhs are included under the head Sikh religion in the census of 2021. Besides that Commission was requested to take up following steps for ameliorating the life of these people, who are living below poverty line and are treated inhumanly by higher castes.
As most of the population of these subgroups are living in Jhuggis and Jhompris, the State Governments may be requested to allot them Pucca houses which are registered in their names. They could be covered under Prime Minister's Scheme to provide houses for all by 2022 and toilets for all by October 2019.
All these people should be given BPL benefits because they are living below poverty line.
Most of the population of these sub-groups does not have access to safe potable water and thus they are forced to collect water from taps/wells located far away from their residential premises. The State Governments may be asked by the commission to provide pure drinking water to these sub-groups within their residential premises.
The Sikh sub-groups below poverty line, cannot get toilets by 2nd October 2019 due to hassles in getting help from the authorities and also the fact that Rupees 12000 under Swachh Bharat Scheme is not adequate for constructing a toilet.
The Minorities Commission was requested to persuade the State Governments so that the children of these sub-groups could get quality education and skills development training which will enable them to come above poverty line. It was further requested to ensure that older population of these sub-groups gets old-age pension and health care facilities without hassles.

Even after requests to various authorities at the center and states, the living conditions of Sikh sub-groups have not improved but various NGOs are doing excellent work but the problem of uplifting the Sikh sub-groups and ensuring that they understand the teaching of Shabad Guru is a big problem. With the initiative of Sikh Council of Scotland, British Sikh Council, Guru Nanak Nishkam Sewak Jatha, SAF International, Khalis International, Guru Angad Dev Educational Council, Ludhiana and Guru Nanak International Educational Trust of UK and it's Indian chapter remarkable work has been done in the field of providing educational facilities to the children of these sub-groups, building Gurdwaras in other states where these sub-groups live, providing skills development training and explaining the teaching of the Shabad Guru to them so that the persons could become Sachiar or Truthful while making both ends meet by honest means. The efforts of these sub-groups are not enough and if we really want to celebrate 550th Parkash Utsav of Guru Nanak then as suggested by earlier Jathdar Akal Takhat, all Gurdwaras in India and abroad should earmark 10% of their collection for providing quality education to the children. The focus is also required to be on providing health care facilities to the families of the sub-groups living in most unhygienic conditions in shanties or even in forests.
Guru Nanak International Educational Trust of UK and it's Indian chapter with which I am connected is mainly focused at present in improving the infrastructure and quality of education of Govt. Elementary School, Preet Nagar, Village Ajjowal in District Hoshiarpur. However it's active interest in uplifting the lives of more than 300 Sikh Sikligars households has become a catalyst and with the help of donors for celebrating 550th Parkash Utsav of Guru Nanak, a sacred forest having 550 trees under Mywaki system of Japan is being developed behind the school. This forest will improve the eco-system of the village and when a park around the forest is fully developed then the villagers will be able to enjoy clean environment. Besides that 11 pucca houses have been constructed by the donors and the trust has got assurance from district authorities that toilets and some pucca houses will be provided by them.
It was brought to the notice of Chief Khalsa Diwan, that, the Sikligars and other Nanakpanthis living outside Punjab were unable to take advantage of their decision to provide free education to 100 children at their schools in Amritsar. For helping Sikligar children living in Burhanpur district in Madhya Pradesh, Chief Khalsa Diwan has agreed in principal to establish a Guru Harkrishan Public School in Gurdwara Badi Sangat Sahib, Burhanpur where Guru Gobind Singh Ji while going to Nanded had stayed for 2 months in May-June 1708. Chief Khalsa Diwan had further been requested to establish the school in cooperation with other NGOs as homage to 550th Parkash Utsav of Guru Nanak.
Chief Khalsa Diwan is a premier Sikh organization which is running more than 50 schools and institutions for providing education and therefore it has been requested that they should coordinate the work of all the NGOs active in providing education to the children of Nanakpanthis so that benefits could be obtained from the Govt. schemes and scarce resources of various NGOs could bring optimum results. Being a non-political organization, Chief Khalsa Diwan can persuade the authorities to register these Sikh sub-groups under the heading Sikh religion and ensure that benefits under the schemes for minorities SC, ST, OBC and below poverty line families become available to crores of people belonging to Sikh sub-groups living all over the country.
 
Jasjit Ahluwalia
[email protected]