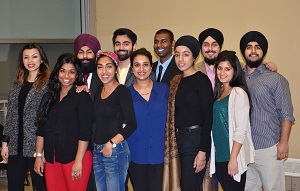 Executive members of Striving In Keeping Humanity (SIKH), artist Anoop-caur and spoken word poets Bavleen Kaur Saini and Rupi Kaur. Photo: Ellen O'Connor
January 16, 2014:
"It's a girl!" An exclamation often met with smiles, cheers and messages of congratulations. But in some parts of the world, having a baby girl is not so warmly received – in fact, it can be deadly.
Female infanticide is the deliberate killing of infant girls that occurs in patriarchal societies due to engrained cultural traditions and family strains. The unlawful practice is still happening today worldwide in countries such as India and China, and even more close to home.
On Saturday, Jan. 11, Striving In Keeping Humanity (SIKH), a non-profit student group based out of Carleton University, held K(no)w Female Infanticide. The event's purpose was to inform the public of the different factors that lead to female infanticide incidences, such as cultural traditions, dowry and family legacy.
Held at Rooster's Cafe at Carleton University, the group used Punjab, India as their example of a location where infanticide occurs. They shed light on the practice through skits, documentary clips, an open discussion, as well as performances by spoken word poets, Bavleen Kaur Saini and Rupi Kaur, both of whom travelled from Toronto to support the cause.
One of the largest factors discussed throughout the night was dowry. Paying a dowry before marriage is a large financial burden for impoverished families in India. The fear of financial strain leads to acts of infanticide, as well as prenatal sex determination through ultrasound which leads to feticide – the killing of a fetus.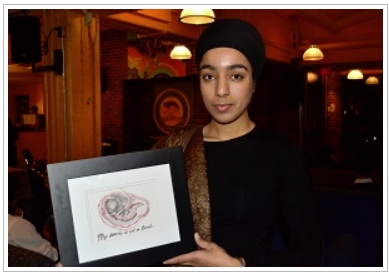 Toronto-based artist Anoop-caur shows off her piece "My Womb Is Not A Tomb" one of four pieces auctioned off at the event with all proceeds going toward the Dr. Harsh Charitable Trust. . Photo: Ellen O'Connor
"Infanticide is coming [to Canada] because it's stuck in the cultural mindset," said Argan Sethi, an executive member of SIKH. "In one situation you have a poor family that would maybe love to have a daughter, but they can't financially afford it. Then if you come to places like Canada, it's in their mind to have a son, so they screen for a son using the technology available."
SIKH showed the crowd an online "No Dowry" campaign and encouraged people to sign it. Similar campaigns are popping up in other cities, and signatures are going to be presented to the United Nations.
Near the end of the evening, a silent auction took place during which artist Anoop-Kaur, a second-year student at OCAD University, auctioned off four pieces of her artwork that reflected the theme of the night – infanticide and the need for female empowerment.
"This cause runs in my community and I've known about it for a long time," she said. "It's unfortunate that it's seeped through to the Western world because of immigration and those same traditional notions and ideas that a boy is better than a girl has transferred here as well."
One piece called "Harvesting Daughters" depicted a woman carrying a bundle of wheat on her head to symbolize how the Indian culture perceives girls as burdens, but instead girls often carry their family's burdens. Another was a watercolour painting of a fetus with the statement, "My womb is not a tomb."
All funds raised from the silent auction, as well as from purchased dinner plates, were donated to the Dr. Harsh Charitable Trust. Dr. Harshinder Kaur, president of the trust and a medical officer at the Rajindra Hospital in Patiala, Punjab, started the charity with the objective to provide education for local girls who come from broken homes, impoverished families, or are unwanted by their families.
When Kaur began she used money out of her own pocket to pay for the full tuition for 52 underprivileged girls. Since officially opening the charity in 2008, the trust has paid for the tuition of 329 girls to date. By providing girls with a proper education, they will become aware of their rights and the laws in place to protect them from early marriage, the threat of violence and female feticide, said Sethi.


COPYRIGHT © 2013 Ottawa Star