The Sikh community in Regina celebrated 150th anniversary of Canada Day on July 1st. More than 50 volunteers had signed up to help the Regina Canada Day Planning Committee. This is the 5th year when volunteers from the Sikh community extended their helping hand and participate in the Canada Day celebrations. Due to ignorance of the Sikh faith in North America, it is vital for the Sikh community to volunteer for causes of regional, provincial and national interest. By effective participation and creating opportunities for education and awareness, one can possibly take head-on the issues of racial biases and prejudices and prevent cases of hate crimes. Sikhs have been present for decades in North America and have successfully contributed to the communities they live in be it professionally or socially. However, when it comes to outreaching to different communities and cultures at a mass level, a lot more is required to be done.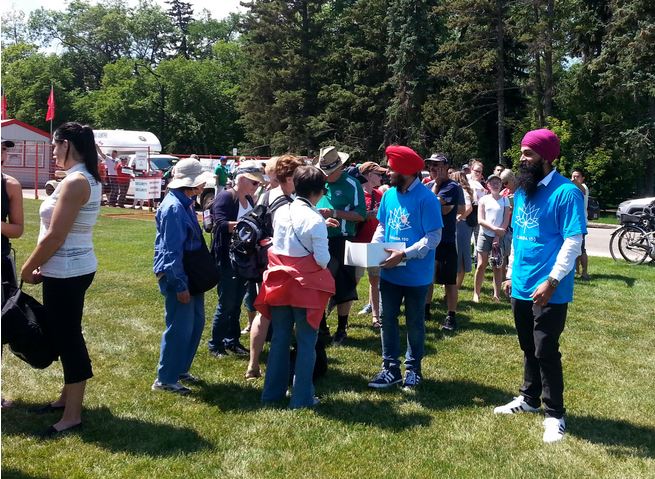 For Canada Day celebrations in Regina, the volunteers showed impressive dedication, commitment and enthusiasm in representing the Sikhs and performing Nishkaam Seva (Volunteering role) for the good of all communities. Orientations sessions were held by event organizers two-three days prior to the event to familiarize every one about the duties and deliver T-shirts and other supplies. Several volunteers from different age groups showed up (young, adult, old age, married couples) to participate and help out the visitors to their best of capability. Following were the main roles that the volunteers were involved with:
1. Traffic Control and Parking
2. Security
3. Driving Golf Carts to transport people
4. Loading and Unloading of Food from the trucks
5. Distribution of Canadian Flags, Pins, Tattoos and Stickers
6. Booth to provide information on Sikhs ( through brochures and displays)
Gatka performance by kids was also done. It was the first time this performance had occurred at the Canada Day and people highly appreciated the event.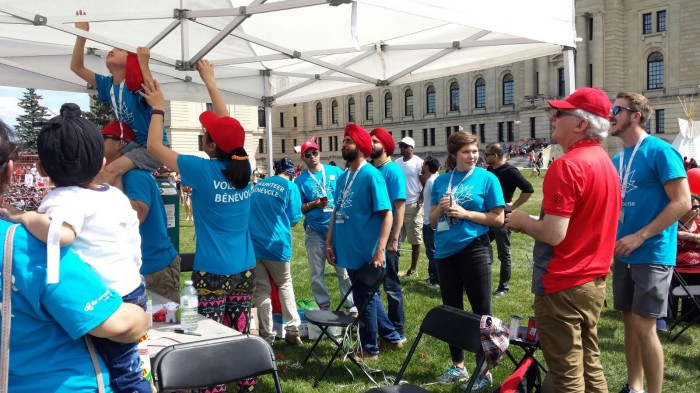 By effective participation of the Sikh community, volunteers spread the message of Peace, Respect and Volunteerism (Seva). These beliefs are an integral part of Sikh faith and are at the same time the Canadian values that are celebrated every year.
The event organizers were very thankful for the help that the Sikh community provided in organizing the Canada 150 event. They were grateful to each and every individual volunteer for their time and energy. The volunteers, themselves, expressed happiness and thankfulness for the opportunity and in being part of this historic event.
To summarize, participation in such events, now and in the future, would go a long way in removing the negative stereotypes and would increase trust, mutual respect and integration of not only the Sikh community but other communities as well.
~ Gagan Deep Singh