Just ahead of the 37th anniversary of Operation Bluestar, the Shiromani Gurdwara Parbandhak Committee (SGPC) has put the bullet-hit Bir of Guru Granth Sahib on display, along with the bullet that had hit it. The Bir was struck by a bullet during operation blue star in 1984. Devotees jostled to the Golden Temple on Thursday where the Granth has been put up for a three-day display.
The decision of putting the Granth Sahib on display was taken in a special meeting of the SGPC executive committee in Amritsar on Wednesday. SGPC president Bibi Jagir Kaur while addressing the media said, "Sikh qaum (community) can never forget the June 1984 Ghallughara (holocaust)."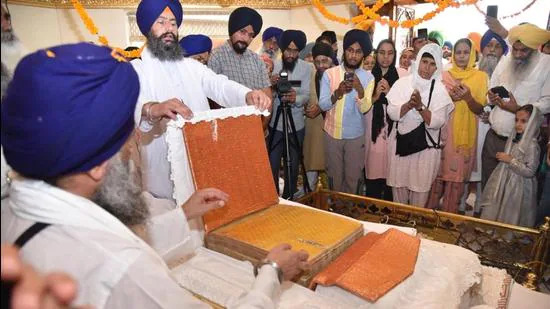 "It is an oozing wound that is still painful after 37 years. The available relics associated with this holocaust will be shown to the sangat (devotees) so that the future generations can remember the atrocities committed on the community," added Kaur.
She informed that the golden plates of Sri Harmandar Sahib and Sri Akal Takht Sahib, which were also shot upon during the military operation against the terrorists, would also be kept for devotees to see.