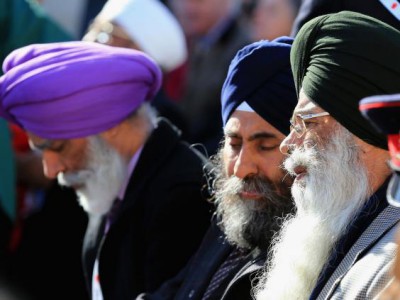 Representative onlyNov 28, 2016 - JALANDHAR: The UK Sikh Survey 2016

- the largest and most comprehensive ever Sikh survey in the UK, with 4,559 respondents - which was released on Friday, has found 69% of

Sikhs in UK

are born there, and there are five time more chances that Sikhs would be members of a political party.

Some other key findings include Sikhs twice as more likely to have a degree or a higher qualification compared to the average for the population, and at the same time, they are least likely to be unemployed.
While 92% of Sikhs are owner occupiers, community members donate over £1.2 million a day to charities, equivalent to more than 6.5 times the average annual charitable donation per person. Some other interesting fact findings thrown up by the survey -on issues of Sikh identity, discrimination, education, employment, and political activism -include the fact that 92% of those surveyed thought there should be an independent public inquiry to establish the full facts about the UK government's involvement in the army attack on Darbar Sahib in 1984, and the same number also think an independent public inquiry should cover actions the UK government had taken against the Sikh com munity at India's request.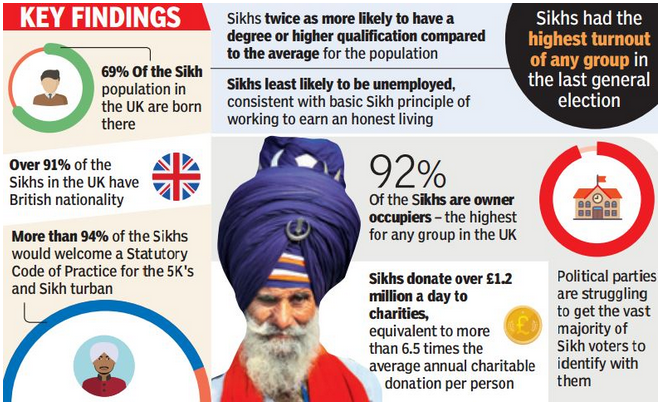 About 85% believe the UK government had been influenced by the Indian government in its unfair treatment of Sikh political and religious activists.
More than 97% have no or limited confidence in promises by the Modi-led Indian government to prosecute those involved in the Sikh genocide in 1984, or the Badal-led Punjab government to prosecute police officers involved in torture and fake encounters; 93% think the UK government should support a UN-led in quiry into the 1984 Sikh genocide.
Releasing the survey, The Sikh Network said it made maximum use of campaigners from dozens of Sikh organizations working in different disciplines across the UK, and targeted those groups difficult to reach in major cities of the UK.
"Face-to-face interviews where assistance was provided have been adopted where necessary, and hard copies of written questionnaires completed at significant gatherings of Sikhs in the 10-week survey period," it adds. AC