The venerable Sant Baba Iqbal Singh Ji was born on May 1, 1926 in village Bharial Lahri, Tehsil Pathankot, District Gurdaspur (now Pathankot) to father Sanwal Singh Ji and mother Gulab Kaur Ji. Baba Ji had two elder brothers Bhai Daulat Singh Ji and Bhai Harbans Singh Ji and an elder sister. From very childhood, he was inclined towards deep devotion to the Eternal Lord and used to go in the forests for recitation of the Divine Name without informing anyone at home. He would very often join the company of the saintly and divine people and get blessed by listening to their discourses about the Eternal Lord. While learning from his teacher of history in 6th Grade about the daughter and son of Emperor Ashoka remaining unmarried and propagating Buddhism, Baba Ji made a resolve to dedicate his life towards serving humanity and propagate Sikhi. Although his family later forced him several times to get married, he remained steadfast in his resolve. Being afraid of the British rule, when his family didn't allow him to become Amritdhari (get him initiated into the Khalsa fold with Amrit), he went on a hunger strike to persuade his family; and then got blessed by Amrit at Akal Takht Sahib, Amritsar. He passed Grade VIII from Government School, Dina Nagar and Grade X from Government High School, Gurdaspur. His mother passed away while he was in Grade X. But due to his state of devotion towards the Eternal Lord, he accepted the Divine Will and didn't shed a single tear. After matriculation, he completed B.Sc. Agriculture from Khalsa College, Lyallpur. Later, at the time of Partition of the country, when Punjab Agriculture University Ludhiana had not been established, the government temporarily started Agriculture College in Khalsa College, Amritsar.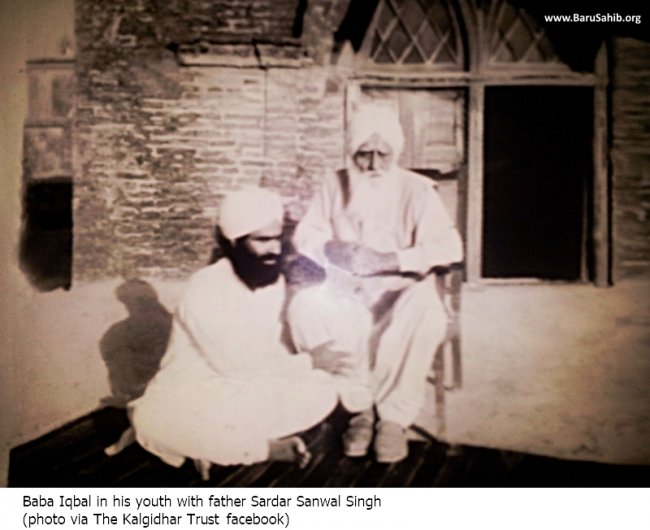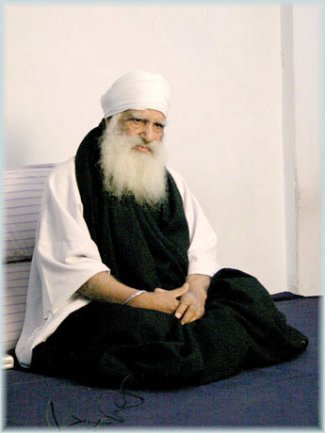 It was at Khalsa College, Amritsar during his B.Sc. Agriculture that he met Sant Teja Singh Ji, the devout disciple of Sant Attar Singh Ji Mastuana. He was so impressed by the lecture delivered by Sant Teja Singh Ji that he became his devout disciple. After completing B.Sc., he took admission in M.Sc. Genetics and Plant Breeding at Ludhiana. Here Baba Ji met Dr. Khem Singh Ji and their friendship developed so close that both became 'Gur Bhai' (divine brothers). Dr. Khem Singh Ji supported him all his life in carrying forward the mission of Sant Attar Singh Ji and Sant Teja Singh Ji and followed his every instruction. After completing M.Sc., his father wanted him to send to America to pursue Ph.D. But on the instructions of Sant Teja Singh Ji, Baba Ji refused to go overseas despite the visa and air tickets having been paid. Later, he got his first job as a Research Assistant in Hansi, Hisar (now in Haryana).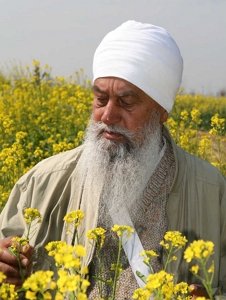 By mentioning seven identifications of Tapo Bhoomi (land of meditation) Baru Sahib, Sant Teja Singh Ji gave the responsibility of revealing the holy land of Baru Sahib to Baba Ji. He, along with Dr. Khem Singh Ji, went on to search the land with seven indications but they could not find that place. Then, to search the holy land of Baru Sahib, Baba Ji, ignoring the prospects of his career (Punjab being agricultural land with more opportunities), got himself transferred from Punjab to Himachal and joined his duties at Dhaula Kuan. As per the identifications by the divine wisdom of Sant Teja Singh Ji, he revealed the land of Baru Sahib. Sant Teja Singh Ji visited Baru Sahib and established a Kacha (temporary building) Gurdwara and gave the responsibility to Baba Ji to visit the place every fortnight for its upkeep. Since there were no metalled roads, he would travel 50-60 Km on foot to visit Baru Sahib every fortnight.
While on duty, he always remained immersed in the recitation of Divine Name and service of Sant Ji. So, he wanted to quit the job. But on the instructions of Sant Ji, he continued his duty considering it as 'service to Guru Nanak Dev Ji'. Throughout his career, he wore Sikhi attire (Achkan, a knee-length coat buttoned in front; Churidar Pajama, tightly fitting trousers; flowing beard and white turban) as instructed by Sant Ji. Due to his work for the welfare of poor farmers and his character and nature, everyone started calling him 'Giani Ji'. Getting promotions, he became Agriculture Officer of Nahan district very soon. Even his seniors had so much faith in him that they would sign any file sent by him without reading and would take his advice in all matters. At Nahan, he was promoted to the post of Deputy Director. Pleased with his work, the Himachal government wanted to make him Joint Director so as to make him Director of Agriculture later. But as per rules, he was 13th in the list. But with the blessing of Sant Ji, he came on top of the list as the Government of India changed rules due to the imposition of emergency. Thus, the Himachal government made him Director Agriculture. In his official residence at Shimla, he had installed Sri Guru Granth Sahib in one room and made his bed on the floor. Only his peon Chet Ram, who had attained a higher state due to Baba Ji's company and continuous recitation of the Divine Name, used to go to that room for its upkeep. Baba Ji used to bathe in cold water even during chilly winters in Shimla.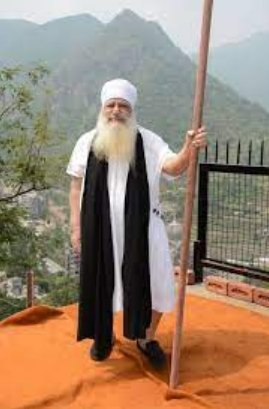 After retirement, Baba Ji came to Baru Sahib directly from Shimla and joined the 'service of Guru Nanak Dev Ji'. At the time of retirement, he had only Rs. 2200 in his bank account because he used to spend his entire salary to help the needy and development of Baru Sahib. His entire staff, from peon to Director, thinking that Giani Ji, who had always traveled in official vehicles would travel to Baru Sahib in a bus, gave their share to collect money and bought a new Maruti Van and saw him off to Baru Sahib. This shows how selfless and popular he was with his staff.
At Baru Sahib, he started Akal Academy in 1986 with only five students. He taught the students himself and made them to work so hard that even the spoiled and incompetent students passed with good marks and became intelligent and well-behaved. Thus, within 3-4 years, Akal Academy became famous all over Punjab and Delhi. People of Punjab, who were ready to provide land for the schools, requested Baba Ji to open such Akal Academies in their regions so as to save their children from drug-addiction and apostasy. Heeding their request, Baba Ji started establishing Akal Academies in Punjab, the first being at Muktsar Sahib. To carry forward the mission of Sant Ji, he worked tirelessly and one by one, he established 129 Akal Academies in Punjab, Haryana, U.P. and Rajasthan, wherein 70,000 students are being imparted the blend of modern scientific education and spiritual education. These students have not only excelled in academics but also imbibed spiritual ethos. Apart from making their life ideal and successful, they have also transformed the lives of their families and relatives who have become Amritdharis after shunning alcoholism. The Intelligence Wing of Punjab Police reported the decline in crime, drugs and apostasy in the surrounding villages of these Akal Academies.
Baba Ji established Akal Sangeet Vidyalya at Baru Sahib for the rural children of poor and needy families, wherein they are being provided worldly education along with spirituality and divine music. He prepared Kirtani and Dhadi Jathas (groups) of these girls; the Dhadi Jatha of girls being the first one of the community. Through these Jathas, he propagated Sikhi in several countries. Invented by Gurus but rarely used in present times, he revived the tradition of singing divine music on Tanti Saaz (string-instruments) and prepared several Tanti Saaz Jathas. These girls completed the entire Sehaj Paath of Guru Granth Sahib on Tanti Saaz in four years. The same school was later developed into AIRWE (Akal Institute of Rural Women Empowerment) by him, wherein thousands of rural girls are being imparted worldly scientific education along with spiritual education and then given jobs in Akal Academies to make them self-reliant. At Baru Sahib, Baba Ji first established Akal College of Engineering & Technology and then Eternal University, which is running in full swing at present.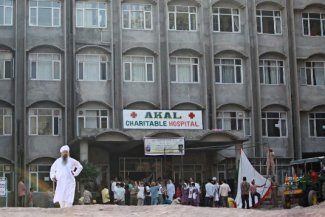 At Baru Sahib, he established 'Akal Charitable Hospital', wherein six free medical camps are organized annually and various other medical services are provided at the doorstep of remote hilly people. He established de-addiction centers, one at Baru Sahib and one at Cheema Sahib, from where thousands of patients, after getting successful treatment, have joined the mainstream. Various institutions established under the guidance of Baba Ji are being run successfully by The Kalgidhar Trust: 129 Akal Academies, 2 Universities, 2 Akal Gurmat Sangeet Vidyalya, 1 Women Empowerment Center, 1 Charitable Hospital, 2 drug de-addiction centers, 13 Gurdwaras and various other philanthropic projects.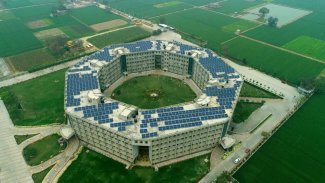 From time to time, Baba Ji rendered selfless services to the needy during natural calamities. During the earthquake in Kashmir, he spent about Rs. 2.5 Crores to rebuild 1887 homes, 4 mosques, 3 temples, 3 Gurdwaras, 1 Army library and one mess. Apart from this, he also rendered humanitarian services in the floods of Punjab and Kerala. In accordance with Guru Gobind Singh Ji's fourth blessing of 'Guru ki Kashi', Baba Ji established Akal University in 2015 which is running successfully at Talwandi Sabo in Bathinda, Punjab. He also undertook construction of Darbar Halls of several Gurdwaras: Gurdwara Nanaksar Cheema Sahib; Gurdwara Dashmesh Asthan, Nahan (parking, accommodation and Langar hall); Gurdwara Damdama Sahib, Gomti (U.P.); Gurdwara Sant Baba Ram Singh Ji, Mander (Mansa); Gurdwara Sant Baba Nidhan Singh Ji, Dhindsa (Ludhiana); Gurdwara Sahib Majri (Ambala) etc. He decided to provide free education to the children of poor and needy families in Akal Academies. At present, out of about 70,000 students, 22384 children are receiving free/subsidized education. Free education is also being imparted to the children of Granthi Singhs of Gurdwaras.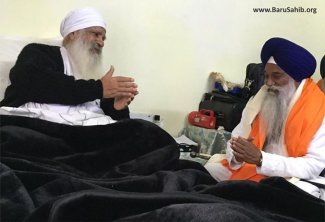 Dedicating his entire life to the service of humanity and social welfare, Baba Ji merged with the Divine Light on 29 January, 2022 at 2.30p.m. He always remained devoted to Akal Takht Sahib and strictly followed the Maryada of Akal Takht Sahib. Due to his old age, he was affectionately called 'Baba Ji'. He had strictly told the devotees not to use his photograph and write 'Sant' with his name while he was alive. The way Baba Ji followed the instructions of Sant Teja Singh Ji unquestionably is evident from one incident. Once, Bhai Mehtab Singh, a devotee of Sant Teja Singh ji, was wearing a shirt with collars. Scolding him by grabbing his collars, Sant Ji said, "You have started indulging in luxurious and fashionable lifestyle." When Baba Ji saw this incident, he immediately went into his room and cut the collars of all the shirts. Then he never wore a shirt with collars. Considering the children as the future of the community, he used to say that if the community is to prosper, children must be empowered with values-based education.
For his philanthropic and selfless services for social welfare, he was conferred various awards and honors:
Shiromani Panth Ratan: Takht Sri Harmandir Ji Patna Sahib (Bihar).
Vidya Martand: Sri Akal Takht Sahib.
Padma Shri: Government of India on 26th January, 2022.
Honored with a citation by the New York State Assembly as an outstanding individual for his contribution to the field of value-based education in rural areas.
Solar Award: Baru Sahib has been named as 'Solar Village' by the Ministry of New and Renewable Energy for launching a Solar Project at Baru Sahib and was honored with 'Solar Award'.
Sikh Lifetime Achievement Award: Awarded by Sikh Awards 2016 (UK) for outstanding work in the field of education.
Lifetime Achievement Award: Awarded by the National Institute of Cleanliness Education Research (NICER).
5th Most Influential Sikh Award: By the Top 100 Sikh Organizations (UK) for being the '5th Most Influential Sikh' for his work in the field of propagation of Sikhi and rural education.
Living Legend Lifetime Achievement Award: Living India News Channel
Maharishi Valmiki Sampuran Swachhata Puraskar - Himachal Pradesh Government
Philip Thomas Memorial Case Award for the Best Case in IIM Ahmedabad – Harvard Business Review
Honored by Himachal Pradesh Government for organizing several blood donation camps at Baru Sahib.
Outstanding Social Worker: Punjabi University Patiala
Honored by former PM of India Dr. Manmohan Singh at International Punjabi Conference, New Delhi for Punjab, Punjabi and Social Work
Avantika Rajiv Gandhi Education Excellence Award – 2012
Quality in Education Award: Education Today – 2018
Dr. S. Radhakrishnan Memorial National Teacher Award - 2006
Maulana Azad Award (Eternal University, Baru Sahib)
National Education Award (Eternal University, Baru Sahib)
Akal Academy Baru Sahib included in the list of top 10 schools of Himachal Pradesh
Eternal University ranked 6th among the top 10 universities in India
Akal Academies listed in Limca Book of Records: Largest anti-drug rally in India