Topekan Daljit Singh Jawa worked for 17 years on translation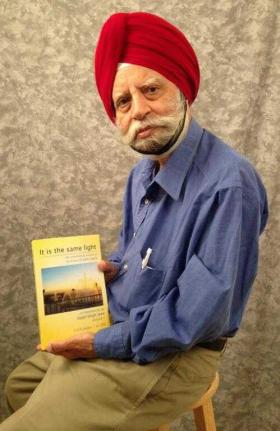 PHIL ANDERSON/THE CAPITAL-JOURNAL


Daljit Singh Jawa, of Topeka, holds a copy of his new book, "It is the Same Light," which translates the Sri Guru Granth Sahib, the Sikh holy book, into English.
September 27, 2013:
Seventeen years may be a long time to work on a book, but Topekan Daljit Singh Jawa has no regrets over the time he spent writing "It is the Same Light," a 600-plus page English translation of the Sikh religion's holy scriptures.
Released in August in hardcover, paperback and ebook form by xLibris, a self-publishing company based in Bloomington, Ind., "It is the Same Light" covers the first 200 pages of the Sri Guru Granth Sahib.
"The title comes from the main message of the Guru Granth Sahib," Jawa said, "which is no matter what religion we belong to, no matter what race we belong to, no matter what color we are, it is the same light — the same power — that created us all.
"We need to love one another and remember that we are all one family."
Jawa's book includes passages from the Sri Guru Granth Sahib in its original Gurmukhi text, accompanied by a parallel transliteration with English pronunciation. Jawa then includes an explanation that puts the passage into historical and cultural context, followed by his interpretation of the meaning, and the message it conveys.
The book, written in painstaking detail, covers each passage in the first 200 pages of the 1,430-page Sri Guru Granth Sahib.
The goal of the book, Jawa said, is to make the Sikh scriptures more accessible to those who speak primarily English, including those who may be unfamiliar with the cultural setting in which the Sri Guru Granth Sahib was written.
There are about 24 million Sikhs in the world, including about 500,000 in the United States. Jawa said to the best of his knowledge, only a couple of Sikh families live in Topeka.
Sikhism is the predominant religion in the Punjab state of northern India, where Jawa was born.
Jawa, 76, has lived in the United States since 1975 and in Topeka since 1980. He retired in 2003 from his position with the state of Kansas Water Office.
Jawa said he was motivated to write "It is the Same Light" — the title of which comes from a hymn in the Sri Guru Granth Sahib — after his son encouraged him to do so.
Jawa said he earlier had written a book titled "Order of The Day," which briefly interprets the "Hukam Namas," or daily edicts, for Sikhs from Sri Guru Granth Sahib. Jawa said his son thought an expansion into the Sri Guru Granth Sahib would be a natural follow-up to that volume.
Jawa said the Guru Granth Sahib, which includes hymns uttered by saints and devotees from other faith traditions, such as Islam and Hinduism, has applications to people of all faith traditions.
"It is not just the Bible, or the scripture, for the Sikh faith," Jawa said. "It is really for all faiths."
Guru Nanak, who lived from 1469 to 1539 and was the founder of the Sikh faith, never tried to convert anyone to his religion, Jawa said.
"He never said anyone had to be a Sikh," Jawa said. "He would say, 'Are you a Muslim? Then be a good Muslim.' Or, 'Are you a Hindu? Then be a good Hindu.' "
Jawa said Guru Nanak encouraged people to perform their religious duties by "doing good deeds and loving others."
While a handful of other English translations of the Sri Guru Granth Sahib scriptures have been produced, Jawa said his is different because of the explanatory information he provides.
It took 17 years for Jawa to complete volume one in his series. He is now working on volume two — with a total of seven needing to be done.
Will he see the project through to completion? Jawa laughed and said, "If God lets me live that long."
Jawa deflected praise over finishing such an arduous project in completing his first volume.
"Really, it is God-inspired," he said. "It is nothing of my own."


For more information or to order the book, visit www.amazon.com, www.barnesandnoble.com, www.xlibris.com or call Jawa at (785) 267-0222. Jawa also can be reached on email at [email protected].