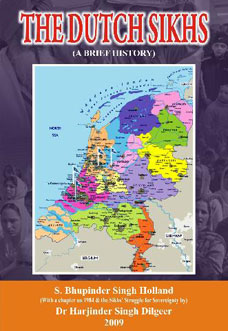 Amritsar, December 9 - Amritsar-born Bhupinder Singh of Holland has come up with his third book, "The Dutch Sikhs: A Brief History," on the accomplishments of Sikhs who have adopted Holland as their country.
Known for his great work on the world wars depicting Sikhs' contribution to the world during the wars, the book revealed the history of Sikhs living in Holland.The book contained a large number of coloured and black and white photographs about the Sikhs activities in the country, besides preserving several precious documents, including letters of the government officials about the Sikhs position, rights, role and their identity.
The present work disclosed that the Sikhs were known to the Netherlands since the times of Sikh general Banda Singh Bahadur. It explores the history of the Netherlands ( The Dutch people ), Amsterdam and its History, History of the Dutch Sikhs ( from the time of Baba Banda Singh Bahudur ) where one chapter with 10 pictures is dedicated to Siri Singh Sahib and contribution of  Siri Guru Ram Das Ashram Amsterdam, cutting of Kohe – Noor Diamond of Maharaja Duleep Singh by the dutch merchants of Amsterdam, Dutch - Sikh relation of Ist and 2nd World wars, Olympics, Maharaja of Patiala , Lt. Gen. Yadvindra Singh as Ambassador of India in the Netherlands 1973-74 who died here, Sikhs – resident of Holland since 1970, Victory of Turban and sword and Recognition of the Sikh Identity in the Netherlands, Prince Claus of Holland and much more, also through more than 150 pictures, has been depicted.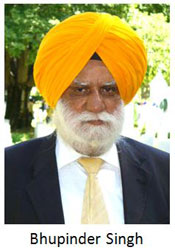 There is also one chapter, The Sikhs' Struggle for Sovereignty – The Invasion of Darbar Sahib & Carnage  of the Sikhs, is written by Sikh Historian Dr. Harjinder Singh Dilgeer.
According to Dr. Harjinder Singh Dilgeer, National professor of Sikh Studies and well known Sikh Historian, "This book is an encyclopaedia of the Sikhs of Holland. It is not less than a museum/archive of the Sikhs of Holland. Every Sikh of Holland, Europe and the world must have this book in his/her home. I don't find a better work about the Sikhs abroad. Bhupinder Singh deserves a reward for this work."
By P.K. Jaiswar
Tribune News Service