New Delhi, Oct. 28, 2019: Bishop Theodore Mascarenhas, secretary general of the Catholic Bishops' Conference of India, has called on heads of various religions in India to lead the nation and the world toward peace and harmony.
"The nation and the world require people who will bring healing and who will work for peace and harmony. We have had enough of hatred, division and injury," Bishop Mascarenhas said at a meeting held to mark the 400th death anniversary of Sikh social reformer Bhai Kanhaiya (1648–1718).
The Catholic prelate warned the people to beware of those sowing hatred and invited them to spread love instead.
People representing various religions attended the October 27 inter-faith meeting at the India Habitat Centre, New Delhi. The International Committee of the Red Cross, Delhi Sikh Gurudwara Management Committee, Centre for Advanced Studies in International Humanitarian Law and Rajeev Gandhi National University of Law jointly organized the program.
Bishop Mascarenhas pointed out that the Sikh leader was known for pouring water for the wounded in the battlefield whether they were Sikhs or fighting against the Sikhs.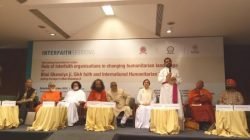 Speaking on the theme, "Refreshing humanitarian action: Role of interfaith organizations in changing humanitarian landscape," Bishop Mascarenhas lauded the Sikh community for their humanitarian works reflected in the organization of langars, providing free medical aid, conducting relief in disaster zones, providing relief in times of floods and earthquakes.
He reminded the audience that Guru Nanak had exhorted that "Even kings and emperors with heaps of wealth and vast dominion cannot compare with an ant filled with the love of God."
Recalling that Guru Gobindji had praised Bhai Kanhaiya, for his service without discrimination and without desire for being rewarded, the Church official urged spiritual leaders to unite together in serving humanity.
Recounting the Gospel passage on the last Judgment, Bishop Mascarenhas told his audience that what eventually defines salvation is one's humanitarian efforts.
Others who spoke on the occasion were Swami Chitananda Saraswati, Acharya Lokesh Muni, Binny Sareen, Jaspal Singh, A.K. Merchant, Bikkhu Sanghasena, and Goswami Sushilji Maharaj.
A panel discussion was moderated by Prof. Akhtarul Wasey, president of the Maulana Azad University. Earlier Sardar Surinder Singh Oberoi, political advisor to International Red Cross Society introduced the program.