'The Beauty of Jap Ji Sahib' is not just another book outlining the message behind the very first composition of the Guru Granth Sahib. In fact, it is a call to introspection, contemplation and most importantly, a guide to daily living and practice. It caters to one and all.
The beginner would find the clear and crisp explanations a good starting point in his or her spiritual quest. To the dedicated seeker of spiritual knowledge, the commentaries in this book will provide much food for thought for deeper reflection and contemplation.
The book sheds light on the many questions that a seeker may have, such as:
Who is the Divine?
What is Hukam?
What is walking on the Divine path?
How can the destructive emotions of egoism, greed, attachment, wrath and lust, etc. be controlled?
The answers are provided through a directed focus on keywords and themes that make reading and understanding a joy. The commentary on Jap Ji Sahib insightfully brings together all the above themes to capture the brilliance, beauty and timelessness of this treasure trove of wisdom.
Readers are challenged to embark on a journey that will be intensely engaging and enriching in astonishing ways. This compilation is not just an explanation of the Jap Ji Sahib but a door to a life worth living and exploring. Through the insights, our hope is that the reader contemplates in a deeper manner on the beautiful message of the Jap Ji Sahib that serves as a guide for daily living. Rise to the challenge and you will have no regrets!
-Team AWAT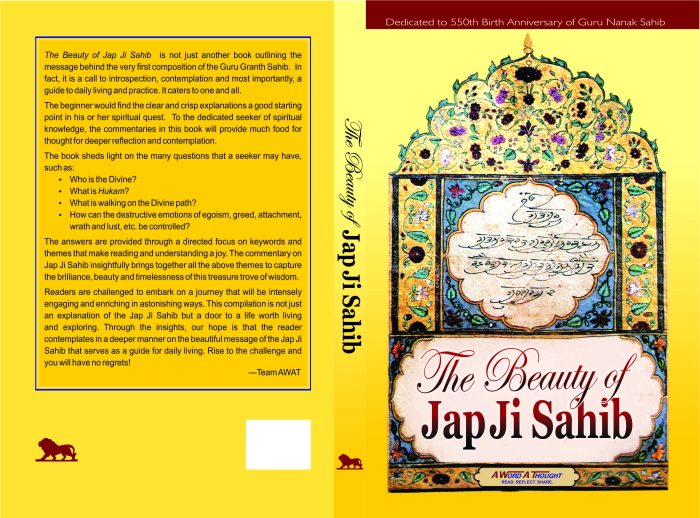 To purchase "The Beauty of Jap Ji Sahib" click HERE.