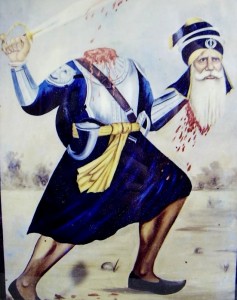 The founder leader of Shaheed Misl, Baba Deep Singh, was the blessed personality of Sikhism. The young Baba Deep Singh remained under the divine grace of Guru Gobind Singh at Anandpur Sahib, where he was given special training in the philosophy of scriptures and armament. His deep understanding of Sikh scripture (Gurubani ) and Armament helped him in accomplishing his personality as a great Sikh scholar and brave warrior of Sikh history.
Baba Deep Singh was born on Jan 26, 1682 at village Pahuwind of Amritsar District, where he spent his childhood with his parents Bhai Bhagta and Mata Jiuni.
He looked very robust with his muscular body. Bhai Bhagta remained such an unbounded devotee of Guru-darbar, who submitted himself completely to the Guru.
The young Baba Deep Singh came to Anandpur Sahib with his parents to seek the divine grace of Guru Gobind Singh. Guru Gobind Singh showered special blessing on him. Baba Deep Singh was baptized with the pious hands of Guru Sahib. Besides under the surveillance of Guru Gobind Singh he was trained in Armament and scripture learning.
Bhai Mani Singh provided him deep understanding of religious scriptures and he also attained expertise in tent pegging, horse riding and archery from him.
On leaving Anandpur Sahib, Guru Gobind Singh appointed Baba Deep Singh & Bhai Mani Singh for the safety and care of Guru-Mahail. They left Guru-Mahail at Delhi safely and went to Talwandi , where Guru Gobind Singh was staying after winning the battle of Mukatsar. It was here only, Guru Gobind Singh issued an order to Baba Deep Singh to prepare hand written copies of Birh Sahib. Baba Deep Singh started this work in 1715 and completed four copies of Birh Sahib in 1726 (original Birh Sahib was prepared by Bhai Mani Singh under the vigil of guru Gobind Singh) He fully exhibited his skills in calligraphy and scholarly religious insight with utmost devotion in completing the four copies of Birh Sahib, which were later placed at all four Sikh centres (Takhts).
After the death of Guru Gobind Singh in 1708 Baba Deep Singh along with Baba Banda Singh Bhadur checked the advances of oppression in Punjab with their bravery and unfurled the flag of Khalsa at Samana and Sirhind.
Thereafter, Baba Deep Singh with his brave soldiers came to Damdama Sahib and started baptizing the Sikhs as per the Guru's wishes. Thus infusing religious fervour, transformed them completely . Until 1760 Baba Deep Singh continued preaching Sikhism and the ideology of the Sikh Gurus from this Sikh centre of Damdama Sahib.
In 1748, sixty five groups of Sikhs were converted into 12 Misls, then Baba Deep Singh was appointed the leader of 'Shaheed Misl' (one who is ready to lay down one's life for a religious cause) and Damdama Sahib remained the head office of this Shaheed Misl. The dome where Baba Deep Singh resided became famous as Burj Baba Deep Singh.
Many Sikh soldiers who sacrificed their lives from time to time for the freedom and sanctity of Gurdwaras, attained the spiritually emancipated stage. Amongst these martyrs, Baba Deep Singh occupies a conspicuous niche in Sikh history. He, at the age of eighty years fought so bravely that he fulfilled his commitment of reaching the circumambulation of Darbar Sahib and set a strange supernatural example in the history of the world.
When Baba Deep Singh came to know about the disgrace done to Darbar Sahib, his heart was so much touched that he decided to defeat those culprits who have disbanded the sanctity of Darbar Sahib. When this information reached the Sikh centres, a considerable number of Sikh soldiers (over 5000) immediately gathered together under the leadership of Baba Deep Singh till he waged the war from Malwa to Majha.
Before starting the war Baba Deep Singh prayed in Gurdwara Tarn Taran Sahib. The Sikh soldiers tied the thread of martyrs and crossed the line drawn by Baba Deep Singh and advanced towards Amritsar. Jahan Khan along with 20,000 soldier reached Gohalwarh, five kilometers away from Amritsar. Sardar Dyal Singh, a supporter of Baba Deep Singh ambulated Jahan Khan. There was a fierce battle near Ramsar where Baba Deep Singh at the age of 80 zealously fought against young Jamal Khan. There was a big massacre.
Baba Deep Singh attained martyrdom reaching circumambulation of Darbar Sahib, where as the remaining Sikh soldiers fought vehemently against the pathan soldiers at Attari and gave them fierce defeat
In the memory of Baba Deep Singh , a Gurdwara 'Shaheed Ganj' was constructed near Chatiwind in Amritsar.
Undoubtedly, this great warrior fulfilled his pledge by breathing his last at Har-sar with is head on his hand. Thus attaining the place of supernatural martyr in the history of the world.
Dr. Sushil Kaur is a Surrey-based writer and can be reached at [email protected].