Sikh Community Congratulated Congressman Pence for his Appointment as member of Foreign Affairs Committee.
FISHERS, Indiana February 20, 2019: U. S. Representative Greg Pence recognized the recent achievement of Gurinder Singh Khalsa, who recently was conferred with the 2019 Rosa Parks Trailblazer Award.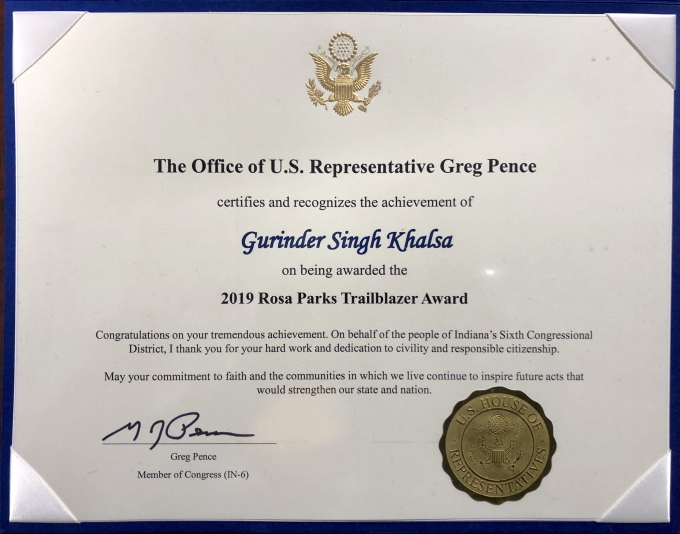 "Congratulations on your tremendous achievement," Pence stated in his presentation to Singh Khalsa with Sikh community of Indiana. "On behalf of the people of Indiana's Sixth Congressional District, I thank you for your hard work and dedication to civility and responsible citizenship. May your commitment to faith and the communities in which we live continue to inspire future acts that would strengthen our state and nation."
As grateful as Singh Khalsa was for the recent recognition from Pence on Wednesday afternoon, he was just as grateful for Pence's appointment to the Foreign Affairs Committee. "Greg Pence is good for Indiana and will be good for Fishers. I look forward to working with him in the future. He will bring the world to Indiana and Indiana to the world."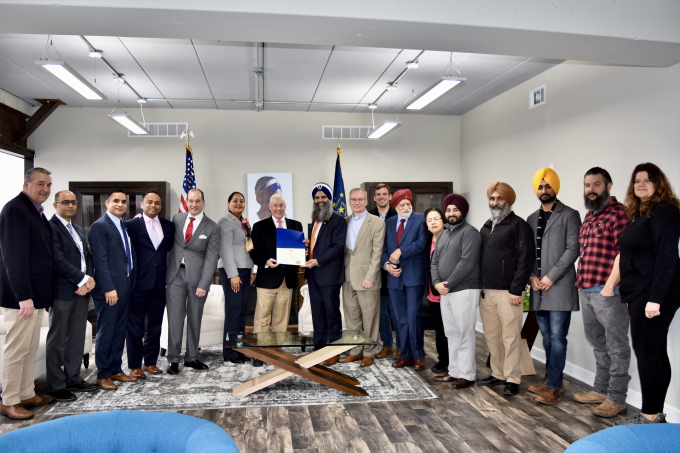 In attendance at the day's recognition was Jeffrey Wehmueller, former prosecutor of Hamilton County. "I am truly grateful to Congressman Greg Pence for his recognition of Gurinder Singh Khalsa as the recipient of the 2019 Rosa Parks Award. Gurinder addressed the injustice of the Transportation Security Administration (TSA) with dignified resolve insuring others are not singled out for their religious beliefs," Wehmueller shared. "Mr. Singh did not combat it with faux "outrage," "virtue signaling," or unseemly displays of emotion. Rather, Mr. Singh approached the issue by petitioning the members of Congress as a citizen with the expectation his religious customs be acknowledged and respected . . . just as the late Rosa Parks did so many years ago. It is a lesson many others who seek social justice would do well to learn. I'm very proud to call Gurinder Singh my friend."
Contact: Sunday Ruiz. 317-308-1050,
[email protected]