Three hundred people from different parts of the world gathered at the UNESCO headquarters in Paris as part of the International Peace Summit to focus on the theme 'Achieving World Peace and Harmony through Religious Education and Engagement'. The conference was hosted by Pure Land Learning College Association and the Republic of Madagascar.
Venerable Master Chin Kung AM, President and founder of the Pure Land College Association presented on the topic of "Religion - A Source of Strength in a Challenging World." Presentations were also given by Mr NyToky Andriamanjato of the Republic of Madagascar and Professor Medwin Hughes, Vice Chancellor, University of Wales Trinity Saint David.
Topics were supported and amplified by the presentation of individual papers and panel discussions that examined areas such as the challenges of religious diversity, acceptance and engagement; faith contributions to building bonds of humanity; promoting interfaith dialogue; and forging a common humanity through religious engagement and education.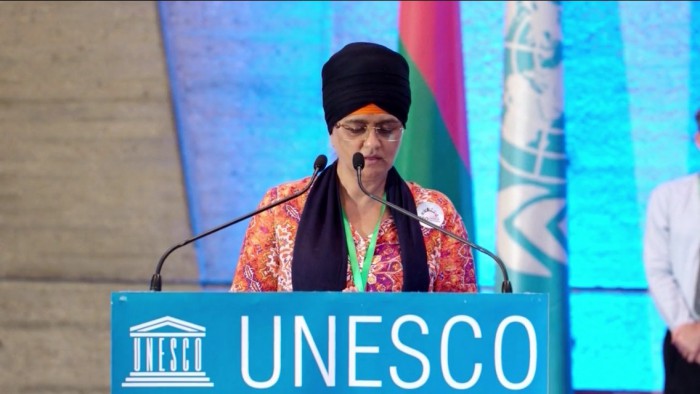 Mrs Kamaljit Kaur Athwal; Director, Sikh Nishkam Society of Australia, was invited to attend as part of the Australian delegation from Pure Land Learning College Association, and present a paper on 'The Gift of Faith'. Mrs Athwal's presentation from a Sikh faith perspective reflected on the teachings and life examples of the ten Sikh Gurus and the Sri Guru Granth Sahib - the Sikh Holy Scriptures which combined constitutes the Gift of the Sikh Faith today.
Mrs Athwal said "The whole experience and meeting people from many faith backgrounds was a very humbling experience; it was naturally easy to discuss interfaith concepts as part of the basics of our dharma (faith) are the one jot (light) in all and to serve all humanity as one".
Following on from the September 2016 Summit in Paris, UNESCO Ambassadors will be visiting Toowoomba Queensland in March 2017. The United Nations Education, Scientific and Cultural Ambassadors will visit Toowoomba as part of a peace delegation.
The Ambassadors will see firsthand how Toowoomba with its ever increasing diverse population maintains and embodies Peace and Harmony. This visit will also mark the first time a UNESCO peace delegation visits Australia.