ARMY IN WEST MIDLANDS JOINS FORCES WITH SIKH COMMUNITY
The Commander of the Army in the West Midlands met with leaders of the Sikh community in Smethwick yesterday (28 November) where they put pen to paper to sign the Armed Forces Covenant, formally recognising the strong ties between the Sikh community and the Armed Forces.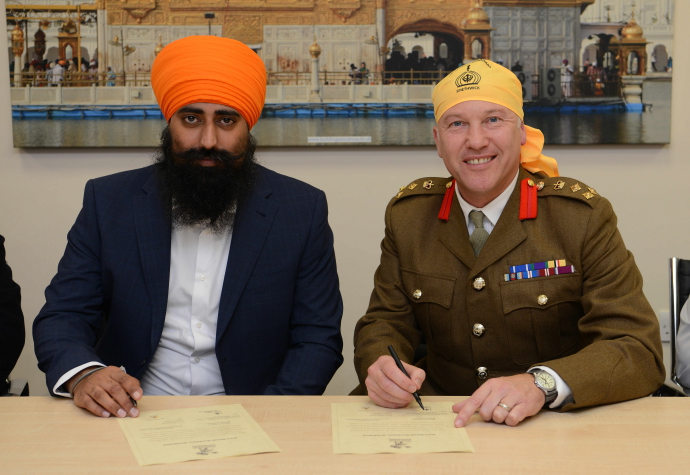 Brigadier Richard Carter, Commander HQ 11th Signal and West Midlands Brigade, said:
"A diverse military is a strong military which is why we're committed to making sure the Army in the West Midlands better represents the society we serve. This Covenant signing is yet another demonstration of this.
"Sikhs have a rich history with the Army, from their unsurpassed courage at the Battle of Saragarhi over 120 years ago, to the hundreds of thousands of Sikhs who fought for Britain during the First and Second World Wars as symbolised by the wonderful Lions of the Great War statue in Smethwick. We look forward to working with Guru Nanak Gurdwara Smethwick to ensure that tradition continues."
170 Sikhs currently serve in the Royal Navy, Army and the Royal Air Force, with many more around the UK serving as Reservists. The British Sikh report published last year found that 69% of Sikhs would support their child taking a career to defend the nation.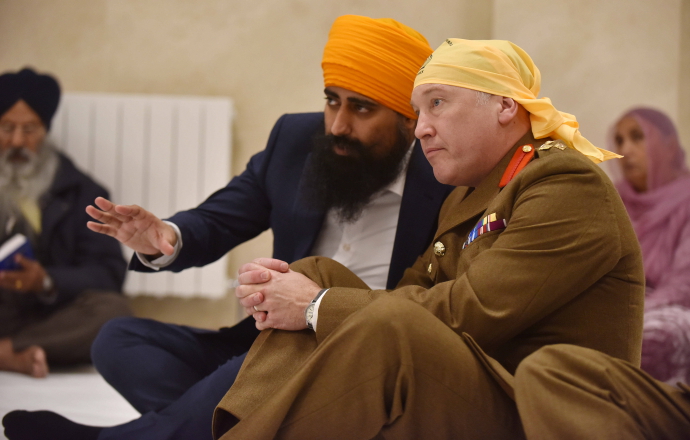 Brigadier Richard Carter, Commander HQ 11th Signal & West Midlands Brigade, signing
the Armed Forces Covenant with President of Gurdwara, Mr Jatinder Singh - GNG Smethwick.
Jatinder Singh, President of Guru Nanak Gurdwara (GNG) Smethwick, said:
"Guru Nanak Gurdwara is embarking on an ambitious vision that we hope will set us aside as a flagship centre for inspirational community projects and innovate partnerships.
"This vision is fuelled by our desire to create a learning environment for Sikh generations in UK to become strong role models for supporting their community and wider society and through the message advocated by our Gurus perform social action with humility that benefits all mankind.
"This partnership through the Armed Forces Covenant shows our clear commitment to building relationships between our community and military personnel with their families as well as creating opportunities for the military to understand more about the Sikh way of life so it can better impart cultural knowledge to its personnel. The WW1 Sikh statue is one such example of this.
"We also look forward to exploring through our ambitious youth leadership programme, how we better equip future generations of British Sikhs to serve their community and nation. And subsequently provide opportunities for members of our congregation to find out more about training and career opportunities in a wide variety of careers including the uniformed services."
Captain J Singh-Sohal, a member of the GNG Smethwick's Education Board and an Army Reservist said:
"It's so important that institutions such as our Gurdwaras engage with their Armed Forces and create a better working relationship with one another. By signing the Armed Forces Covenant, GNG Smethwick is committing to a strategic partnership that will provide character and leadership development opportunities for Sikhs in the West Midlands while also educating those who serve about our faith and practices. It codifies and gives direction to a community already committed to serving our country, and I hope many more faith-based organisations will follow this lead to develop pledges in support of co-operation between the wider military community and those it works to protect."
NOTES:
1. The Armed Forces Covenant is a commitment from the nation, enshrined in law, that those who serve or have served, and their families, are treated fairly and not disadvantaged due to their service.
2. Over 1,500 businesses and organisations across the UK have already signed, making practical pledges that have made a difference across the Armed Forces community.
3. This signing of the Armed Forces Covenant is a demonstration of the commitment to ensuring a more diverse force. The MOD is aiming to make sure 10% of recruits come from Black, Asian, or Minority Ethnic (BAME) backgrounds by 2020 and is making progress with BAME personnel currently making up nearly 6% of new recruits.