Being a 'foreign wife' and 'a Mother of young daughter', Anne Benjamin lived in the south Indian city of Chennai for three and a half years. This experience of living formed the main source of her book "Saffron and Silk, An Australian in India". At an event held in Blacktown's Max Webber Library on April 27, 2017, Anne Benjamin provided insights about her book and shared her visions and frustrations as a 'foreign wife'.
During her stay in India, she experienced many situations by being a good supporter to her husband. Poverty, child labour, injustices against  women and the shortage of water were just a few of the situations she encountered. Her husband was a social worker and organised campaigns in rural area to help the poor. In all these campaigns, Anne accompanied her husband. As the days passed, she felt more and more comfortable in India compared to the day when she arrived.
 
On October 31, 1984, Anne and her friend were sitting in her apartment when they heard that the Prime Minister of India, Mrs. Indira Gandhi had been shot dead by her two Sikh security guards. This assassination of the Prime Minister left the whole country in a state of grief. The trains stopped; all public transport was motionless for a while. Anne had to struggle to get to the airport to drop her friend and get her through customs.
"The next three days after the assassination were even more terrifying as Sikhs were being slaughtered ruthlessly in the streets of the Capital, New Delhi." Anne said. Angered people were looking for Sikhs in their houses and trains to kill them and increase violence. Three days passed but the authorities were not actively involved to control the killing. "Maybe this all happened due to the corrupt politicians in the administration, who were too late to call the halt" Anne said.
"Some riots took place in the country following the murder of Indira Ji. We know the people were very angry and for a few days it seemed that India had shaken. But, when a mighty tree falls, it is only natural that the earth around it does shake a little…"

Excerpt from Saffron and Silk: An Australian in India by Anne Benjamin
The above-mentioned comment in quotes was given by Rajiv Gandhi, elder son of Indira Gandhi a few weeks later after his mother's death. This seemed to be very humiliating for the community who had more than four thousand people murdered just after his mother's death.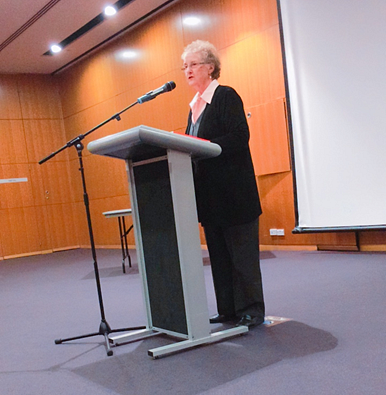 Years later in 2004, Prime Minister Manmohan Singh apologized for the violence that happened in the country 20 years ago. "Surely it was unfair for a Sikh to apologize to the Sikhs about what happened with their community during the time of assassination," Anne shed light on her comment.
 
Further elaborating her discussion on the book, Anne said that the 1984 riots phase was the critical part of her life which she actually wrote in her part of book as "Days of Fire" and she would rather never forget that event of devastation of humanity.
 
Contacts:
Max Webber Library: 02 9839 6620
http://www.libraries.blacktown.nsw.gov.au/Whats_On/Events/2017/April/Aut...
Anne Benjamin: https://anne-benjamin-blog.com/