Strictly star Anita Rani is left stunned after discovering her grandfather's first wife killed herself in India rather than be raped during the savage violence of Partition


Presenter wanted to find out about her grandfather's first wife
She had died during Partition of India in 1947
Shocked to discover women were murdered by their fathers and husbands
Hundreds threw themselves in wells to avoid being violated by other men
Anita said the the stories she heard: 'It's so cruel, I am horrified'


01 Oct 2015: Anita Rani has admitted that appearing on Who Do You Think You Are has 'changed' her after she discovered some shocking truths about the Partition of India as she investigated her family history.
The 37-year-old Countryfile presenter from Bradford wanted to appear on the BBC show to find out more about Sant Singh - the maternal grandfather she had never met, who had always been a 'man of mystery'.
Anita - who is currently performing on Strictly Come Dancing - was reduced to tears when she heard of the horrific circumstances in which he lost his first wife and children during a brutal period in India's history.
Scroll down for video



Anita Rani investigated the fate of her maternal grandfather's first wife in Who Do You Think You Are
---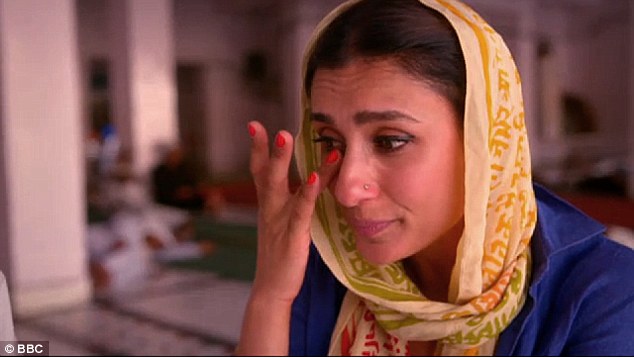 The presenter cried as she heard how women were ordered by her husbands and fathers to kill
themselves during the Partition of India rather than be violated by men from different religions
---
Anita revealed how she always knew her grandfather had been married before he met her grandmother but the family were not aware of how and why his first wife and their son died.
'No one has clear answers on how that happened, they don't talk about it and I would love to know more. I have wanted to know more about him my entire life,' she said.
Travelling to India and delving into historical records, Anita uncovered that her grandfather's first wife was called Pritam Kaur and she was just 25 when she died after throwing herself into a well - sacrificing herself as her village came under attack.
Anita was shocked to learn that such a fate was not uncommon for a woman in India as violence erupted in 1947, when independence from the British Empire was declared and the country split to create Pakistan.
Across the region, there were massacres and clashes over opposing religious beliefs.


---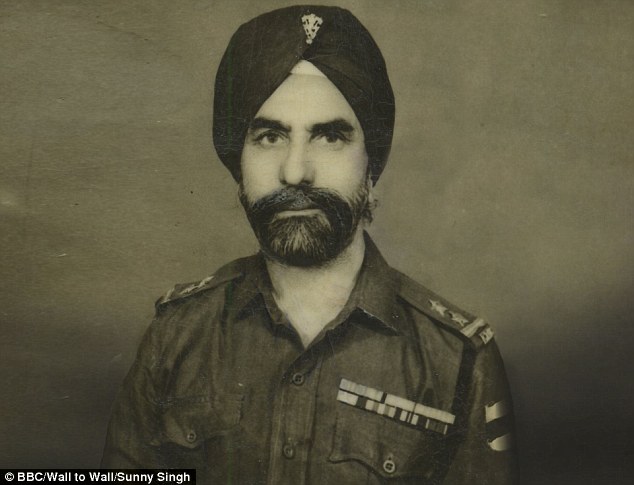 Anita's grandfather Sant Singh never spoke of what happened to his first wife and two children
who died during the brutal events of the Partition of India
---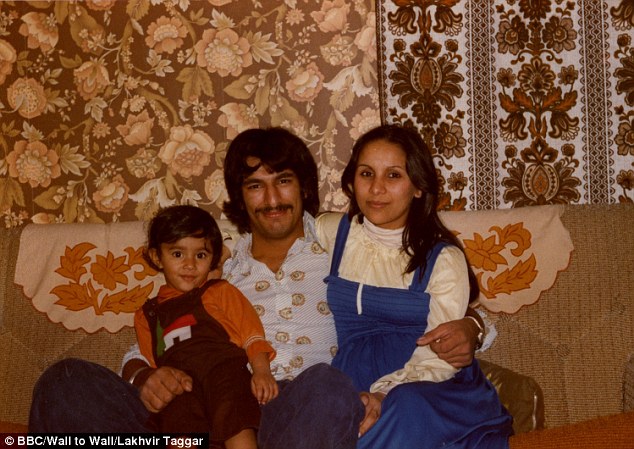 Anita, pictured as a child with her parents, always wanted to know the truth about her ancestors
---
Anita spoke to one 84-year-old survivor, Bier Hador Singh, who revealed the harrowing scenes he witnessed as a boy. His testimony shed some light on what may have happened to her grandfather's first wife.
Mr Hador Singh said: 'When I was 16, I lived in a village in Rawalpindi, my father was head of the village. On the evening of the 8th of March, we began to feel the heat of the houses catching fire.
'We all gathered together and my father had a large sword. The Muslims said "give us a young and beautiful girl and we will let you get on with your lives".
'My father rejected their demands, he said "we won't give you our girls to save ourselves. Rather than let our girls come to this shame, we will kill them ourselves and hope they forgive us".'
The octogenarian then revealed how he watched girls, including his own sister, line up to have their heads cut off by his father's sword rather than be violated by Muslim men.
'No one cried, then it went on turn by turn, my father pushed me away, no boys or young children were killed, only the girls were killed,' he said.
He added that women then began throwing themselves and their daughters into a village well.
'Eighty-four or 86 jumped in the well, in 15 minutes, the well became full,' he said.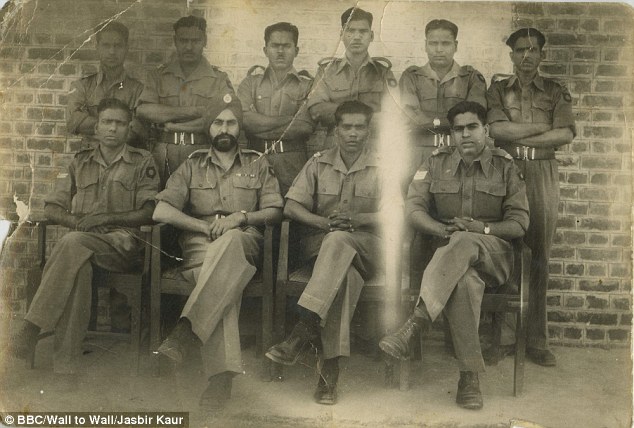 Picture shows: (front row, 2nd L) Anita Rani's grandfather Sant Singh when he was in the Anglo-Indian
army. He had been stationed thousands of miles away when his family were killed during the Partition
---
A shocked and upset Anita choked back tears hearing his story.
'So your father took the decision that him and a couple of the other men of the village would murder their wives and daughters?' she said through her tears. 'It's so cruel, I am horrified. It is the most shocking account of what humans are capable of. I hate that the world was in such a way that that was the only choice women had - that the men would decide their fate.'
It is believed Anita's grandfather's first wife, Pritam, died this way and The One Show presenter was shocked to discover Pritam also had daughter, Mahrinda, who was likely to have died along with her mother when she was only six.
Author Ritu Menon told Anita that deaths of women from all religious denominations were common during the Partition of India.
Anita said: 'It seems a cow had more chance of survival than a woman.'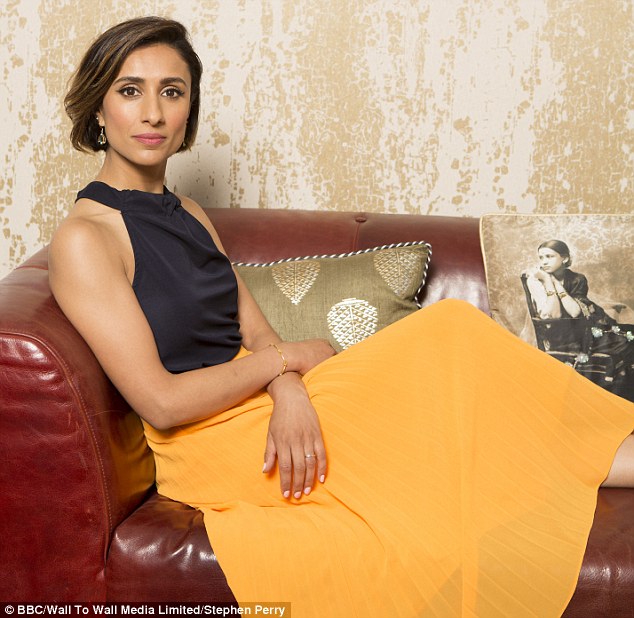 Anita said learning of the fate of women in India at this time was shocking and harrowing
---
The presenter believed many of the women were brave to commit suicide on the demands of their fathers and husbands but Ritu, who researched a book on the topic, said: 'The women don't tell it as a story of bravery or martyrdom, they tell it as a story of no choice.'
Anita's grandfather was in the Anglo-Indian Army and he was stationed thousands of miles away when his wife and children were caught up in the violent events of the Partition. He returned to his home in Montgomery to find his wife and children were dead.
He went on to marry Anita's grandmother in 1948 and they had children including Anita's mother - who moved to Bradford when she married the Countryfile star's father.
Anita said her grandfather - who she never met - never spoke about what happened to his first wife and children. The presenter she was glad she delved into her family's past to finally find out the truth and allow Pritam and her daughter to now be remembered and mourned.
Anita said: 'I am not surprised he didn't talk about it or that my parent's generation don't talk about it, where do you start?
'But now I will talk to his children about it, they need to know. To find out Pritam's name is really important.
'To come and discover just how brutal and barbaric the Partition was and how little power women had at that time, it has changed me.'
'Who Do You Think You Are" is on BBC One Thursday at 9pm