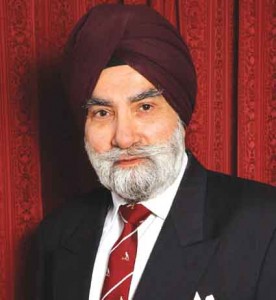 Gurmukh Singh
March 2, 2016: Due to centuries of Anglo-Sikh relations, the Sikhs and the British people share part of their history as well as their future in the UK.
Giani Sohan Singh Seetal's Panjabi book, "Sikh Raj kivayn gyia" (How the Sikh Kingdom was lost) made a deep impression on the psyche of a whole Sikh generation in the 20th Century. Combining prose and poetry, Sohan Singh Seetal, better known as a charismatic "kaveeshar/dhadi" (singer of poetic compositions about events in the Sikh tradition.), would recite this tragic story of colonial treachery and Dogra betrayal of trust, after Maharaja Ranjit Singh's death in 1839; of how the Khalsa Raj was lost to the British colonial power by 1849.
The legality of British invasion and annexation of Punjab remains in doubt to this day. Of all colonial people under British rule, some of the wrongs inflicted on the Sikhs remain unique in Britain's tainted colonial past, because the British rulers saw the defiant Sikhs as both, powerful allies as well as formidable foes. They had experienced the Sikh prowess in the field during the two Anglo-Sikh Wars in 1846 and 1849. These were freedom loving people empowered by the egalitarian ideology of Guru Nanak-Gobind Singh. Subjugating the Sikhs was the biggest colonial challenge the British rulers had ever faced and they used all sorts of devious and cruel tactics to do that. Yet, the British did admire and reward Sikh invincibility in the battlefield.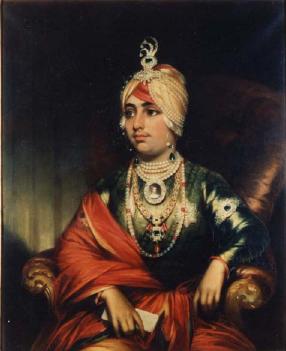 One study of such colonial cruelty is the tragic story of Maharaja Duleep Singh and the injustices he suffered throughout his life and even after his death on 22 October 1893! The last Maharaja of Lahore, the son of the Lion of Punjab, Mahaja Ranjit Singh, lies buried "according to Christian rites, under the supervision of the India Office in Elveden Church beside the grave of his wife Maharani Bamba, and his son Prince Edward Albert Duleep Singh." (Wikipedia) Yet, it was known to the British that the Maharaja had converted back to Sikhism at Aden in 1886. The religious and symbolic insult felt by the Sikh community is a running sore.
Only admission by the British establishment of such injustices, so that the record is set straight with some form of restitution would bring about closure to the hurt felt by the collective Sikh psyche. In this respect, the unveiling of Maharaja Duleep Singh's statue by Prince Charles on Butten Island in Thetford on 29 July, 1999 was a welcome gesture. A Sikh cremation of the Maharaja's mortal remains is the next step.
A Sikh World War 1 memorial in Central London to remember the great Sikh sacrifices for the freedom humankind in the World Wars, and further identification and listing of Sikh heritage items, including those linked with Guru Gobind Singh, are next steps for restitution and closure.
Gurmukh Singh