NEW DELHI: As 'Vikram Singh' sang Sikh hymns at a recent inter-faith concert in Washington, few could remain without giving him a big applause as the voice singing the verses belonged to none other than Vic Briggs, a prominent rock star of the 70s, who has now embraced Sikhism. Singh is infact the first non-Indian Sikh to have performed at Golden Temple in Amritsar. But then he is not the only American who has taken to Sikhism, according to Dr Rajwant Singh, Chairman of the Sikh Council on Religion and Education, the number of these 'turban-wearing American Sikhs' is nearly 50,000.
"In the last decade, some Americans who have become Sikhs are mainly through the contacts with American Sikhs and some local Indian Sikhs," Dr Rajwant Singh, Chairman, Sikh Council on Religion and Education, said in an email from Washington.
"Recently there is also surge in numbers of people becoming Sikhs in the Latin America. There have been reports of people turning to Sikhism in Brazil, Chile, and Peru. Men and women are equal who are converting," he said. Explains Dr Jaspal Singh, a Sikh scholar and former diplomat "these Americans are impressed with the Sikh philosophy, which has universal appeal. Sikhism is the youngest religion and modern in outlook."
Various Sikh groups have been working there with the NRI Indians, to keep the Sikh identity intact and the locals are also very much impressed with their work, he says. And this is happening at a time when there is crackdown on overt expressions of religious identity in the West, especially in Europe.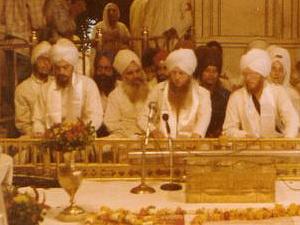 This is infact a reflection of the religious diversity of America. "It is important for us to come together during these challenging time," said Chattar Singh Saini of the Guru Gobind Singh Foundation.
According to Dr Rajwant, Vikram Singh joined a kirtan group at the Interfaith Conference and added guitar, Dilruba and Sitar in the Kirtan. In addition, tanpura and surmandal were played.
Prior to becoming a Sikh, he was a rock star with a very popular group, The Animals. Vikram Singh does exceptional kirtan and was actually the first non Indian Sikh to do kirtan at Golden Temple in Amritsar, he said.